November 18, 2019
Business Spotlight: From Corporate Career to Beekeeping Entrepreneur
When it comes to Queen Bees, Beyonce and her beehive aren't the only ones that are trending on the news and social media. In recent years, honey bees have gained international attention as a species on the decline. Thankfully, this hasn't deterred some from entering the world of beekeeping and bee advocacy.
One person who decided to leave his career behind to help the honey bees is Dan Heffernan, owner and operator of Heff's Hives beekeeping supply and honey house. From working as a director of sales and marketing at a large international company to becoming a one man beekeeping entrepreneur, Dan Heffernan's journey might be surprising to some.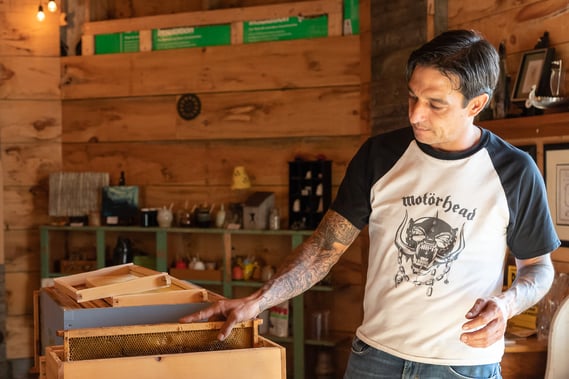 From a corporate career to full-time beekeeper
In 2015, Dan Heffernan had a successful career in sales. As a North American lead in an international company, he spent around 200 days of the year travelling while trying to balance his hobbies and family life. Although he thrived in his busy work environment and liked the fast pace of working in sales, Dan found it challenging to maintain this work-life balance.
During this time, honey bees were becoming a trending topic. Colony collapse disorder (CCD), first noticed in 2006, was becoming a growing threat to the future of these important pollinators. This disorder refers to the sudden disappearance of worker bees, which leaves very few bees to care for the queen bee and support the hive. It is believed that colony collapse disorder is a result of pesticides, climate change, invasive species, and improper beekeeping practices.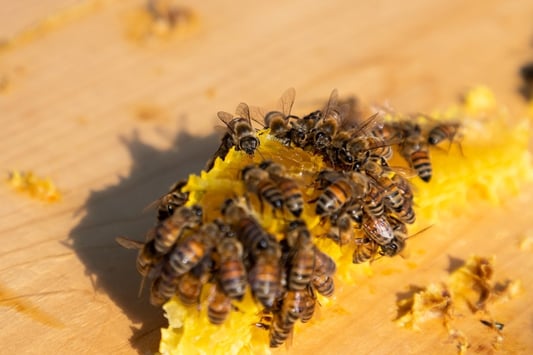 After Dan's daughter learned about the honey bees and their predicament, she asked him to do something to help save the bees. This sparked Dan's interest in honey bees and he began to research beekeeping.
By June of that year, Dan had set up his first hive in his yard, received his first few bee stings, and discovered a newfound passion for all things bees. He was eager to get more hives, and by September, he had purchased and set up his 50th beehive.
During one of Dan's trips to a bee yard, he asked a beekeeper about his schedule for the coming weeks.
"This bee farmer was telling me that he didn't know his schedule until the bees told him what to do. And I thought to myself, I want that. So I eventually got it. At the time I was travelling a lot for work and I was all over North America. My life and schedule were extremely regimented"
As his bee colony continued to grow, so did his need for equipment and space. Dan expanded his business to a new location on Kilbourne Road and bought more equipment and hives. He also started buying additional supplies to resell to his growing network of fellow beekeepers, creating another branch for his business.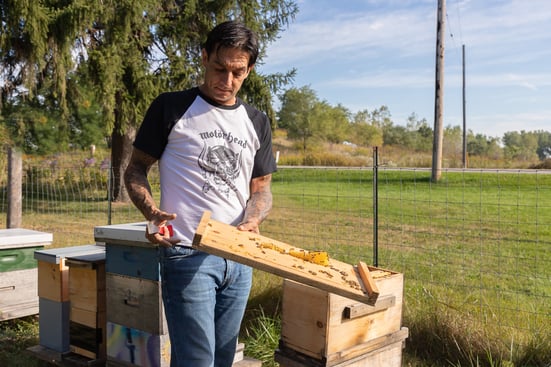 Dan recalls that early on in his beekeeping venture he read a book to learn what to expect.
"At the beginning of the book, it said something like, 'Whatever you're thinking, don't quit your job. You won't save the bees. The bees will save you'". Luckily for Dan, he didn't fully heed the book's advice. "I quit my job anyway and changed my entire career path. I changed to a career that gave me a different measure of happiness, or rather a different measuring stick to evaluate my success."
In March 2017, Dan decided it was time to leave his corporate job and fully invest in his beekeeping business.
"People ask me why I quit my job. Aside from my daughter [asking to do something to save the bees], and the bee fever, I wasn't at the start of my career. I have a lot of sales experience, and I wanted to see if I could do it. It's as simple as that. I took the plunge because I was confident that if something happened, I could find something else to do."
The life of a beekeeper and entrepreneur
As a full-time beekeeper and entrepreneur, Dan tends to start his days at 6am and end them at 11pm, without stopping much between. Aside from the classes that he teaches on Thursday mornings and the spring and fall honey harvesting, being an entrepreneur keeps his schedule varied and full.
"Beekeepers are busy in the spring and the fall. There's lots of time with the hives to harvest and process the honey," explains Dan. "January tends to be a bit of a lull. Then, in February you start fixing the equipment you broke so you're ready to harvest in the spring again."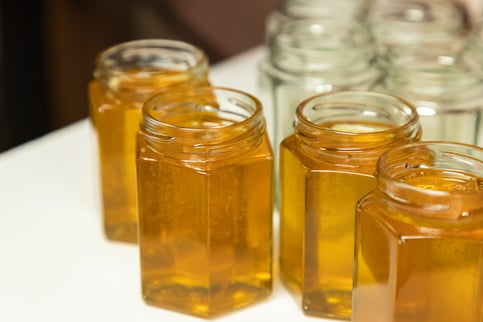 When he isn't managing his own hives, Dan can be found running educational bee advocacy workshops, setting up urban hives on the rooftops of buildings, and preparing his honey for sale at his shop, Remark (the local gourmet grocery store), and the seasonal markets.
Dan has found that having a wireless payment terminal running on 3G has been the perfect fit for his business. The portability and 3G functionality have allowed him to accept payments anywhere — an important consideration when you're often selling at outdoor markets.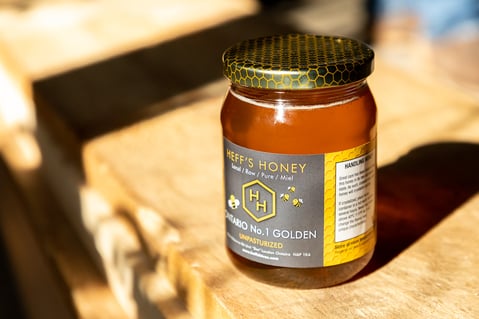 Lessons for small businesses
We asked Dan what his top pieces of advice would be for other entrepreneurs embarking on their own small business journeys. Here's what he had to say:
Be ready for change
"Moving from a large company to the life of an entrepreneur is a big change. That's one thing I took for granted - all the support I used to have. As an entrepreneur, you have to learn everything."
Budget for the unexpected
"Have more cash than you think you need. One of my bosses used to joke that the key to being successful is never running out of cash. But that is a baseline for all entrepreneurs."
Take all the help you can get
"In the past, I have acted as an island and tried to be very independent. But I wouldn't be here today without the help from my peers, my community, and the small business support structures in the city. So don't be afraid to ask for help."
Final words from Dan Heffernan
"Whether you're in Alaska or Wisconsin if somebody mentions honey bees people will say, "oh, I hear they're having a hard time". The awareness is growing and people are starting to realize that they're an important and indicative species. They're one of the smallest and most vulnerable species in our ecology and if they're struggling it's definitely a sign. If the honey bees disappear we won't disappear immediately, but there are a thousand things downstream and upstream that are a catastrophe for humankind. We need to pay attention to them. I want to see more bees in more places, and I hope people can embrace them."