April 2, 2018
Moir's Skate Shop and Paystone Form a Sharp Partnership
"At each juncture in our business, from setting up shop to upgrading our technology, the service and support we've received from Paystone has been superb."

Paul Moir, Owner
Olympic Family Business
Many small business will find themselves making the leap from a home-based operation to a dedicated retail location. For the Moir family, their business of sharpening and servicing skates dates back to 1988. Over the last three decades, they have fostered relationships with the region's skaters and coaches, providing both knowledge and craftsmanship. In fact, according to the Owner, Paul Moir, the very vision of the Moir's Skate Shop was to be a place where everyone could, "Hang out, catch-up and continue building the community we've been so proud to be a part of."
Years before their dedicated shop was opened, the Moirs were in need of a payment processing solution for their annual charity golf tournament hosted by his son, Olympic Gold Medalist, Scott Moir. Paystone got involved, not just in facilitating the charity's payments, but by participating in the tournament too! Although Paystone's team was not able to take home the winning title, the tournament was able to fundraise almost $10,000 for the Thames Valley Children's Centre!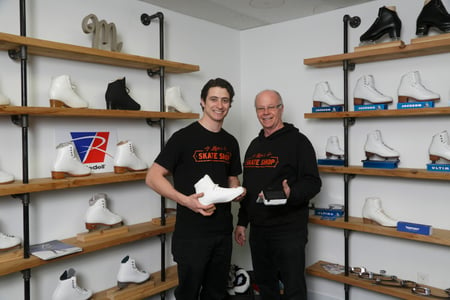 In 2017, when Moir's Skate Shop officially opened, they didn't have to look far to secure a reliable merchant services provider. However, it wasn't until their business began building momentum did they recognize that Paystone's expertise went past traditional payment processing providers. "In today's retail environment, it's extremely important that you meet the payment processing expectations of your customers," added Paul. "People simply don't carry cash anymore, so having reliable and convenient technology and systems in place to handle any and all debit and credit transactions is a fundamental part of business."
Upgraded Technology
Paystone solution consultants were able to work with the Moirs to identify current and future customer needs, and made a tailored recommendation. The last thing they wanted was a confusing POS system with lengthy install and training times; and that's why they were equipped with the Poynt Smart Terminal. It was the perfect fit for Moir's Skate Shop. "Not only is it a great looking system that adds improved functionality and style to payment transactions in the shop," explained Paul, "the reporting and inventory features are a real operational plus for us."
The ability to live track current and historic inventory levels enables a much better grasp of inventory control and cash flow. Paul shared, "Poynt tells us what is moving and what isn't, plus helps us reference back to previous ­inventory levels at any given time of year." This is especially beneficial for the skating industry, where it's common to see a substantial seasonal curve, as can be expected. The Poynt Smart Terminal is a business tool that is more readily utilized than any POS terminal, especially with Poynt HQ. A highly insightful web platform that acts as the sight-glass into all transactional activity, where comprehensive sales and trend reports can be displayed and downloaded with ease.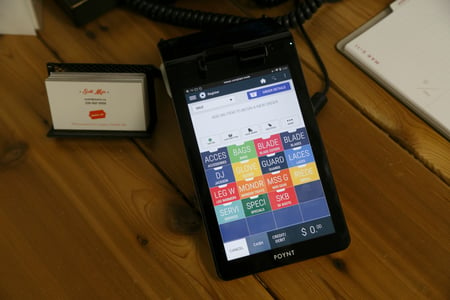 A Working Partnership
At the end of the day, the search for exceptional payment processing solutions can often feel like a dismal effort, Paystone has changed that. From charity golf involvement to seamless equipment upgrades, the Moir's have been impressed as Paul explains. "To be truthful, the whole payment processing system was a big learning curve for us, but Paystone made it easy—they've been there at every step with outstanding customer support."
Here's how Moir's Skate Shop improved their business, find out how you can too!