December 11, 2017
Neighbourhood Pet Clinic Processing Payments Like a walk in the park™
"Paystone's partnership with us helps make our customer service experience as pleasant and smooth as possible is the reason we choose to stay with them, year after year."

Brent Barr, Business Director 
Like a walk in the park™
The Neighbourhood Pet Clinic Group Inc. opened their first clinic in the Westmount suburb of London, Ontario in December 2008 and have since expanded to a second location in North London as well as a mobile unit. They provide grooming, prescriptions, veterinary care, and sell retail dog and cat food; at their clinics and at-home via their mobile unit's delivery and pet shuttle service. The clinic prides itself in taking the best professional care of customers' "furry family members" and ensuring the entire experience is "Like a walk in the park™."
According to Brent Barr, Business Director of the Neighbourhood Pet Clinic Group Inc., there are many days in which not a single cash transaction is made, so accepting credit card payments is extremely important. "Payment processing is often the last interaction that happens with our brand during a visit," Brent explained. "It is our challenge to end that moment as positively as possible."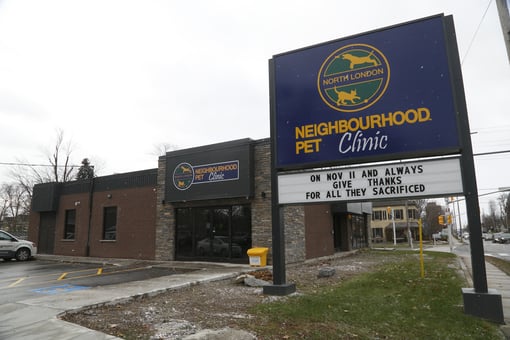 The Last Straw
Brent recalled numerous unsatisfactory customer service interactions with his previous payment provider, but remained loyal due to his long-standing history with them. It wasn't until his business's performance as well as the clinics' positive customer experience were jeopardized by their payment provider, that Brent knew something had to change.
One day in particular, the Neighbourhood Pet Clinics' terminals were down and they were unable to process any transactions. After calling their payment processor's customer service line and being told the issue would not be resolved until the next day at the earliest, Brent was forced to repeatedly escalate the issue before they finally agreed to send someone to fix the problem that day. "Our business was down, and they didn't care. I shouldn't have to spend hours on the phone, jumping through hoops and escalating these issues, just so my business can operate."
Trusted Professionals
The next day, Brent made the switch to Paystone. "They were extremely patient and considerate and their costs were lower than our previous provider." Not to mention, since the switch, the clinics' overall experience with their payment provider has drastically improved. "Every time we've contacted Paystone, they have not only been quick in addressing any issues, but they have also done so in an incredibly courteous way. We highly value the service they provide."
Paystone had made initial contact with Brent years ago, but the clinic was not ready to switch at the time. Over the years, Paystone maintained a close but non-invasive relationship with Brent, establishing themselves as payments industry experts and partners in the community. "Paystone never pressured us to switch," disclosed Brent. "Every single one of those interactions, they were equally consistent and professional. They knew they had a fantastic product and they were confident in their services. They made me feel like they were there to support and guide me along the way until I was ready to make the switch."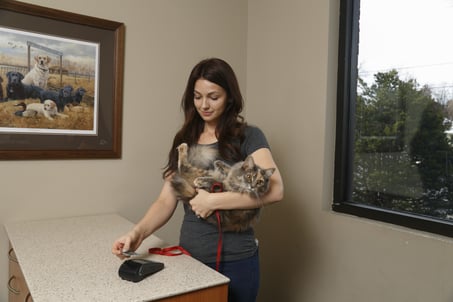 Industry-Leading Technology
After a thorough evaluation of the clinics' needs, Paystone had both clinics' payment technology upgraded to wireless terminals. "The portability of Paystone's processing machines gives us the option to process transactions in an exam room, where a furry friend or pet parent may be more comfortable." But more importantly, Paystone offered a terminal purchase option, something their previous provider did not allow. They were no longer forced to pay for the terminal multiple times over in rental fees; these are huge savings in the long term.
Paystone also tailored a unique solution that helped differentiate their offerings from their competitors. The clinics offer wellness plans for their customers' pets and charge them a fee on a monthly basis. Paystone was able to integrate their online platform, Converge, enabling preauthorized payments and a recurring billing option for customers. "That really sealed the deal for us," added Brent. "To have the ability to enter the credit card information while we are with the customer, and then automatically bill them without being charged an additional fee for each transaction. Wow. We were - and continue to be - very impressed by Paystone."
Reliable Partnership
Together, Brent and Paystone were able to significantly reduce Neighbourhood Pet Clinic Group Inc.'s long term hardware costs, while providing industry-leading customer service and helping to differentiate the clinics' payment process through a new recurring billing platform.
Here's how Neighbourhood Pet Clinic improved their business, find out how you can too!