March 12, 2018
Porsche of London Wows Clientele With Poynt
"Paystone has always been here for us from the day we opened in London; offering great service and the best deal we can find, year in and year out."

 Steve Rempel, General Manager
Porsche of London
Before 2010, Porsche drivers of London had to look elsewhere for their sales and service needs. The opening of Porsche of London set a new bar for local dealerships, featuring the finest in automotive workmanship, technology and exclusivity. In addition to boasting a team of the most highly trained service technicians in the industry.
According to Steve Rempel, General Manager at Porsche of London, their clients come knowing exactly what they want. They can range from longtime brand loyalists to eager first-time enthusiasts. In either case, Steve explained, "It's ongoing commitment to customer care that sets our dealership apart from the crowd."
When it comes to selling and servicing one of the most desirable brands in North America, Steve explained that, "The payment processing technology we provide to our clients plays an integral role." The best customer experience requires ease and speed in payment facilitation, Porsche of London recognizes this.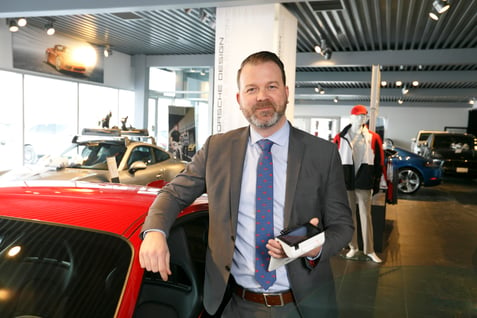 Technology That Fits
Three months ago, Porsche upgraded to the new Poynt Smart Terminal, Paystone's most capable payment processing device. "We made the switch because its sleek design was an ideal aesthetic fit for our brand and our clientele; not to mention it's cost effective, user friendly and has all the functionalities we were looking for." They were especially pleased with the dual touchscreens, equipping both customers and staff with an open-book view of all transactions. Through products like Poynt, Paystone strives to bridge the gap between traditional payment interactions and modern hardware capabilities, with a focus on user experience.
In dealership environments, there are often payment scenarios that go past the traditional check-out desk. It may be easier for customers to pay on the display floor, the lounge, or the service bay. Also, it's not uncommon that people prefer to remain anonymous during large cash purchases. The Poynt Smart Terminal's ability to connect to Wi-Fi along with its wireless and lightweight design enables businesses to remain flexible while focusing on customer service.
Steve was quickly impressed with the communication and reporting capabilities, "We can email customer receipts directly from the terminal, and through the Poynt HQ dashboard we are now able to view reports and real-time statistics online. We haven't been able to do this with any other terminal." In an industry where hidden fees and antiquated equipment are common place, Paystone stands unique with its offering of industry-leading technology and tailored solutions.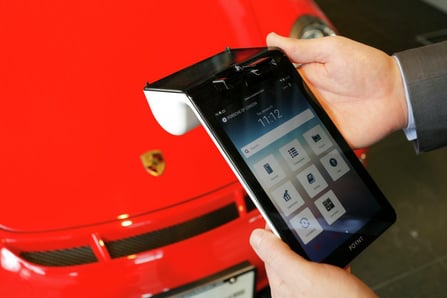 Dedicated Customer Service
Porsche of London, like any other business processing payments, will have questions or issues sooner or later. Paystone sports an in-house team of highly trained customer service agents that are dedicated to providing ongoing support, ensuring your questions are answered and your operations remain uninterrupted. "The excellent customer service we receive from them is one of the main reasons we appreciate doing business with Paystone," added Steve. "If we have an issue, we're always able to reach someone quickly and get a fast resolution."
Here's how Porsche of London improved their business, find out how you can too!