June 1, 2018
Sweet as Sugar Gets Sweeter With Poynt
"I didn't understand the entire payments industry before. It was all very intimidating. But with Paystone, it was so personable and so easy to get set up."

Madison Van Dyk, Owner and Operator
Home-based Business
Sugaring or sugar waxing began to increase in popularity in big cities like Toronto and Detroit in 2014 due to the natural ingredients of the wax with no risk of being burned, an easy cleanup with little to no irritation post-treatment, and overall hair reduction over time. According to Madison Van Dyk, prior to 2016, there were only a couple businesses offering sugaring as a service in London, Ontario and the demand among young adults was rapidly increasing. So in April 2016, Madison became certified and opened up Sweet as Sugar, offering full head-to-toe sugar waxing services right out of her home. Today, just shy of 500 clients, the business has grown to offer eyelash and hair extensions, microblading services, and Relax Sax - a migraine and muscle relief bag that Madison personally makes to order.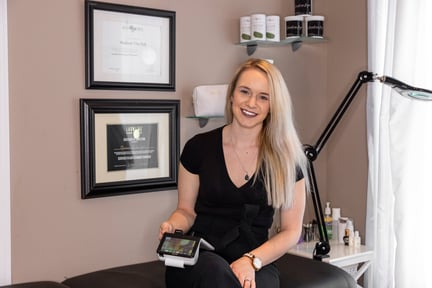 For the first year, Sweet as Sugar only accepted cash and email money transfers (e-transfers) as payment for its services. "It was extremely inconvenient," explained Madison. "Most clients would forget to bring cash and would have to run to the bank or would send me a text saying they would be 10 minutes late as they needed to quickly stop and grab cash. Each client that showed up late would push my entire day forward." Her clients would misspell their email addresses for e-transfers and Madison would have to repeatedly text them after their appointments to ensure she was receiving payment. "It was very unprofessional and it made me seem illegitimate." Sweet as Sugar was beginning to become more popular, and it was harder to manage payments and issue receipts. Madison knew it was time to scale up.
Personalized Service
Madison began her search for a reliable payment processor that would enable her to accept debit and credit for a low cost. First, she set an appointment up with her bank, thinking they could give her the best deal. She took time out of her busy work day, but the bank representative didn't even take the time to ask her questions about her business, and the way the processing fees were laid out was very overwhelming. Then, she tried her luck with a square credit card reader that plugged into her cell phone, thinking it would be convenient. "I got some feedback from my customers and other small business owners telling me that people don't like that it's connected to your phone and they don't completely trust it." Madison was also turned off by the expensive rates and the fact that her deposits would not go through for days.
Finally, in late 2017, due to the personalized service she received, including her account manager's thorough and transparent breakdown of all the processing fees, and their Poynt Smart Terminal recommendation, Madison chose Paystone as her payment processor.
An Elegant Fit
After a couple conversations with Madison about her business needs, her overall brand image, and some of her challenges with accepting payments, Paystone tailored a cost-effective solution with the Poynt Smart Terminal. "I didn't understand the entire payments industry before. It was all very intimidating. But with Paystone, it was so personable and so easy to get set up. And after they gave me a demo of the Poynt terminal, I knew I had to have it."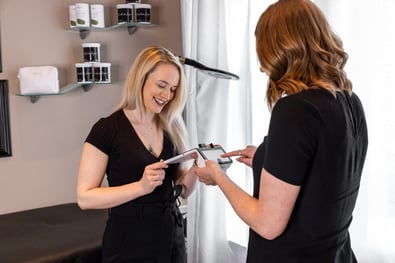 The Poynt Smart Terminal is lightweight, connects to Madison's home Wi-Fi connection, and features dual touchscreens; one for her and one for her clients. "Whatever service I click, it shows up on their screen with the amount owing and automatically adds taxes. Everything is transparent and they know exactly what they're being charged for," shared Madison. "It's extremely easy to use and I get non-stop compliments on it from my clients. It makes my business look more professional and it fits the elegance of my brand. Not to mention, it makes me more credible and really makes up for not having a storefront."
Robust Features
In the past, Madison found herself using a calculator when adding up multiple services and calculating the taxes when it came time for payment. It was very time-consuming and unprofessional. Poynt's Catalog app. gives Madison the freedom to customize and add any and all services she offers. So, when it comes time for payment, in just a couple clicks, everything is done and her clients can pay with ease. "When you're busy and you have clients back-to-back-to-back, it's a life saver." As well, her clients now have the option to email, text, or print their receipts saving Madison the time it takes to write up a manual receipt and her customers love having the option.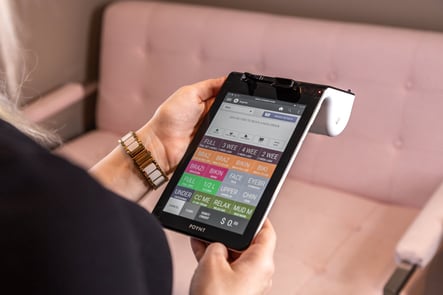 The Poynt Smart Terminal comes with an HQ app. that can be accessed from any computer or smart device and provides sales/transactions reports and analytics. Madison found it much tougher to track her sales when she was only accepting cash. She would have to write all her sales down and it became very tedious and time-consuming for bookkeeping purposes. "With Paystone, my money is deposited immediately into my bank account and Poynt sends me notifications about all my sales trends from yesterday, last week and last month. I know if I'm up or down in sales, what service I sold the most, and so much more great information."
With Paystone, Madison's payment solution is scalable with her business as she plans on expanding to a larger location in 2019 and hiring 2 employees to join her Sweet as Sugar team.
Looking to get the Poynt Smart terminal for your business?
Get in touch with one of our payment experts today.