February 9, 2023
2022 Reflections at Paystone: A Year in Review
2022 was amazing! We used the foundation we laid in our 2021 people-first strategy to build something even better.
We set ambitious goals to unify our culture, commit to the team's professional and personal growth, and amplify our employer brand. We also sprinkled in some fun events and won some awards along the way!
So much has changed in the way that we work post-pandemic but it's also afforded us the ability to reimagine and redesign ourselves and what it means to be people-first and client-driven.
So, how did it all come together?
Culture Alignment
We kickstarted 2022 with an incredible three-day virtual kick off filled with surprise swag boxes, pancake parties, team lunches, and s'mores kits with a real fire. (Yes, you read that right!)
Of course, amidst all that fun we also did some incredibly meaningful work like launching our unified Values.
As we grew and refined our company vision, we knew our values needed that same refinement to ensure they reflected who we needed to be to achieve success.
With each conversation, town hall, and brainstorming session, we really began to instill our values into everything.
Paystone's values
We:
Think

people first

–

We start with the question "Is this something our clients will love?" And then empower our people to grow together to improve the lives of our clients.

Solve

impactful problems

– We seek simple solutions using data to help solve complex problems and make better decisions.

Build

a better future

– We think big for our clients and company to define rules and be a leader in creating a future we all want to live in.
We incorporate our values in recruitment processes to ensure candidates understand our values alignment to our purpose driven culture.
We look for folks who are driven by our mission to help our clients grow, and are excited by helping improve the lives of those around them.
Based on our 2022 Q4 Employee Engagement Survey results, 79% of our team believe they're able to make a positive difference at Paystone and 84% of our team is proud to work for our company.
Our People's Participation
Implementing Lattice was truly the glue that bound all our major engagement projects together.
Lattice started as a tool to connect leaders and peers through 1:1s and weekly updates, and grew to align our people to our vision, values, and leadership with accessible and transparent Objectives and Key Results (OKRs).
It soon became the catalyst for sending, receiving, and celebrating feedback and kudos through shoutouts and private or public feedback.
We tie recognition to our values daily through Lattice which pushes shoutouts to a public slack channel, so we can celebrate publicly and our team can add on kind words, praise, or emojis to boost that recognition.
These shoutouts also flow into our performance reviews at different checkpoints throughout the year and all the kudos received are highlighted in the platform.
Over the course of 2022, 603 instances of feedback were given recognizing 86% of our company.
Our Culture Amp Engagement Survey showed that 76% of our organization feel they receive appropriate recognition for their work and 72% of employees agree that the right people are rewarded and recognized.
This major system implementation provided the engine for us to achieve many of the results we've seen over the past year. Some of these achievements, which are representative of 79% to 84% of our organization, include:
32% decrease in turnover
7% increase in engagement
4% increase in pride working here
6% increase in alignment and involvement
10% increase in the ability to make a positive difference
Professional and Personal Growth
Manager Empowerment
We recognize the importance of empowering our managers to be able to better understand and connect with their team and provide their people with feedback and coaching they need to be successful. Between Lattice and our engagement surveys through CultureAmp we were able to arm our managers with the information and tools needed to focus on creating the greatest impact for their people.
In this last year we have seen:
90% of our staff feel that their manager is a great role model for employees

86% of team members feel encouraged to be innovative even though some of their initiatives may not succeed

86% of our team feels their manager gives them useful feedback on how they're performing
But wait, there's more!
Creating Foundations for Career Journeys
We also launched career matrices, growth goals, and career conversations by introducing our newly designed performance management process LOOP.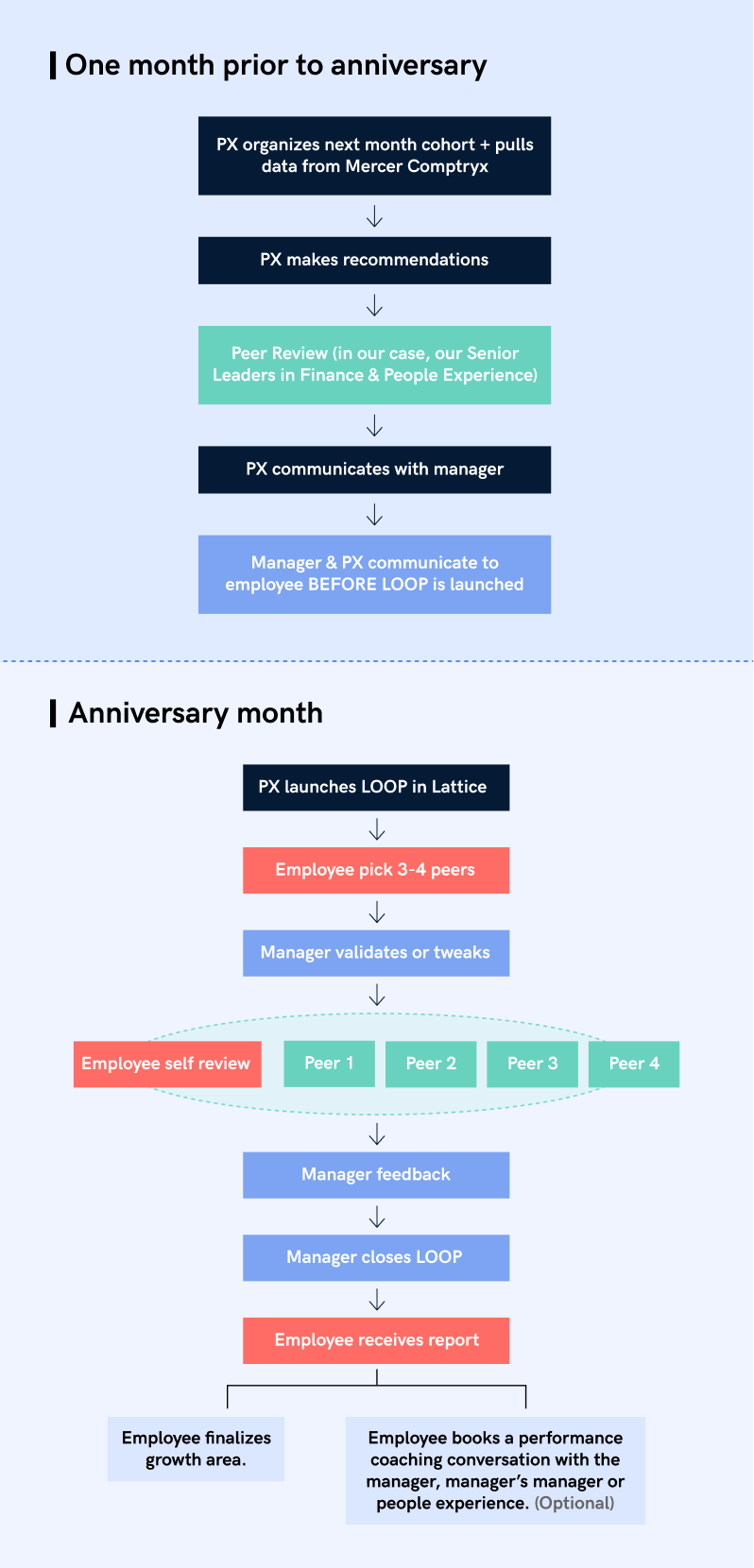 When a candidate joins Paystone, they meet with their manager and are tied to a career matrix level. Career conversations begin at this point to set expectations and share the pathways to grow.
At six months for new hires and once a quarter thereafter for all employees, career conversations are held with direct managers. A conversation guide encourages personal and professional growth conversations and each person is tasked with setting two goals or more to work towards. Budget is available for development opportunities that align to our values
At work anniversaries, our LOOP performance management process gathers 360 feedback for each employee and people leader. This allows all employees to have focused conversations on developing our people within their role and beyond, based on their own personal goals and objectives.
This project was a big one for us. It set the standard for what we can do by driving a people first mindset and integrating tools to amplify that philosophy.
While we continue to listen, explore, and identify opportunities to maintain a high level of talent, achievement, and engagement, we're excited by results we've achieved so far:
24% of our team experienced a promotion, role, change, or opportunity to join an ad hoc project

89% of our people know what they need to do to be successful in their role

80% feel that their manager (or someone in management) has shown a genuine interest in their career aspirations

80% think this is a great company for them to make a contribution to their development
We're Growing!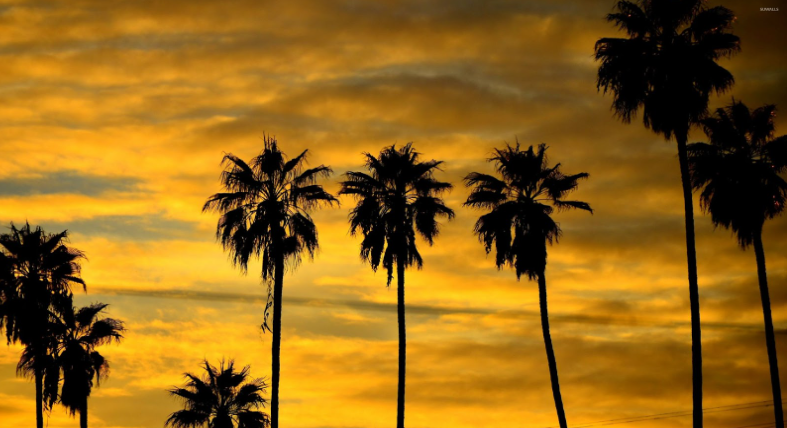 The pandemic has presented a huge opportunity to reconfigure the workforce towards distributed work.
Throughout 2022 we've committed to being a people-first organization by meeting people where they are in terms of how they work and redefining the work-from-home concept to be work-from-anywhere.
This, coupled with an unlimited vacation policy, supported our employees to take time off to disconnect when they needed to and gave them the freedom to be where they worked best – whether that was a coffee shop, traveling and working abroad, or a Paystone co-working space.
This level of flexibility has allowed us to expand our recruitment efforts and focus on hiring a more diverse, talent dense workforce that isn't location-specific.
To support inclusive hiring, we iterated on our interview processes and created standard question guides that support hiring teams comprised of diverse groups of people at each stage of the candidate's journey. We've also curated assessments that we send to candidates depending on the role to help standardize evaluations.
Over the course of the year, we hired over 80 local and international employees with diverse backgrounds from regions such as South America, the Caribbean and Asia to name a few. This led us to achieving a major milestone of growing to over 200 employees!
To celebrate, we sent every team member branded chocolates purchased through one of our own clients.
Amplifying Our Brand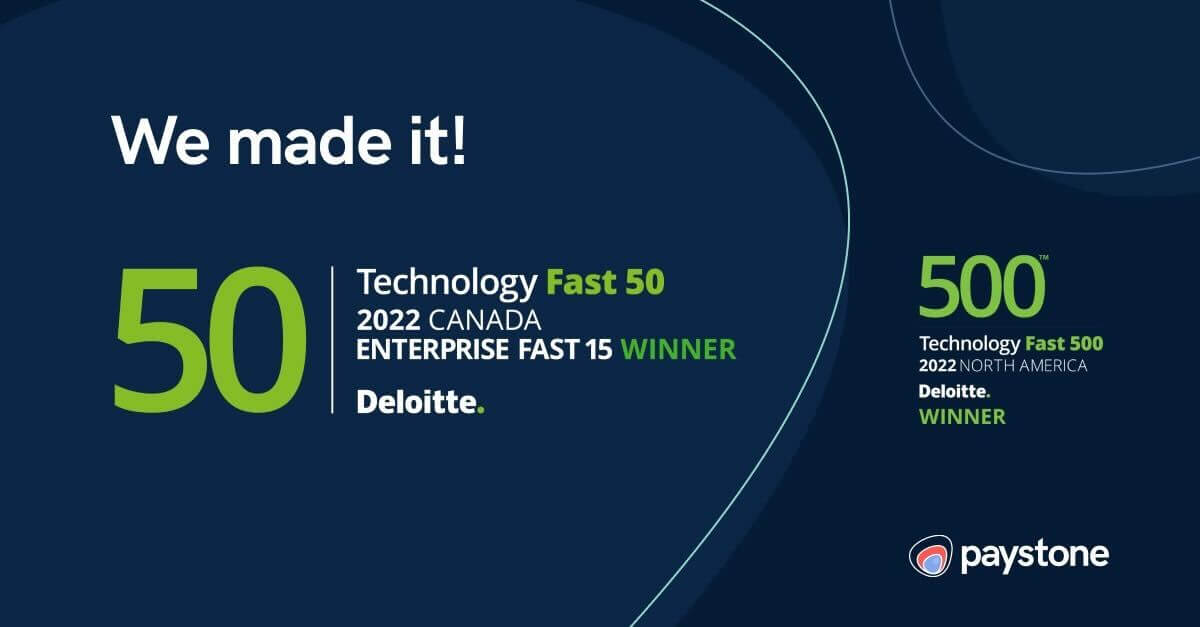 We've done a lot of work throughout 2022 to grow while investing in our people, and the recognition we've received has been humbling.
In November 2022, Paystone achieved the prestigious Deloitte 2022 Enterprise Fast 15 recognition and ranked on the Deloitte Technology Fast 500.
We were also named as one of Canada's highest-potential tech companies in 2022 by being ranked on Communitech's Team True North, a roster of Canadian innovation companies shown by verified data to have the highest probability of reaching $1B in revenue.
And, while we're no strangers to the Great Place to Work certification, being re-certified this year was a testament to our employees and how they feel about Paystone being a great place to work.
We saw the impact of this through our Glassdoor ratings which saw an increase from 4 to 4.6 stars. Our Indeed rating also increased from 3.4 to 4.1 stars.
We also ranked in Globe and Mail Canada's top growing companies 2022 as well as the Limitless 2022 Scale Up award which recognizes a technology-powered venture that has realized substantial growth within the year through leadership, market impact, and innovation.
Referrals, Referrals, Referrals!
A company's greatest advocates are its employees. In 2022, we found great success with our employee referral program, which resulted in 30 of our 80 hires coming through referrals!
Our referral program offers a variety of ways that employees can accept their reward, such as:
Money right in the bank
Making a donation to a charity of their choice
Additional company stock options (equity)
Splitting the cash with the person they referred
Vacation paid
Work Hard, Play Hard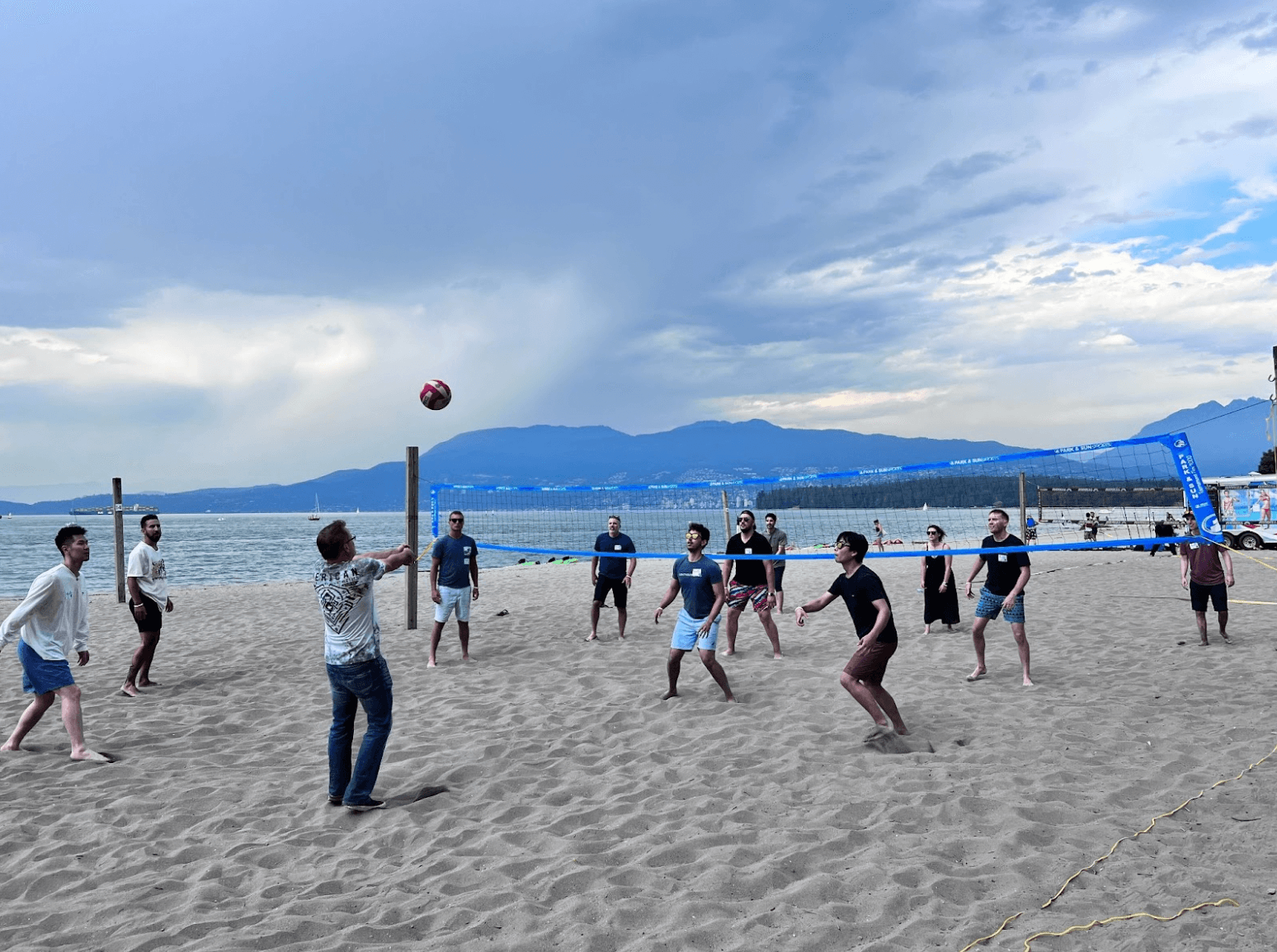 Being location agnostic has its many perks, but nothing compares to the energy that in-person experiences make possible.
We made some great memories bringing individual teams together for fun team-building opportunities such as flying our engineering team into western Canada where they got to bond in nature on one of Vancouver's beautiful hiking trails.
Our in-person summer events held in each of our major hubs brought our staff together for a day out at the beach. With lots of organized water and on-land activities, the Montreal team enjoyed friendly boat race, the London team had loads of fun trying their skills on paddle boards, and Vancouver put their kayaking and volleyball skills to the test.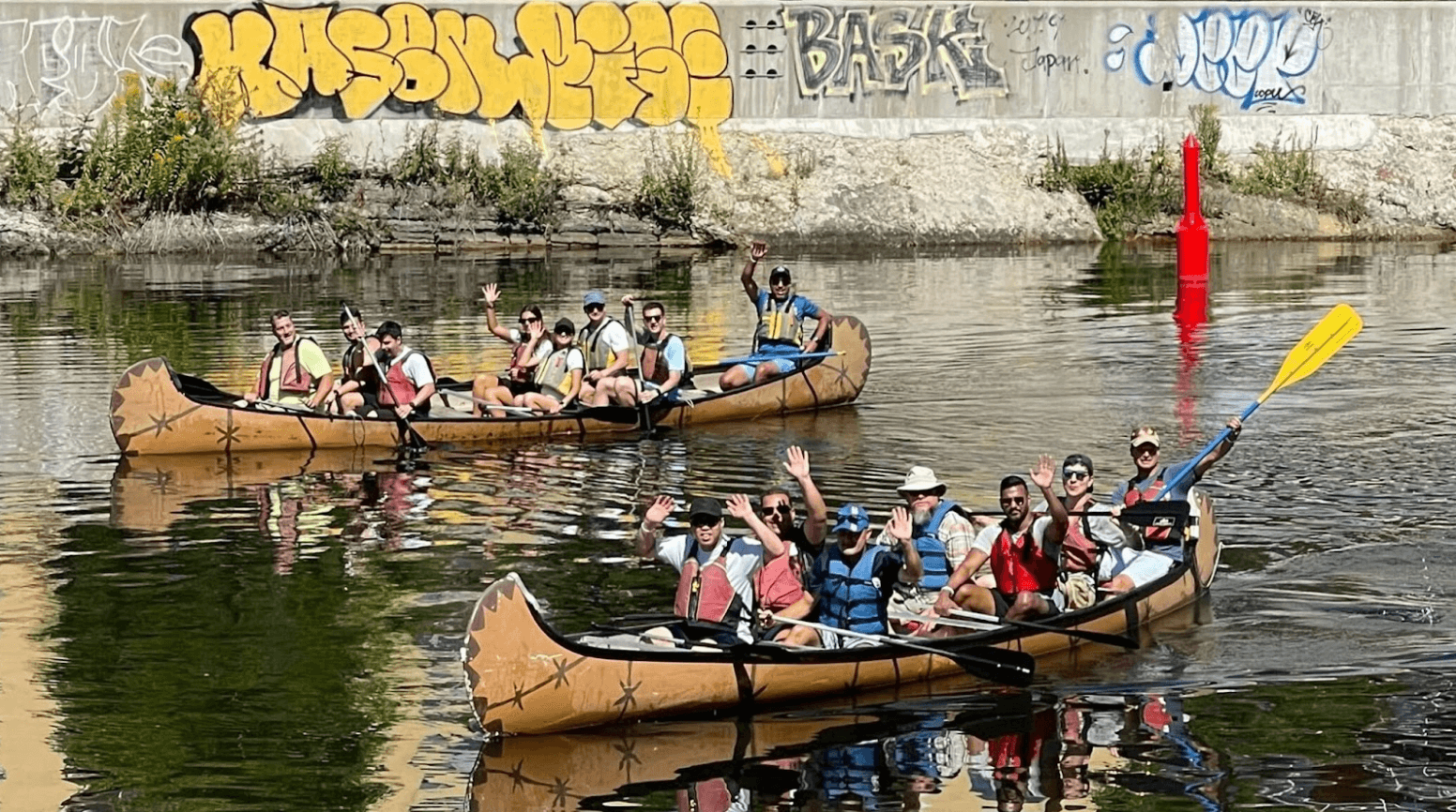 The fun didn't stop there!
We brought employees and their families together for an evening of laughs by hosting an all-ages virtual comedy show and made the night extra special by sending everyone mini popcorn machines… because what's a show without popcorn!
Giving Back to Our Communities
We also created opportunities for our team to participate in charitable giving.
We selected Geenees, an incredible not-for-profit social giving platform that allows people to grant and fulfill wishes directly to various causes.
Our employees created a gifting committee and picked a cause to support and make wishes come true. Through our work with Geenees, we were able to grant over 85 wishes to various charities in need.
For International Women's Day, we wanted to do something impactful internally and externally. So we partnered with a company called Talent, which focuses on supporting 1,000 women to find or build higher-value paid work.
Internally, Paystone allowed those who identify as female to join the six-month Propeller Program. Externally, Paystone funded ten women who couldn't afford the program to go through it, helping them develop skills and networks to gain higher-value paid work.
And we're happy to report that the program was a success. We had high engagement and participation from the group and six women decided to continue with the program for continued support and development. Some of the benefits shared by the group included:
Helping them navigate stress (in work and life)

Getting clarity on, and excited about, their career path (reconnecting with their professional potential and inner confidence)

Reconciling being a parent with having career goals (you can have both!)
In 2022, we made tons of amazing memories and accomplished a whole lot more.
But we're not done yet.
We've built a great foundation and, with a continued focus on our people and culture, we can't wait to see what 2023 will bring!
Want to be a part of our journey? Check out our careers page for your next great opportunity!