August 19, 2019
6 Entrepreneurs Share Their Biggest Challenges and Best Advice
What does it mean to succeed in business? For the people who decided to bring their business ideas to life, it means a lot of hard work, ups and downs, and lessons learned.

To celebrate some of the amazing businesses that we get to work with, we reached out to a handful to learn about what it takes to be an entrepreneur, the challenges that they've faced, and what they wish they knew when they started (or took over) their businesses. Here's what they had to say.
Rokhsana Purdy, Owner
Stay motivated
"Don't listen to people who doubt you. If you feel it in your soul, have a passion for something you think is amazing, and know you will work hard for it… DO IT!"
Stress will pass
"Nothing is as big as it seems regarding stressful situations. It's over and done in the blink of an eye, so why spend hours and days worrying about something? It's a total waste of good energy."
Ask questions
"Question everything. I was raised that way, to not follow the pack and ask questions when things seem questionable. This is a huge reason why I have this business."
Robin Pero, Founder and Horticulturalist
Trust your intuition
"I wish that I had listened to my intuition more in the beginning. There are flags and signs that appear to help steer you in the right direction and you should really listen to them! I also wish I went for it sooner, fear should never stop you from following your dreams!"
Be authentic
"Always follow your gut, and don't compare yourself or your business to anyone especially on social media! As I always say, stay in your own lane, which to me, means keep your head down and keep working at what you love and don't try to be anyone other than yourself. A business full of integrity and heart will always stand out and eventually, the success will follow!"
Make a business plan
"My biggest challenge in business has come from jumping into entrepreneurship with more of a dream than a plan. There's that old saying "if you fail to plan, you plan to fail," and it really rings true if you jump into things without properly mapping it all out. Writing business plans is probably the driest part of starting a business, but it is the most important tool you will have. Knowing who you are as a business, who your competition is, and your target market is very important, as well as knowing where you want to be in the future years."
Learn more about Grow & Bloom and how they use technology to streamline their shop.
Fouzan Beg, CEO
Best of London 2018 Winner
Balance business and family time
"Thaifoon was founded by my wife's family in 2005. My wife, Manisay, and I bought the business from her family when she was 7 months pregnant in 2014. I still remember her serving tables a week before the birth and I was still fairly new to the business. I had to do it all on my own when she gave birth - that was the biggest challenge: extremely long hours and very little family time."
Never compromise on quality
"The recipe for success wasn't a secret. I didn't compromise on quality and saw anyone walking in as my guests, literally as my guest, as If they were coming to my home and wanted to be a great host to them. It would be no different if they came to my home or to Thaifoon."
Always strive for more
"The goal is to grow Thaifoon to the next level. I am thankful that I have been able to take a business and bring to a higher level of success, but I am still not satisfied. I think dissatisfaction is a creative process. It pushes you to do better, and so I'm striving to do more and better always."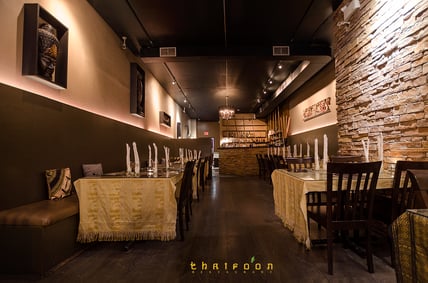 Dan Heffernan, Owner and Operator
Heff's Hives, Beekeeping Supply and Honey House
Take risks
"Why not give it a try? I can always go get another job. When I decided to leave my previous career to pursue this endeavour, everyone said I was nuts. I have heard entrepreneurs jump off a cliff and build a plane on the way down...it's not for everyone, but I had to try."
Lisa Sallabank, Owner and Senior Stylist
2013 Ontario Hairstylist of the Year, 2014 Business London 20 Under 40, 2019 Best Places to Work in London
Learn as much as possible
"Take all of the business classes that you have the opportunity to take, and start young, well at least before you own your business. And never stop — you are never done learning."
Lead from the heart
"Always lead from your heart. Even if someone steps on it, don't let that change the way you are."
Will Heeman, Chief Daymaker
Heeman's, Farm and Garden Centre
Plan for success
"You don't fall into success; you plan for it, purposefully and methodically. There is no 'slow season'. Even though people might think you're less busy with serving guests, it's never slow. There's planning, prep and setting the stage for the next act that goes on to make sure things 'come together'."
Make it easy for your customers to pay
"People should never have to wait to give you their money. This has been a lasting lesson for me and our whole family. After a great time out at your business, the most painful part – paying – should be as smooth and easy as possible. Move fast, hire extra cashiers, make sure your team is like a well-oiled machine at the checkout!"
Interested in reading more? Check out some of our other business success stories and how we've helped streamline their operations.