July 8, 2019
How Talech Streamlines Your Restaurant Operations
If you run your own restaurant, you know that there's more to it than just serving your customers amazing dishes. Behind the scenes, you need to manage employee schedules, monitor your sales, manage discounts and promotions, and track and order inventory to keep your kitchen stocked. Needless to say, running a restaurant, though rewarding and exciting, takes a lot of time and energy.
Luckily, recent tech innovations in the POS industry can help you to simplify your operations and give you more time to focus on your customers and passion for food.
Talech is a POS software specifically designed for small and medium sized restaurants, and it comes equipped with all the tools you need to streamline your restaurant experience from customer interactions to back-of-house management.
Here's an overview of some of the Talech features:
Table for two near the window.
Set up a custom floor plan with multiple rooms and use the bird's eye view to quickly see open and occupied tables. You can even split bills by seating position, making it easy for your servers when it's time for your customers to pay the check.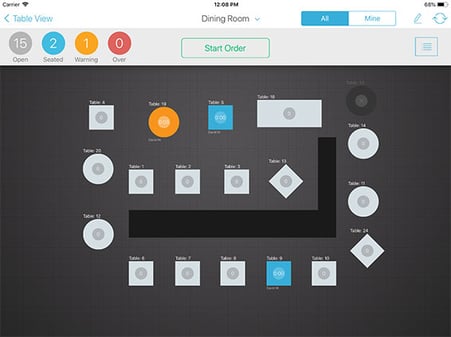 Sending orders to the bar and kitchen? No problem.
Assign courses, void items, and send tickets to multiple printers with just a few taps. Being able to send tickets directly to kitchen or bar printers makes processing orders more efficient, meaning your customers will get their meals faster and be more satisfied with their dining experience, and you'll have quicker table turns.
No onions, dressing on the side, and add extra cheese.
Effortlessly take complex orders with the menu add-on and exclusion modifiers. This makes it simple for your servers to take complicated orders and send them to the kitchen, and it minimizes the chance that your customer's order will have a mistake.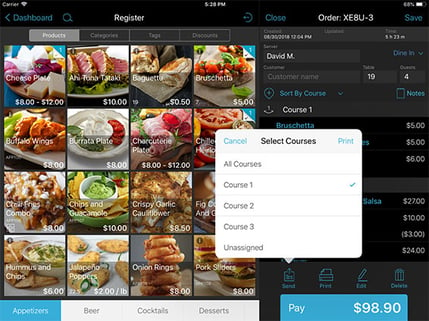 Is it extended happy hour or half-price tapa Tuesday?
Easily set up and automatically manage discounts that trigger at specific times and days (Happy Hour, BOGO, Weekday Specials). With this automation feature, you can eliminate the hassle of manually entering discounts and potential billing errors. Did you know that you can even manage and sync discounts across your locations?
Back again? We've got a new special you're going to love.
Get to know your customers. Understand your customer insights, see which menu items are customer favourites, easily advertise relevant specials, and reward their loyalty. After all, giving your customers the best possible dining experience is important to keep them happy and coming back for more.
Employee timesheet tracking? It can do that, too.
Track and manage your employee timesheets at a glance. Talech also lets you visualizes data to help you understand employee sales performance, a breakdown of tips, and labour cost reporting. You can even manage your employee permissions for 30 different functions, like discounts, cash drawers, and voids.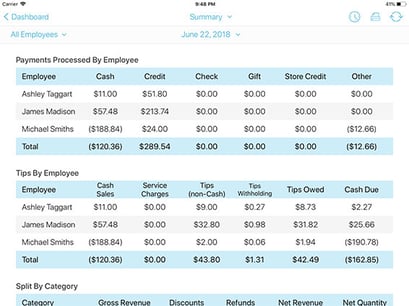 We have more garlic, right?
Keep your kitchen stocked and running by tracking inventory in real-time. Multi-location management allows you to update and sync inventory across all your locations. You can easily monitor inventory without lifting a finger by setting up alerts when kitchen stock runs low. All that's left for you is to manage your supply chain orders.
Need to check your balance sheets? We've got accounting integrations for that.
Sync your daily sales to Xero, Sage One, or QuickBooks so you can monitor your operating costs and revenue, without manual entry.
No internet, again?
Continue to manage orders across your devices even if your internet goes down. You can sign in, take orders, and take cash payments.
Secure data?
Finally, keep your customers' data safe with the latest security updates, encryption, and tokenization.
Talech can easily be used with our Poynt Smart Terminals, which offer receipt flexibility and customization, additional apps, dual-facing screens, and portability so your customers can pay at the table.
Looking for more ways to improve your customer interactions and your restaurant operations? Read our 7 Tips to Make Your Restaurant More Successful and 3 Ways Technology Enhances the Small Business Experience.