October 1, 2018
Pillar Nonprofit Network and Paystone Team Up For A Night To Remember
It was a big night for philanthropy in London Ontario as hundreds of people came out to show their support and celebrate individuals and organizations doing exceptional work in the community. Since Pillar Nonprofit Network launched the Pillar Community Innovation Awards in 2006, they have become one of the biggest events bringing together nonprofit, business and individuals in a night of celebration, storytelling, and giving.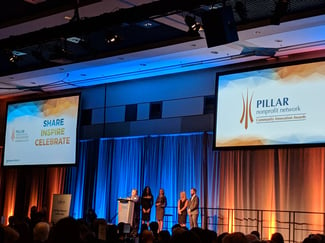 Paystone, London's award-winning financial technology company, teamed up with Pillar Nonprofit Network to bring attendees a new way of giving back to the community using Givepoint.
"The work that Paystone is doing really elevates the fundraising side of things which is so pivotal to the sustainability of this sector," says Michelle Baldwin, Executive Director of Pillar Nonprofit, "at this year's awards, there was an electric energy in the room, you could feel it from the crowd." Volunteers from both Paystone and Pillar Nonprofit Network came together and, using the Givepoint Kiosk and hand-held Givepoint Terminal, raised over $7,000 to support the nonprofit's community initiatives.
Paystone's Fundraising platform seeks to create a better experience for both the charity and the donor by providing the ability to donate using credit or debit, select specific campaigns to donate towards, and download tax receipts. "When you look at this product, you know it can make a difference for charities, help them get their stories out and really be a platform for people to connect, and give, and make a difference, says Baldwin, "this partnership for me represents the possibility of what happens when you come together, and this is just the beginning of a beautiful partnership."
Built on the shared values of inclusivity and community leadership, Pillar Nonprofit Network and Paystone's collaboration is a perfect illustration of what can be achieved when business and charity unite under a common cause.