September 9, 2019
Poynt 5: The Ultimate Sidekick for Retailers
The Poynt smart terminal is flawless. It's the Beyoncé of payment terminals. Let's put it this way; if your business had 99 problems (which we hope it doesn't), your payment terminal wouldn't be one. It's sleek, has two screens and tons of downloadable apps and features to help you do everything from payment processing to inventory management.
Well, if you've met the Poynt smart payment terminal, you'll love the Poynt 5. It can do everything that Poynt can do, but it's small enough to fit into your pocket, making it the ultimate sidekick for retail shop owners.
Let's talk about time-saving apps.
If you need it, there's probably an app for it. Poynt 5 comes with built-in apps, and more can be downloaded from the marketplace. They can help you streamline your front-of-house, back-of-house, and administrative operations, ultimately saving you hours of time (and money) every week.
Wondering how apps can help you run your retail shop? Here's a few examples:
Keep tax season simple with accounting integrations
Track and manage inventory with the talech app (with notifications when you're running low on items)
Upload your product catalogue for easy check-out experiences
Manage loyalty programs through apps like My Rewards
Easily collect and respond to customer feedback in the Poynt HQ app
Manage your promos and discounts across locations
Create employee schedules in seconds with the Homebase app (it even sends your employees shift reminders)
Use your terminal for employee clock-ins and clock-outs
Access real-time sales performance reports
Get business insights to understand which products are selling out, and your busiest seasons and times of day
The great thing about Poynt and Poynt 5 smart terminals is the fact that there are so many apps available. Not every retail store or small business is going to have identical needs and use the same apps in the same way. With smart terminals, you can choose which apps are the right fit for your business and create your own all-in-one business solution.
As a small business owner, you have to keep track of a lot of different things. You might be the buyer, seller, social media marketer, administrator, and HR for your business. Your time is definitely at a premium, so any tools that can make your job easier and save you time are invaluable to the success and growth of your shop.
Check out how Grow & Bloom, a botanical boutique, uses the talech app to manage their stock, simplify their accounting, and get awesome sales reporting.
Save space, take it anywhere, and look good doing it.
If you have a small shop and countertop space is limited, it's important to have a tiny terminal. The counter where you cash out customers is a prime location to upsell accessories or other small trinkets. So why have bulky, ugly hardware monopolizing this space, when you could have something stylish and compact?
Aside from aesthetics, Poynt 5 also offers a key feature for retail businesses to remain competitive: portability. A ton of retailers now offer checkout in the aisle or have taken their shops on-the-go. Plenty of small business owners are using pop-up shops, sidewalk sales, farmer's market booths, festivals, and craft markets as a way to generate more awareness and boost sales. Are you prepared to take credit and debit at these locations?
The Poynt and Poynt 5 smart terminals have 3G options and about 8 hours of battery life. You won't have to depend on wired-in solutions or Wi-Fi to take payments so you can sell wherever, whenever — plus you'll look cool doing it.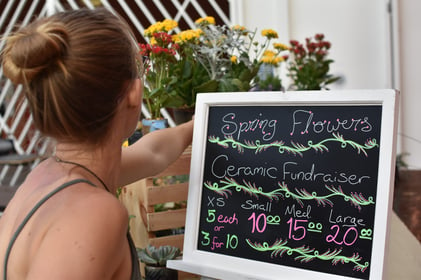 Receipt flexibility to fit everyone.
When customers complete a transaction on your Poynt or Poynt 5 smart terminal, they have the option to receive their receipt via email, text, a traditional printed receipt, or opt for no receipt at all.
While this may not sound like the most exciting feature of the Poynt terminals, there's a few reasons we love it.
You can get customer feedback from text and email receipts. When the customer receives the receipt, they're prompted to rate their experience and provide written feedback. You'll see this feedback in the Poynt HQ app, and you can respond in the same text or email thread in real-time.
You won't have to worry about your customers losing their receipts (and they won't have to worry about extra paper clutter). Ever had to process a return without a receipt? It's a serious pain to look up a transaction when the customer can't remember which card they paid with.
People love Earth. People don't love wasting paper. Being more environmentally conscious actually improves your brand image and increases your sales. Read more about easy eco-friendly changes you can make and how it can benefit your business.
Save money on receipt paper. Fewer printed receipts means you won't go through paper rolls so fast.
Want to learn more about smart terminals and how they can improve your business? Check out our other Poynt articles: