June 26, 2019
Poynt: The Coconut Oil of Payment Terminals
Every few years, a miraculous product surfaces that quickly becomes a cult favourite cure-all for absolutely everything.
Exhibit A: coconut oil. The once overlooked and under-used kitchen ingredient is now the go-to fix for dry skin, dull teeth, lackluster furniture, bitter coffee, overbearing in-laws, and more. Well, as our title suggests, we've got coconut oil – but for payments. Still follow?
It's called the Poynt Smart Terminal. And, much like coconut oil can solve 99% of your problems, Poynt can solve a ton of your business pain points.
Here are a few ways the Poynt Smart Terminal can help you:
Does the Poynt track inventory? You bet.
Arguably the best part of the Poynt smart terminal is the fact that you can leverage the app marketplace to download everything you need in one place.
Here are just a few of the apps you can get on Poynt:
Inventory management
Accounting integrations
Employee schedule management
Imagine having your revenue sync to your accounting software every night. Imagine seeing your real-time sales trends in just a few taps. Imagine having your entire product catalogue organized and at your fingertips.
Imagine having way more time for your favourite things.
Niche business? Poynt's apps can help with that.
As we mentioned above, Poynt terminals come with some amazing apps to help you run your business.
Apps specific to your industry come preloaded on your Poynt device, and you can also download additional apps from the Poynt App Marketplace.
For example, if you're a restauranteur, the talech app can help you run your restaurant. It has features for small cafes and medium-sized restaurants:
Manage orders, promotions, and tables
Track inventory (are we out of coconut oil?)
Manage Employees and timesheets
You can also integrate the app with your accounting software to access daily cost and revenue reports. But most importantly, using talech on Poynt eliminates the need for manual reconciliation at the end of the day.
Read more about how talech can help you streamline your restaurant.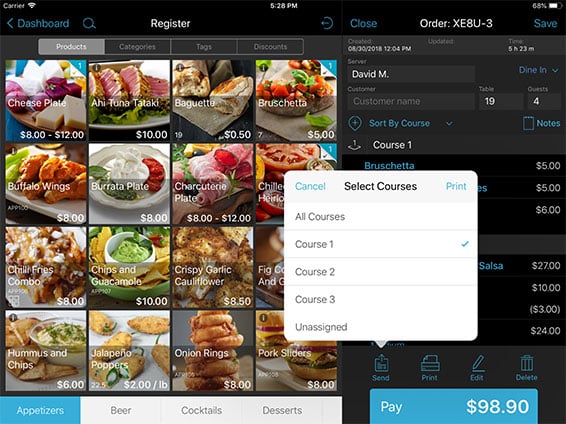 If you're managing a hotel, there are apps to help you do that, too. The Lodging app can help you manage reservations, process walk-ins, and easily charge guests for add-on products and services.
Print receipt, email receipt, or text receipt?
With more companies opting to go paperless, why not offer your customers the option to get receipts via text message or email?
E-receipts are more environmentally friendly, you'll spend less on receipt paper (and won't have the hassle of changing rolls as frequently), and your customers won't have to worry about misplacing their receipts.
Paperless receipts also come with some pretty cool features — we'll get to that next.
How was our service?
Use Poynt to collect customer satisfaction feedback at the point-of-sale or when you email or text receipts.
Keep the dialogue going through the Poynt HQ app so you can thank your customers for the feedback. Or, if they weren't satisfied with their visit, try to maintain their loyalty by offering them a discount for their next visit.
How it works:
Your customer opts to receive their receipt via text message
They can rate their experience on the receipt and be directed to a short feedback form
The feedback is sent to your Poynt HQ app, and you can view the comments in real-time
Send a response back to your customer, and they'll receive it in the same text thread that they received the receipt
Pretty cool, right?
It's super secure.
In addition to the security updates, Poynt comes with Safe-T, a feature that tokenizes your customer's card data at the most vulnerable step of the transaction.
Safe-T also saves you time. There are fewer PCI compliance survey questions and no scheduled quarterly scans. Your security is automatically monitored, and you only need to complete an annual Self-Assessment Questionnaire (SAQ).
Long story short, you and your customers can feel confident that all card data is protected.
Did we mention it's really nice looking?
Aside from all the apps and features, Poynt is sleek and modern looking. It doesn't feel like any old payment terminal (because it's not), and it'll definitely impress your customers.
It's portable, has dual-screens for you and your customers, and will look clean and compact on your countertop.
You also have the option to customize the display to your business' brand for a seamless customer interaction. See how Porsche of London wowed their clients with Poynt.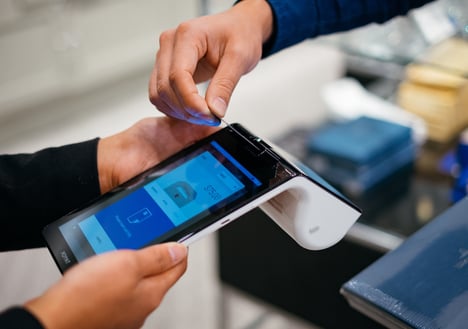 We could go on and on about the many different features and benefits of using Poynt. Like coconut oil, it's a versatile product with tons of features that fit your specific business needs. But its true value is the fact that you can use it to simplify and streamline your business processes, which ultimately saves your business both time and money.
Learn more about the Poynt smart terminal and how technology can streamline your business.