October 1, 2018
Riverside United Church Prepares for a Cashless Society with Givepoint
Paystone's Fundraising Platform prepares us for a cashless society by being a system that works. The little videos we can show, the icons of the various campaigns that we're offering; it's a great stimulus to remind people of what it is we're trying to do.

Kim MacGowan, Volunteer Member of Riverside United's Finance and Stewardship Committee
In 1958, Riverside United Church opened its doors to London, Ontario's Christian community. For 60 years, Riverside has been serving its growing membership of 525 members through its community events, fundraisers, conferences, youth camps, and weekly worship services. As a registered Canadian charity, like most religious institutions, Riverside's operations rely heavily on donations - especially cash donations - and volunteer time from its members. With a decline in overall cash usage, as research shows Canadians are heading towards a cashless society, charities are witnessing a decline in overall donations. Even with a steady congregation of 200-300 potential donors every Sunday, Kim McGowan, a Volunteer Member of Riverside United's Finance and Stewardship Committee, knew something needed to change.
Riverside United Church chose to implement Paystone's fundraising platform and installed the Givepoint Kiosk in their sanctuary. "We liked the idea of it because many people are not carrying cash anymore, but everyone has a debit or credit card," explained Kim. "Our cashless society can greatly affect people's ability to give to charities and may not allow them to continue their valuable work. Because they don't have cash, they may not think about how to make a donation. But now, we've opened up the opportunity for donating for people who are visitors, people who have not brought cash, or people who have been exceptionally motivated on a Sunday to make a large donation and don't have that much cash on them."
Riverside United was set up with the full fundraising platform, featuring an online donor portal their members can donate to from any computer or smart device at any time, and two Givepoint Kiosks; one at each of their high foot traffic areas at their location. The installation took no time at all. Once they received their kiosks, they were up and running by simply plugging them in. With access to the Givepoint Hub, Riverside can view their donor information, donation history, generate tax receipts, and even upload custom media such as videos and pictures that their members can view while walking by the kiosks. They were also able to create custom campaigns for specific fundraising efforts giving their members a transparent look into their valuable work; campaigns such as general donations, a memorial fund, mission and service, a resource fund, and any future holiday-specific campaigns.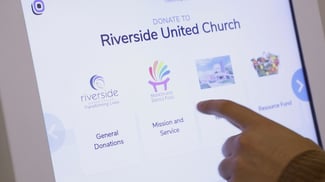 Prior to collaborating with Paystone, the only ways members of Riverside United could make donations was by cash, cheque, or by pre-authorized monthly donations from their bank accounts. Once the donations were received, volunteers of the church would manually count and record the donations on a weekly basis. "With Givepoint, tracking and reporting of all donations is accurate and instantaneous and requires much less volunteer time to manage," shared Kim.
Collecting digital donations with Givepoint has better catered to the church's younger members who are not used to paying for anything with cash or may not have ever used a cheque. As well, Riverside's online donor portal is growing in popularity as several young donors have chosen to use their smartphones to make donations. According to Kim, "Givepoint has helped us reach our goals in a number of ways. It's helped us financially. But it's also new technology and we are showing our members that we are part of society, that we can be forward thinking and progressive as we move into the future."
With an average donation amount of $58 on Givepoint and thousands of dollars raised on each kiosk, Riverside is on its way to hitting their yearly goal. Kim's final words on the kiosk were deserving of notice. "Paystone's Fundraising Platform prepares us for a cashless society by being a system that works. The little videos we can show, the icons of the various campaigns that we're offering; it's a great stimulus to remind people of what it is we're trying to do."
Be ready for a cashless future and get your church set up with Givepoint today!