August 26, 2019
Smart Payment Terminal Tips for Hoteliers
In the hospitality industry, the guest should be at the centre of everything you do. Rather than selling a tangible product, you're providing your guests with an experience: an escape from their everyday lives.
In order to better manage your operations and give your guests their best possible hotel stay, we've compiled a few smart terminal tips that are relevant to hoteliers.
Smart Payment Terminals can make running your hotel easy.
But first, what is a smart terminal?
Smart terminals are payment terminals with access to the online mobile app marketplace.
This means you can do more with your terminal by using apps designed to make running your hotel easier. Some of these industry-specific apps are free, while some of them require a licensing fee or monthly charge based on the number of devices using it.
One smart terminal a lot of hospitality businesses favour is the Poynt because of its wide range of apps. Clients with hotel/motel merchant category codes receive their Poynt smart terminal with some additional industry-specific features and apps pre-loaded.
How You Can Use the Poynt Lodging App
The Lodging App, available on Poynt, enables you to easily manage reservations, process walk-ins, and bill for add-on products and services.
The check-in/check-out function allows hoteliers to assign date ranges, rates, and room numbers for upcoming reservations. You can also shorten or extend accommodations.
For check-ins, your guests will need to provide card information to process a pre-authorized amount, with pre-authorizations expiring after 5 business days. When it comes to checking-out, your guests can pay with the same card or use cash. If your guest opts to use a different payment method, the app automatically prompts you to void the existing pre-authorization. This minimizes the risk of accidental duplicate charges and potential ensuing chargebacks.
Using the Quick Stay function, you can automatically capture a walk-in stay and apply the transaction to the current day's batch so you get paid faster. Instead of processing a pre-authorization, the Quick Stay transaction is completed upfront.
The Sale function makes it easy to charge guests for additional products/services, like laundry service, gift shop purchases, and room or restaurant service. Hotel employees can select the category, price, and enter the room number or folio number, making it easy for your hotel guests to get what they need when they need it.
Creating Employee Schedules on Your Smart Terminal
Rather than manually creating employee schedules on a dry erase board or spreadsheet, why not use simple apps to track your employees' timesheets and create weekly schedules? Homebase offers Time Clock and Schedule apps, which are both available for free for the Clover Flex and Poynt smart terminals.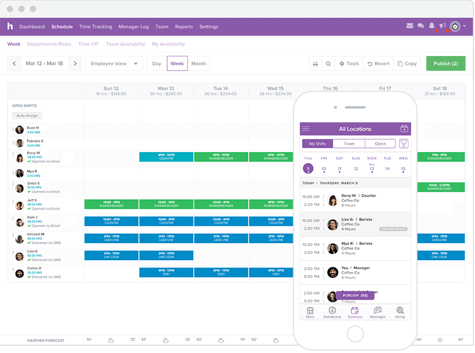 Hotel managers can either manually create schedules using the drag and drop options or use automatic scheduling, which takes into account your team's availability and roles. Homebase allows you to conveniently share employee schedules via SMS text and email. If you need to update or adjust the schedule, your employees receive instant updates and shift reminders.
On the flipside, your employees will love Homebase because it makes it simple to remember their schedule, trade shifts, message the team, request time off, and even estimate their pay.
Additionally, Homebase makes it easy to track working hours and breaks, declare cash tips, and export payroll-ready timesheets. It notifies you if your employees are close to reaching overtime or don't show up for a shift, so you can adjust accordingly.
Interested in learning more? Check out 3 Ways Technology Enhances the Small Business Experience and 9 Questions to Ask When Shopping for a Merchant Services Provider.