November 14, 2019
The Islamic Centre of Southwest Ontario Caters to New Donors with Givepoint
"We're reaching individuals and members of the community that hadn't donated before because they never had cash on them or they were in a rush after prayer. Givepoint's Donation Platform gives them that option to donate with debit or credit, quickly and easily and get back to their day."

Naj Mankal, President
Since its inception in 1994, the Islamic Centre of Southwest Ontario has served as not just a mosque and community centre, but as a place of sanctuary to London, Ontario's Muslim community. For nearly a quarter of a century, the centre has been open during all prayer times, providing Arabic and Islamic learning programs on weekends, hosting youth summer camps, and bringing the community together for Friday prayers and Eid celebrations. Like all religious institutions in Canada, the centre's operations rely heavily on cash donations. Naj Mankal, President of the Islamic Centre, has watched its weekly Friday prayer attendance increase over the years to over 750 members, but has witnessed a decrease in overall donations coming into the mosque.
Prior to Givepoint, the centre was only collecting cash donations and also gave members the ability to set up automatic withdrawals, and this was not enough to meet their goals. "We realized we weren't reaching everyone that we could be," explained Naj. "People weren't donating as much because people aren't carrying cash; so Givepoint came at a perfect time. We realized how easy their kiosk was to use, how easy it was for our donors to access, how it accepted debit and credit donations, and all of that met our community's needs."
The Islamic Centre of Southwest Ontario decided to implement the Givepoint platform, featuring an online donor portal their members can donate to from any computer or smart device at any time, and two Givepoint Kiosks. What surprised Naj was that the installation process did not interrupt their day. Once they received their kiosks, they were ready to accept donations by simply plugging them into an outlet. With access to Givepoint Hub, the Islamic Centre can view their donor information, donation history, generate tax receipts, and even upload custom media such as videos and pictures that their members can view while walking by the kiosks. They are also able to create custom campaigns for specific fundraising efforts giving their members a transparent look into their valuable work; campaigns such as general donations, Sadaqa, Zakat, project-specific campaigns such as a parking lot repair, and any Ramadan and Eid campaigns.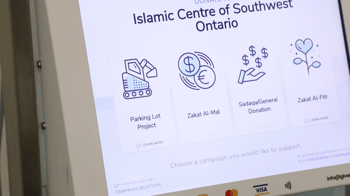 "We're reaching individuals and members of the community that hadn't donated before because they never had cash on them or they were in a rush after prayer. Givepoint gives them that option to donate with debit or credit, quickly and easily and get back to their day," shared Naj. "It gives people options that they never had before. It's the way of the future. Any organization implementing their fundraising solutions shows their members that they're in favour of the changing times."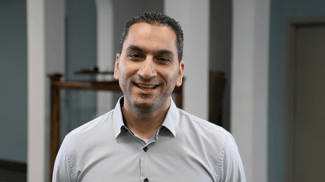 In their first year using the platform, the Islamic Centre of Southwest Ontario was able to raise over $72,000; and this was not including the cash that was still donated to the centre. Givepoint has helped the Islamic Centre meet many of their fundraising goals such as their parking lot repair campaign and their Ramadan campaigns. The Givepoint Kiosk has helped them to boost their Ramadan donations and increase their average donation amount to over $65. "The donation kiosk was there to collect donations from individuals who didn't have cash on hand; or may have attended in the evening or on holidays, where there was no way to give cash donations."
Give your donors the option to donate the way they want and start collecting digital donations today.