August 30, 2023
Restaurant Loyalty Programs Guide: Unlocking Success in the Food Industry
Craving the secret ingredient to elevate your restaurant business and delight your diners consistently? Wondering how you can turn those one-time visitors into die-hard fans? The recipe is simple: a top-tier restaurant loyalty program!
They can help you get repeat visits, drive sales, and build a community of loyal foodies who can't get enough of what you're serving.
In this comprehensive guide, we unpack the intricacies of restaurant loyalty programs. We explore their proven effectiveness and look at the most enticing benefits they bring to the table. Plus, we spotlight some of the best restaurant loyalty programs you can choose from to help you cook up the perfect loyalty strategy.
What is a Restaurant Loyalty Program?
A restaurant loyalty program is a strategic initiative aimed at rewarding your customers for their continued patronage. These programs serve as more than digital punch cards; they are a treasure trove of data analytics, targeted promotions, and customer engagement opportunities.
By tracking key metrics—like a customer's favorite dishes, their preferred dining times, and the frequency of their visits — you can offer personalized incentives that keep them coming back for more. This enhances customer experience and also provides valuable insights that can be leveraged for tailored marketing campaigns.
Restaurant loyalty programs also allow you to sidestep the extra costs tied to third-party delivery services by encouraging customers to order directly through your dedicated app. The average member is likely to see comparatively lower when ordering through loyalty programs than they would otherwise.
Loyalty programs are an essential piece of the digital pie in the bustling world of restaurants, where sales are expected to reach $997 billion in the US in 2023.
Do Loyalty Programs Work for Restaurants?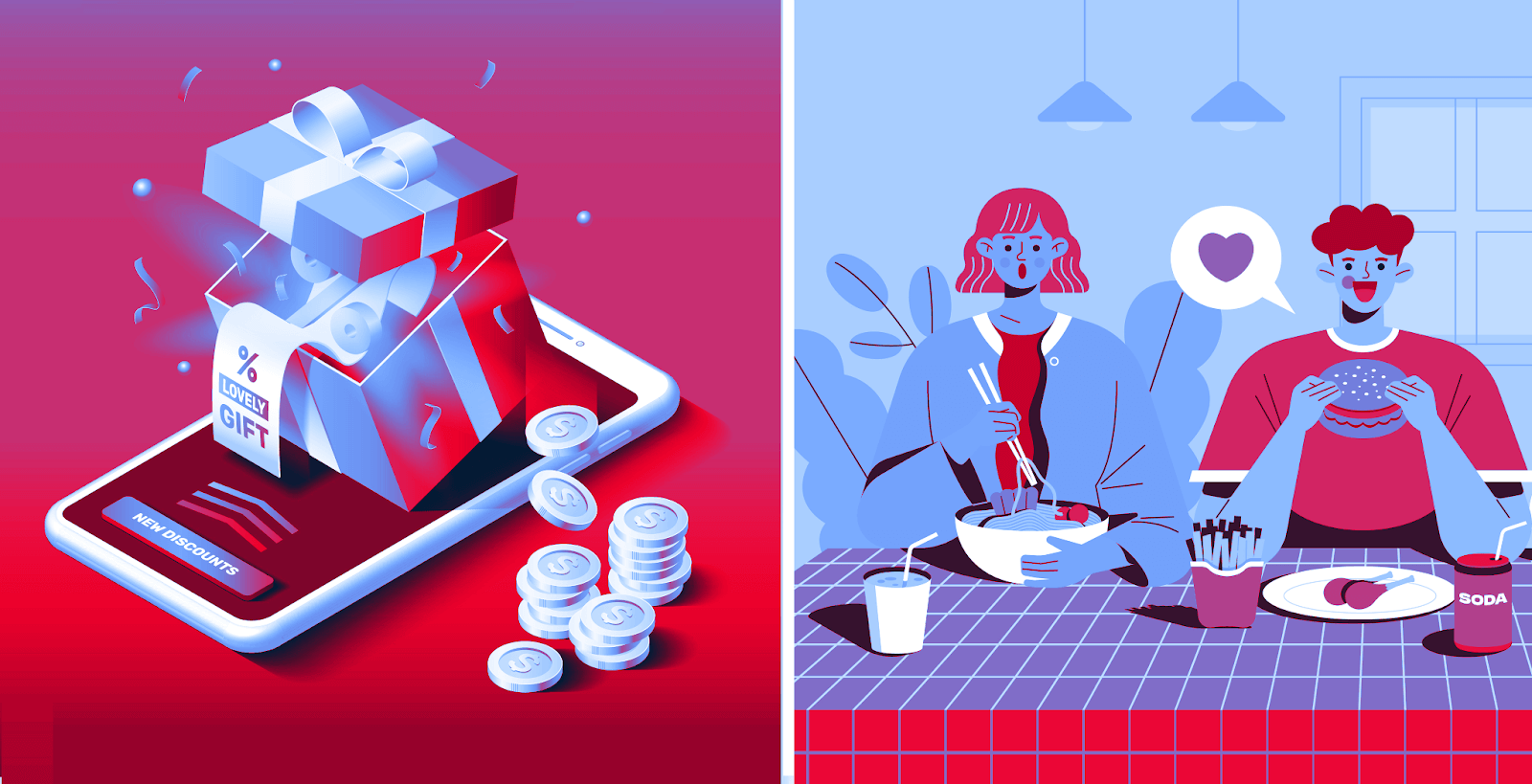 Absolutely! Consider the transformative impact of Taco Lover's Pass, a subscription-based loyalty program introduced by Taco Bell. This innovative approach incentivizes members to visit Taco Bell restaurants three times as often per month compared to non-members. This has resulted in a 20% increase in reward members, boosting the brand's loyalty program, first introduced in 2020.
Likewise, nearly half (47%) of restaurant loyalty program members are active in the US, using their memberships several times a month. Almost a third (32%) take it a step further, using their memberships multiple times a week. These frequent interactions translate into increased revenue, higher customer retention rates, and stronger brand affinity.
It's also worth noting that the same survey indicates that consumer loyalty isn't exclusive. More than two-thirds (67%) of restaurant loyalty members are enrolled in two or more programs. This suggests that while customers are eager to partake in rewards programs, their allegiance isn't limited to just one brand.
It's clear that these programs aren't simply a trending feature; they've become a cornerstone for eateries that are serious about expanding their customer base and enhancing profitability.
With such measurable outcomes, it's no surprise that restaurant loyalty programs are emerging as the keystone for long-term success in today's food industry.
Significant Shifts in the Restaurant Industry
The restaurant industry has been on a roller coaster ride, particularly in the post-pandemic period. Seismic shifts in the way consumers eat out and order food have led to rapid changes in how restaurants approach marketing. Gone are the days when a prime location was sufficient to ensure a steady flow of customers. In this digitally connected era, your marketing approach needs to be as dynamic as a chef's tasting menu, and just as enticing.
The dramatic drop in foot traffic during lockdowns made it painfully clear that relying solely on physical visits was a vulnerable strategy. Google searches for 'food delivery' post-pandemic have spiked to record highs, underscoring the vital need for a robust online presence. Now more than ever, restaurants must be where the customers are—on their smartphones and computers, scrolling through options for their next meal.
Significant changes were seen in consumer behavior even after the world started to open up again. The year-on-year change in the number of seated diners in UK restaurants was 19.5% in August 2022.
But it's not all doom and gloom. This forced digital pivot has opened up new avenues for restaurants to explore and thrive. Engaging with customers through social media, offering special discounts and loyalty rewards through apps, and leveraging new technologies like virtual menus and online reservation systems have turned out to be essential tools for survival and growth.
As the restaurant industry continues to evolve, one can expect even more changes on the horizon. Data analytics will allow for unprecedented levels of personalization, from unique menus catering to individual dietary needs to highly targeted marketing campaigns. As consumer awareness about environmental sustainability grows, adopting eco-friendly practices is also becoming increasingly advantageous for restaurants to differentiate themselves.
The bottom line? Adapting to these emerging trends is no longer optional; it's imperative for restaurants that aim to be resilient and successful in this ever-changing landscape. Whether it's by enhancing your online presence, launching a top-notch loyalty program, or committing to sustainable practices, staying ahead of these trends will help you thrive.
5 Benefits of Restaurant Loyalty Programs
As we've seen so far, creating a loyal customer base is essential for long-term success in the restaurant industry. Loyalty programs offer a multifaceted approach to achieving this, delivering tangible benefits that go beyond just repeat business. Below, we delve into five core advantages that a well-crafted loyalty program can bring to your restaurant.
1. Increased Customer Retention and Repeat Business
Loyalty programs are powerful tools for driving customer retention, a cornerstone for sustainable business growth. By converting purchases into points and offering rewards after certain thresholds, you're gamifying the dining experience. This encourages guests to return to your restaurant, turning every visit into a step in an engaging journey. This is especially crucial because acquiring a new customer is almost 7 times more expensive than retaining an existing one.
2. Boost in Order Size and Revenue
Loyalty programs offer an effective strategy for upselling and cross-selling, both of which contribute to increased order sizes. For instance, offering bonus points for combo meals rather than à la carte options can lead to increased sales of drinks and sides.
Beyond that, the presence of a loyalty program can shift customer behavior towards making more frequent and larger purchases, with the enticing prospect of rewards acting as an additional motivator. Even a slight uptick in order sizes across the board can translate into significant revenue gains over time. This is especially advantageous because these additional sales come without a proportional increase in marketing or advertising costs.
3. Enhanced Customer Experience Through Personalization
By tracking consumer habits like favorite dishes and preferred dining times, loyalty programs provide a wealth of data that can be used for personalized marketing efforts. This increases customer satisfaction and enhances the overall dining experience, which in turn fosters further loyalty.
Imagine a customer who frequently orders a vegetarian pizza every Friday night. Leveraging this data, the restaurant could offer this customer a special Friday-only promotion for a new vegetarian dish or a discounted combo that includes their favorite pizza and a vegetarian appetizer. This makes the customer feel understood and valued and also encourages them to explore more options on the menu, thereby increasing sales and reinforcing their loyalty to the restaurant.
4. Word-of-Mouth Marketing from Loyal Customers
Nothing speaks louder than a personal endorsement. Loyal customers don't just keep coming back - they become brand advocates who spread the word about your restaurant to their family, friends, and social networks. When you offer an exceptional dining experience combined with a rewarding loyalty program, you give your patrons something to talk about. As they share their positive experiences, they naturally attract new customers to your establishment. The best part? This potent form of word-of-mouth marketing comes at no additional cost to you, making it a win-win situation for both the business and its customers.
5. Persistent Brand Presence and Awareness
Whether you opt for a physical loyalty card, a digital program, or a blend of both, having a loyalty program ensures your restaurant becomes a fixture in your customers' daily lives. For instance, a physical loyalty card branded with your restaurant's logo and colors is likely to be a fixture in your customers' wallets. They're subtly reminded of your restaurant every time they open their wallets. In marketing, this touches upon the Rule of 7, which posits that a consumer needs to see an advertisement at least seven times for it to be most effective.
A digital loyalty program has its own set of advantages. When integrated into a restaurant app, your brand becomes a constant presence on your customers' mobile devices. Digital programs offer the added benefit of making it easy to send customized and automated notifications, further enhancing brand recall and creating lasting impressions.
This multi-channel approach keeps your restaurant at the forefront of customers' minds, increasing the likelihood of repeat visits and making your brand more recognizable in a crowded market.
5 Best Restaurant Loyalty Programs You Can Learn From
Paystone Loyalty Program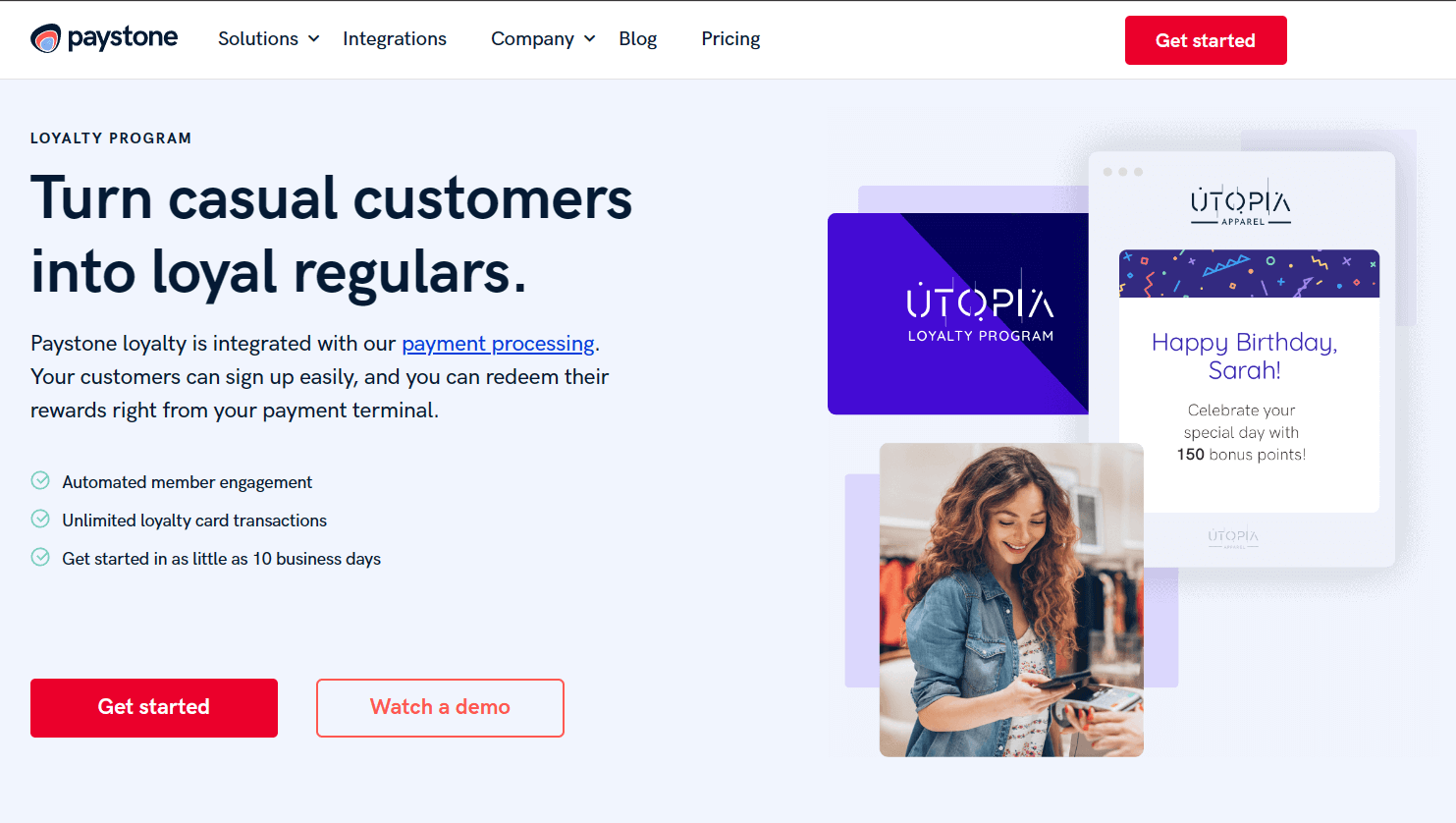 Paystone comes with built-in marketing automation for sending personalized offers and provides an in-depth dashboard and reporting tools to track key performance indicators like new members and average spending.
It offers you the choice between a traditional points program and a punch card system, while the latest feature allows customers to go cardless. With e-loyalty, customers can store digital loyalty cards in their Apple or Google wallets, offering them greater convenience. Customization is another key aspect: You can design your own branded loyalty cards, import data from previous programs, and even brand your member portal to align with your restaurant's aesthetic.
To see Paystone in action, let's take a look at the case of Copper Branch. Copper Branch, a quick-service vegan restaurant chain with eight locations, partnered with Paystone to debut its customer engagement program. Since its launch in January 2016, the program has significantly impacted sales. Loyalty members spend an average of $2 more per transaction than regular customers. Copper Branch now enjoys complete control over its customer data, thanks to Paystone's intuitive dashboard. They've gained invaluable insights, like which stores are performing best and the spending habits of loyalty program members.
What's more, Copper Branch has seen consistent growth in its loyalty program, with about 6,000 registered members and a monthly growth rate of 2%. Andrew Infantino, Copper Branch's Marketing Director, attributes part of their increased sales and a 40% to 60% increase in gift card sales to the Paystone loyalty program.
This success story serves as a compelling example of how the Paystone Loyalty Program can boost customer loyalty along with significantly increased revenue.
Starbucks Rewards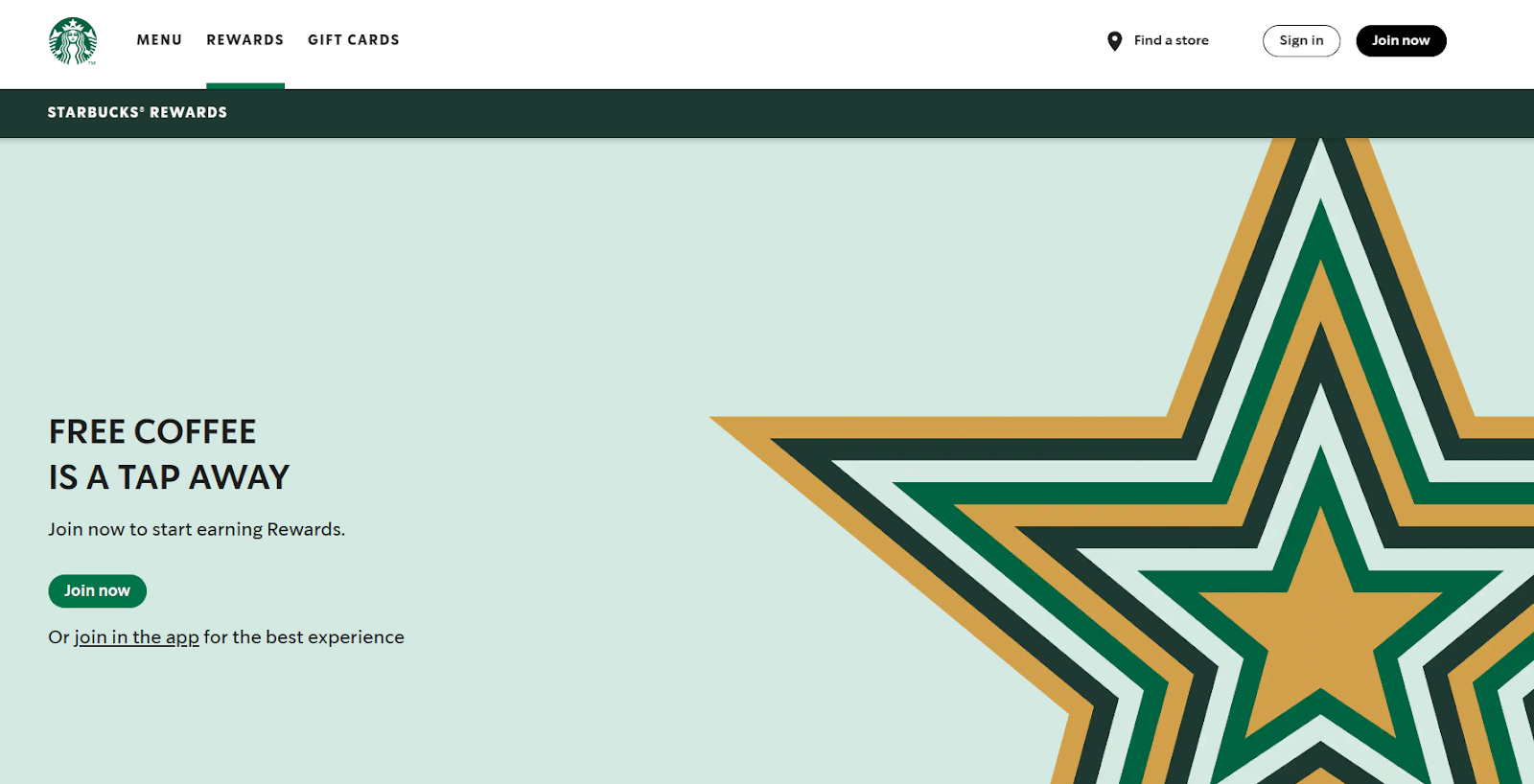 It's hardly shocking that Starbucks, a global icon in the coffeehouse sector, would set the benchmark for restaurant loyalty programs. As of 2022, the company has over 35,700 stores worldwide, with over 15,000 locations within the US. Despite a dip in revenue due to the COVID-19 pandemic, the company bounced back impressively, gaining ​​$32.25 billion in annual revenues in 2022. With such global recognition and financial strength, the Starbucks loyalty program is indeed a masterclass in how to keep customers engaged and returning for more.
The Starbucks Rewards program has seen remarkable growth, particularly in the US. Active members swelled to 27.4 million in 2022 and accounted for a whopping 51% of all spending in the company's US stores in 2021. To make joining easier, Starbucks launched the 'Stars for Everyone' program, adding alternative payment options and driving a 48% year-over-year increase in membership.
So, how exactly does this celebrated loyalty program work? It operates through both a smartphone app and a prepaid Starbucks Rewards Visa Card, allowing you to earn points, or 'stars'. The Visa Card isn't restricted to Starbucks; you can earn stars on every dollar spent anywhere, from grocery stores to holidays.
The program is divided into two tiers: Green and Golden. The Green Status is for members with 1 to 199 stars, while the Golden Status kicks in at 200+ stars. Both tiers offer a slew of features and benefits including free add-ons, the ability to order ahead via the app, free refills on brewed coffee and tea, a free birthday reward, and bonus reward days.
Chick-fil-A One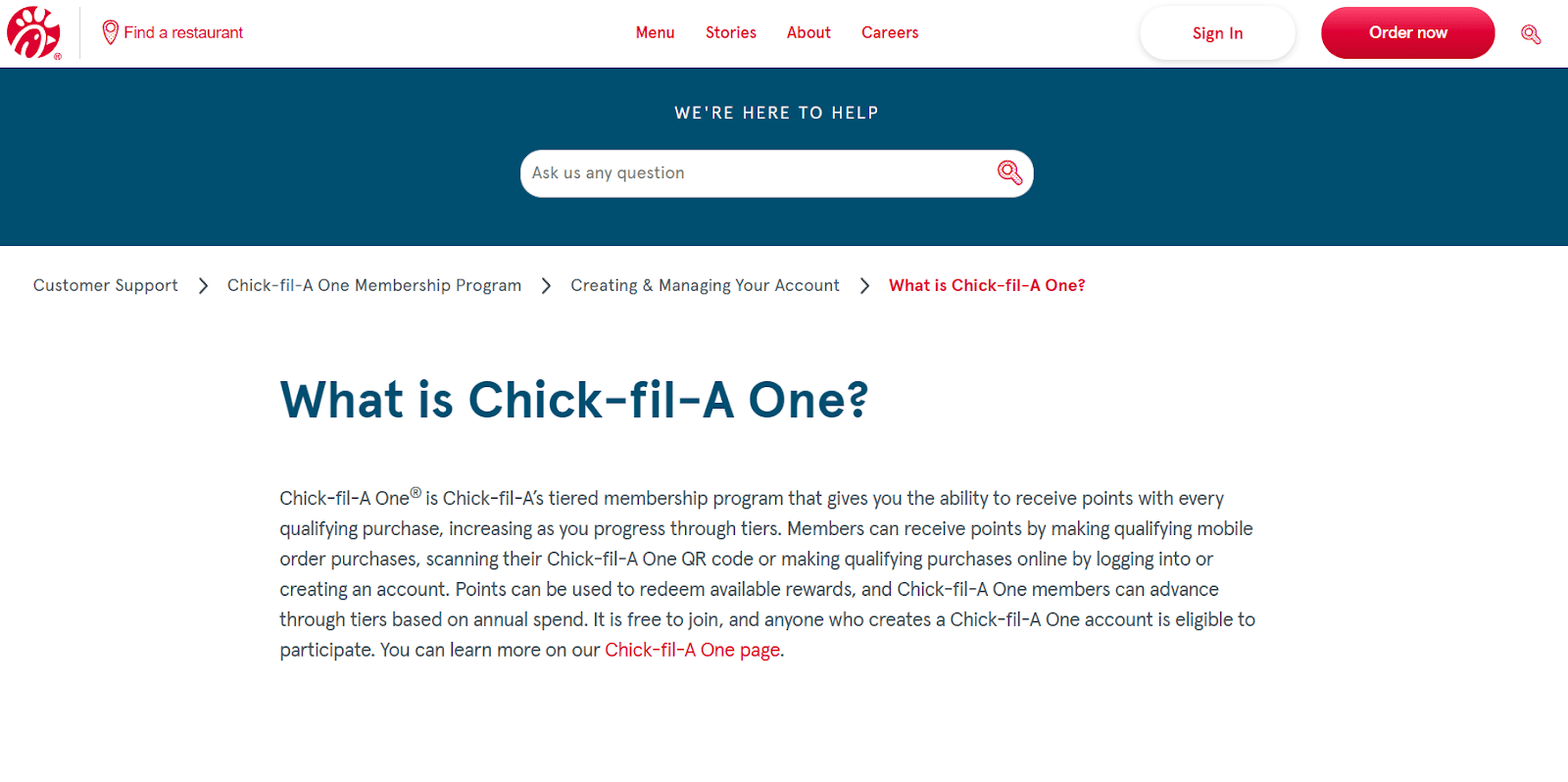 With over 2,900 locations across the US and over 470 in Texas, Chick-fil-A is a dominant player in the fast-food industry.
Chick-fil-A One is a tiered loyalty program designed to incentivize frequent purchases and repeat visits. The program allows customers to earn points for every dollar spent, and the points earned per dollar increase as customers move up in membership tiers. Starting as a Chick-fil-A One Member, customers can progress to Silver, Red, and Signature Status levels by earning 1,000, 4,000, and 10,000 points respectively in a year.
All members are eligible for a birthday reward and can use their points to redeem available benefits. The Silver, Red, and Signature tier members have the added option of gifting their rewards to family and friends.
What sets Chick-fil-A One apart is its tiered structure, which not only motivates customers to spend more to move up tiers but also makes them feel like valued members of an exclusive club. It adds a sense of achievement and excitement to the dining experience, gamifying the process of eating out and making customers eager to reach the next level.
Buffalo Wild Wings Blazin' Rewards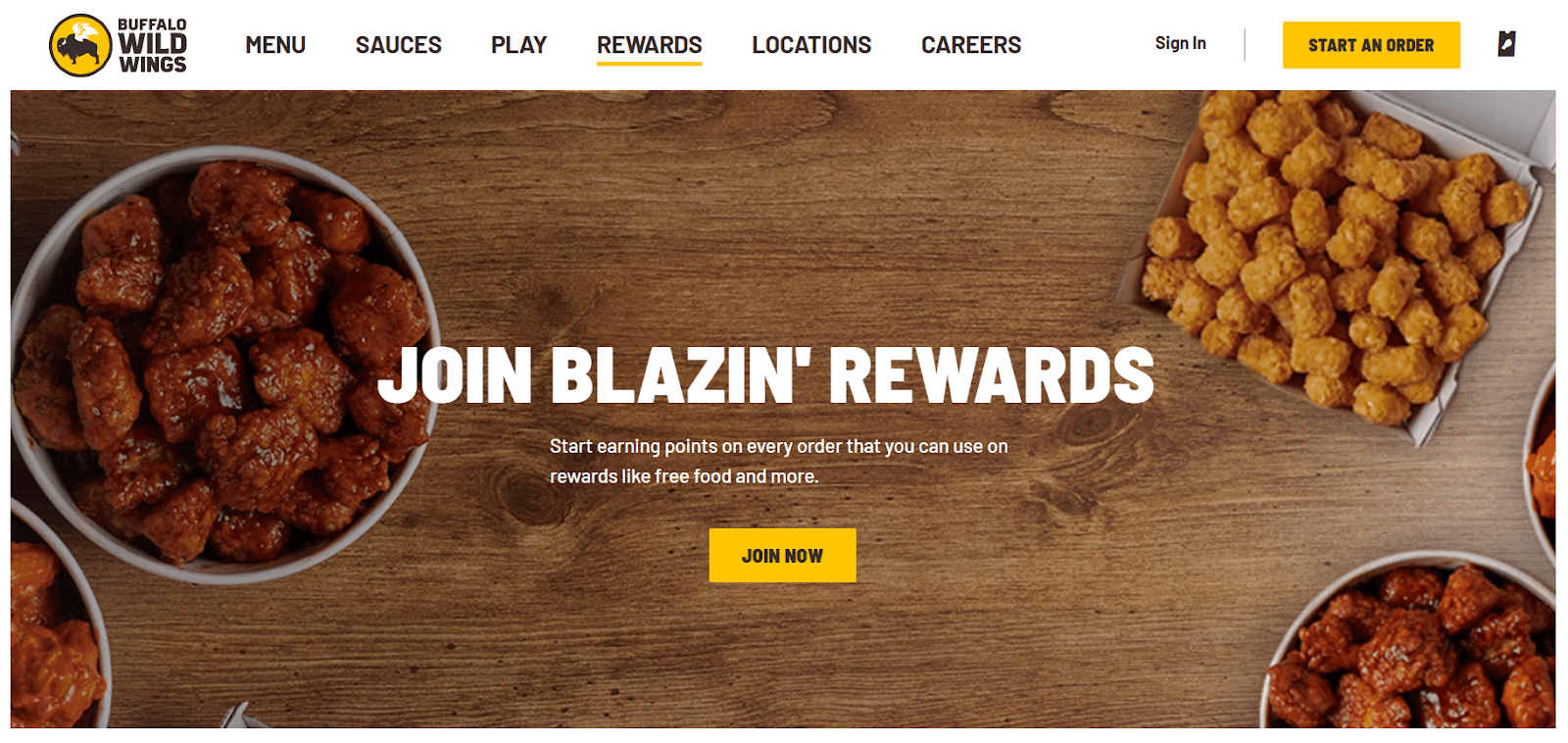 Buffalo Wild Wings takes the traditional loyalty program and adds its unique flair. The Blazin' Rewards program starts by granting 50 points just for signing up, giving customers an immediate sense of value. From there, earning points is straightforward: customers earn 100 points for every $10 spent.
But what sets this program apart is its engagement with customers even when they're not dining. For example, you can earn points by checking in at the bar, sharing your favorite sports teams, and participating in competitive games like Picks & Props.
This multi-faceted approach turns every interaction with Buffalo Wild Wings into an opportunity to earn points, encouraging more frequent visits and deeper brand engagement. The offer of six free wings on a member's birthday month adds a personal touch that celebrates customer loyalty.
The program is designed to be convenient, with features like 1-click checkout and personalized offers. And of course, these points can be redeemed for the most tantalizing benefit of all: free food and drinks. Blazin' Rewards effectively extends the Buffalo Wild Wings experience beyond the walls of the restaurant, creating a comprehensive loyalty ecosystem that's hard to resist.
MyMcDonald's Rewards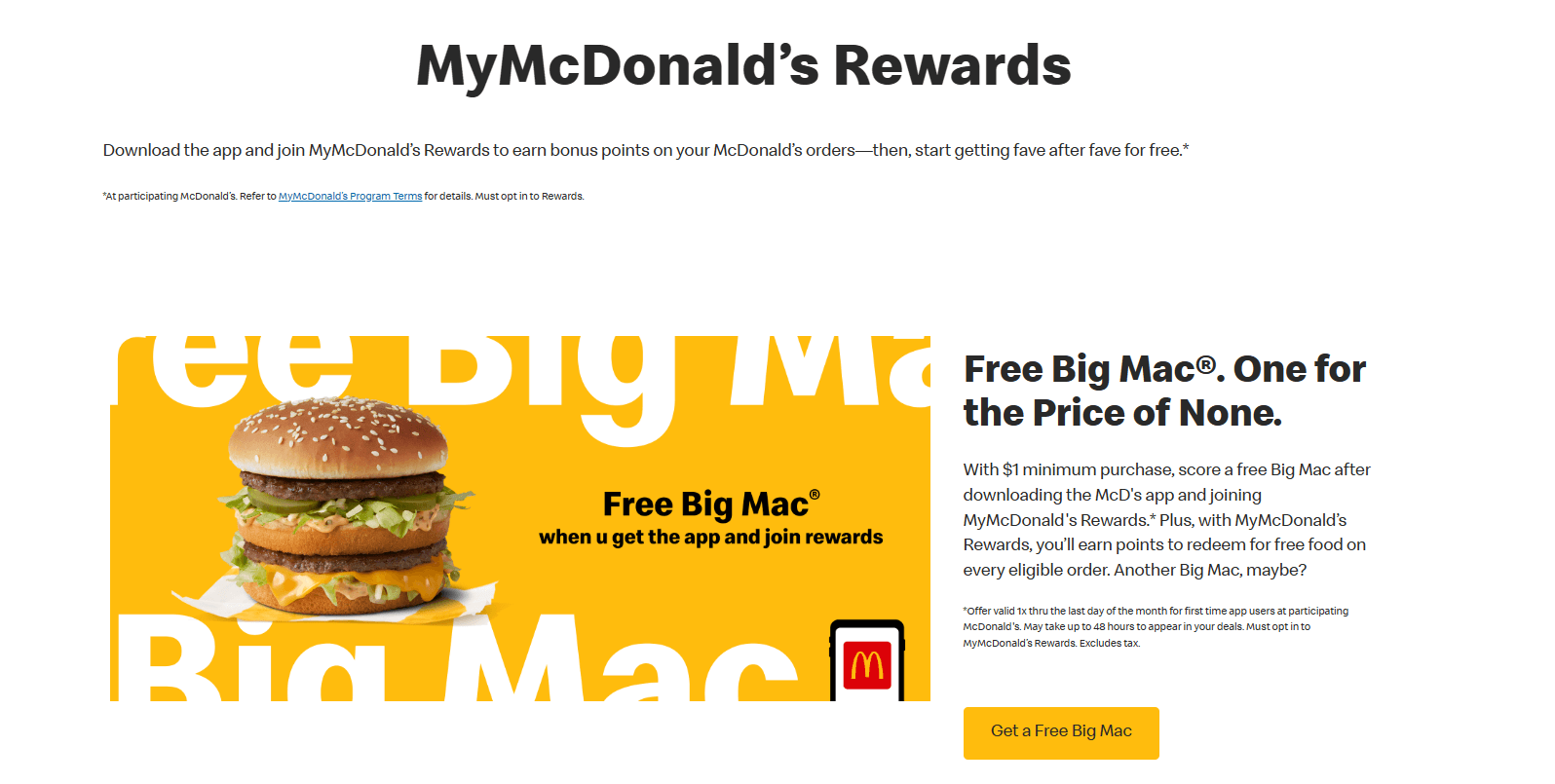 McDonald's, a behemoth in the quick service restaurant industry, has long been a trendsetter. With over 40,000 locations worldwide and an impressive $23.18 billion in annual revenue in 2022, McDonald's is a leader in both scale and innovation. Its MyMcDonald's Rewards program is a sterling example of how to do loyalty programs right in the digital age, effectively capitalizing on the company's extensive reach and consumer base.
Launched nationally in the United States in July 2021, MyMcDonald's Rewards garnered more than 21 million members in just a few months. The program is built on a simple yet effective points system: customers earn 100 points for every dollar spent on eligible purchases. The program has four points-based tiers starting at 1,500 points and offers a variety of rewards that range from free hash browns or a McChicken to a full Big Mac meal. The ease of use is a hallmark of the program. Points are easily tracked through the McDonald's mobile app, which also offers an additional 1,500 points for linking a credit or debit card for payments.
What truly sets MyMcDonald's Rewards apart is its seamless integration into the McDonald's digital ecosystem. With the McDonald's app being downloaded 2.8 million times in a single month, it's clear that the app is more than just a tool for ordering food; it's an extension of the brand's overall experience. The company has successfully created an entire ecosystem that offers convenience, customization, and community.
By focusing on user-friendly technology, region-specific customization, and an intuitive rewards system, McDonald's has set a new standard for customer loyalty programs in the digital age. The MyMcDonald's Rewards program has become an integral component of its long-term strategy, contributing to both customer satisfaction and revenue growth.
Create the perfect restaurant loyalty program that fits your needs
Take your restaurant loyalty program to unprecedented levels with the Paystone Loyalty Program software. With seamless integration, automated member engagement, and versatile loyalty options, Paystone empowers you to create rewarding experiences for your foodies.
Unlock invaluable insights with real-time analytics and elevate customer spending through personalized promotions. Distinguish yourself from competitors and foster unwavering customer loyalty with Paystone.
Get started with a demo today and see how Paystone can revolutionize your loyalty initiatives.