July 18, 2023
12 Inspiring Examples of Customer Loyalty Programs to Bring Yours to Life
Customer loyalty programs are an indispensable tool for businesses aiming to retain existing customers while attracting new ones. Building a successful loyalty program requires creativity, innovation, and a precise understanding of what resonates with your target audience.
In this article, we look at a few remarkably successful customer loyalty programs, spanning multinational enterprises to small local businesses. Hopefully, these examples will inspire ideas and strategies to create targeted loyalty programs that help you increase customer retention, build brand loyalty, and boost revenues.
6 Multinational Enterprise Examples of Customer Loyalty Programs
Customer loyalty is often the top priority for multinational enterprises seeking to retain and engage their clientele. Loyalty programs are central to this end. They represent a proven strategy to keep loyal customers engaged by rewarding and incentivizing repeat purchases. Whether it's through personalized customer rewards programs, exclusive deals, or customized buying experiences, loyalty programs amplify customer retention strategies and deliver long-term success.
Let's dig into our pick of the best enterprise customer loyalty programs.
1. Starbucks Rewards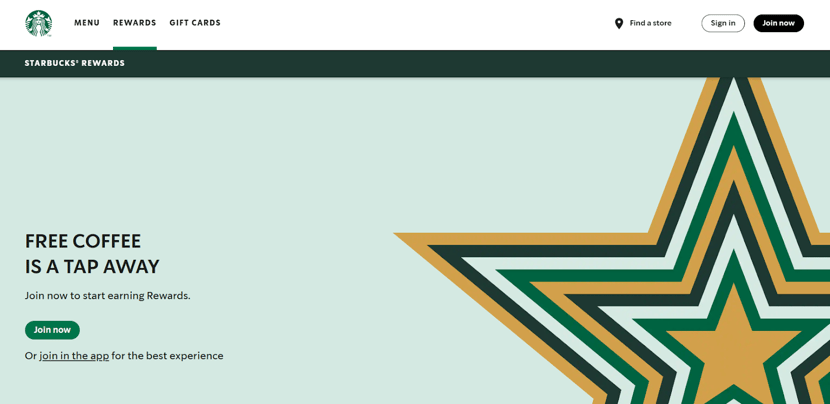 The Starbucks loyalty program offers points for each purchase. Customers can redeem their points for free drinks, food, and merchandise. The company also offers personalized rewards and early access to new products to keep its customers excited and engaged.
Starbucks Rewards is a points-based program that rewards customers for every dollar they spend. Starbucks was a pioneer in launching an app-based rewards program. This made it easy for customers to access their points as no physical sign-in or card was required.
You can apply a similar plan to your business by creating a loyalty app. It's a great idea for an e-commerce store, retail chain, or food outlet. The app will give you ready access to a centralized repository of customer data that you can use in other marketing efforts.
2. Amazon Prime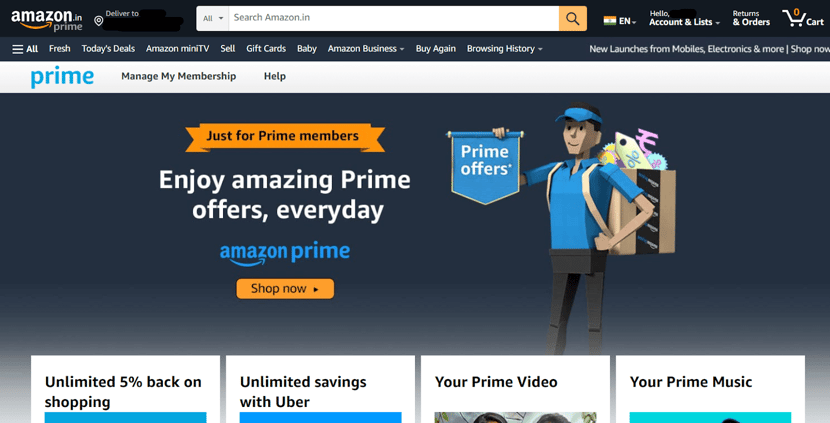 Amazon Prime is a paid membership program that offers free two-day shipping on millions of items, as well as access to the company's streaming service. Prime members also receive exclusive discounts and deals. The company also provides personalized rewards to customers to incentivize repeat purchases and foster loyalty.
This kind of customer loyalty program can help you differentiate your business from the competition, especially in hard-fought market segments. In exchange for a membership fee, customers can expect exclusive offers and deals that keep them coming back for more.
3. Nike Membership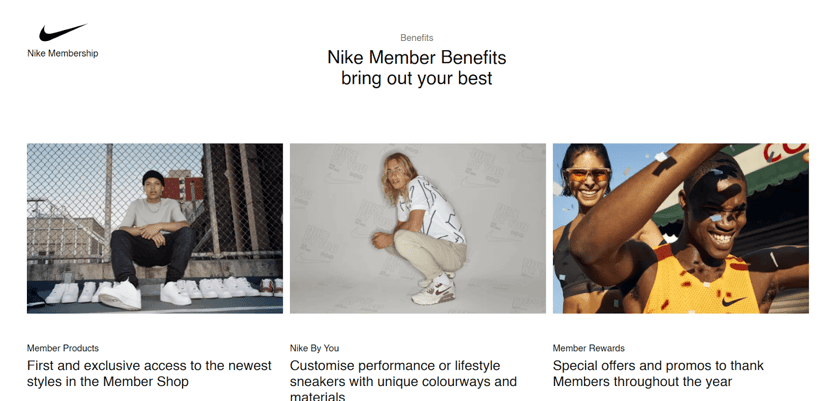 The Nike Membership program offers its multitude of fans access to exclusive deals and offers. Shoppers can easily avail of the membership benefits through the company's website or app. The program is designed to reward Nike customers for their loyalty and engagement with the brand by offering various benefits and personalized experiences.
You can apply a similar membership plan to your business by making it for your customers to join and participate in the program. You can offer loyalty members a range of benefits, like early access to new products, discounts, or invitations to exclusive events. This will make members feel valued and appreciated. It will also encourage them to continue shopping with your business.
4. Marriott Bonvoy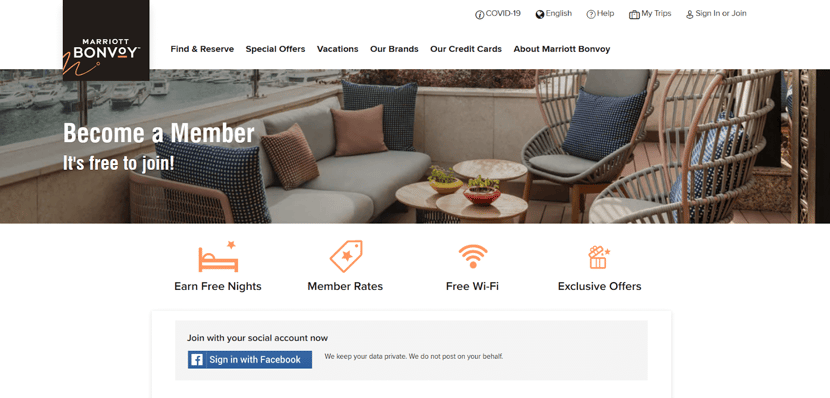 Marriott Bonvoy is a loyalty program that rewards customers for stays at Marriott hotels and resorts. This membership is completely free of cost and there are instant perks for just being a member. Members can earn points for their stays, which they can redeem for free nights, upgrades, and other rewards.
This is another loyalty program that you can easily replicate in your business. You can develop it further by implementing a tiered loyalty system with exclusive benefits for members as they advance through the various tiers. A mobile app or digital platform that allows for seamless customer interactions can add further value to the program.
5. L'Oréal Paris Worth It Rewards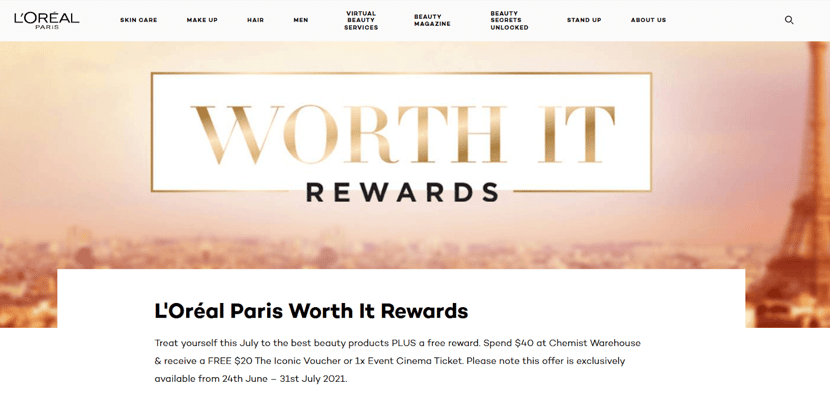 Worth It Rewards by L'Oréal Paris offers customers exclusive experiences and opportunities as part of its efforts to give back to society. Members get welcome gifts, birthday presents, and access to exclusive coupons. Customers earn points for every dollar spent. This program also allows customers to donate points to charitable organizations supported by L'Oreal.
This kind of customer loyalty program ideas is easily applied to your business in the form of gift coupons with a variety of redemption options and other personalized experiences. You can also consider establishing a signature philanthropy program that involves your customers in the recognition and support of impactful initiatives.
6. The North Face XPLR Pass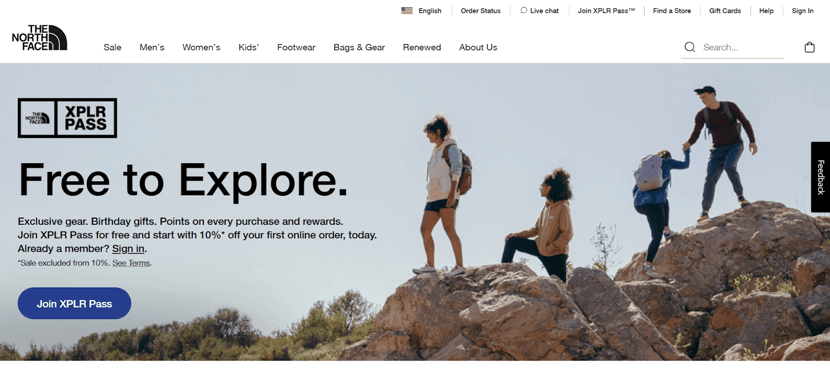 North Face's XPLR Pass membership provides customers with an option to choose how they redeem their rewards points. Customers earn loyalty points by making purchases and attending events. These reward points can be redeemed for a variety of unique travel experiences. XPLR membership also provides its customers with early access to limited-edition collections.
Offering early access to new products, personalized offers, and access to members-only events are some of the ways you can implement a similar membership program in your business. You can supplement it with a points-based rewards system to earn referrals and social media engagement.
6 Small and Medium-Sized Enterprises Examples of Customer Loyalty Programs
In the competitive world of small and medium-sized enterprises, building and maintaining customer loyalty is crucial for long-term success. From points-based systems and exclusive discounts to special offers and unique experiences, these loyalty programs demonstrate diverse strategies that can be adopted to build lasting relationships with customers.
Here are a few examples:
1. Loblaws Loyalty Program
Canadian supermarket chain Loblaws runs a loyalty program that offers an assortment of benefits at affordable prices. Benefits include personalized offers, exclusive discounts, and redeemable points. Loblaws pharmacies offer additional benefits to customers for every dollar spent.
You can incorporate a similar loyalty program in your business by implementing customer-centric rewards and points-based redemption offers.
2. Joe Fresh Rewards Program
Joe Fresh is a Canadian fashion brand and retail chain with a hugely successful loyalty program. The program offers customers points for every dollar they spend. Customers can redeem these points for free products, discounts, and early access to new products.
This kind of loyalty program may look simple, but there's a lot going on behind the scenes. Implementing a similar program in your business calls for deep customer insights, a thorough understanding of their needs and desires, and creative ways of anticipating and rewarding their expectations from your business.
3. Food Basics Discount Program
Food Basics is another Canadian supermarket chain with a distinctive loyalty program. It offers Metro-Food Basics Gift Cards in various denominations to its customers, together with an app for coupons and deals. The company also offers discounts for specific days of the week, as well as special student discounts.
The Food Basics discount program is built around its unique understanding of purchase patterns and group habits. To replicate something similar in your business, you must analyze the spending patterns of different customer groups like women or students and design targeted offers and benefits.
4. Saje Natural Wellness Healthy Rewards
Saje Natural Wellness offers a Healthy Rewards program to customers when they sign up for its email program. This wellness company provides promotion codes for customers placing online orders. Saje gift cards are also available across all its stores and on its website.
To apply the Saje Wellness Healthy Rewards principles to your business, you can introduce a sign-up rewards program for new customers who subscribe to your email list or loyalty program, offering a welcome gift or exclusive discount.
5. DavidsTea Rewards Club
Customers of tea accessories and specialty tea retailer DavidsTea can join its Rewards Club to earn points for their purchases. These points can be redeemed for free products and discounts. The company has special offers for customers ordering in bulk.
You can offer your customers similar discounts on bulk purchases, along with a system where customers earn points for each transaction.
6. Brewmaster Beers Brew Points
Brewmaster Beers offers its subscribers a points-based rewards system. For every craft beer box purchased, subscribers earn Brew Points that can be redeemed for discounts on future beer boxes or entry to exclusive virtual beer-tasting events hosted by local breweries.
To apply this points-based system to your business, you can consider implementing a loyalty program where customers earn points for every purchase. Customers can accumulate points that can be redeemed for discounts on future purchases or access to special deals.
Discover the Customer Loyalty Program Loved by Small, Medium, and Large Businesses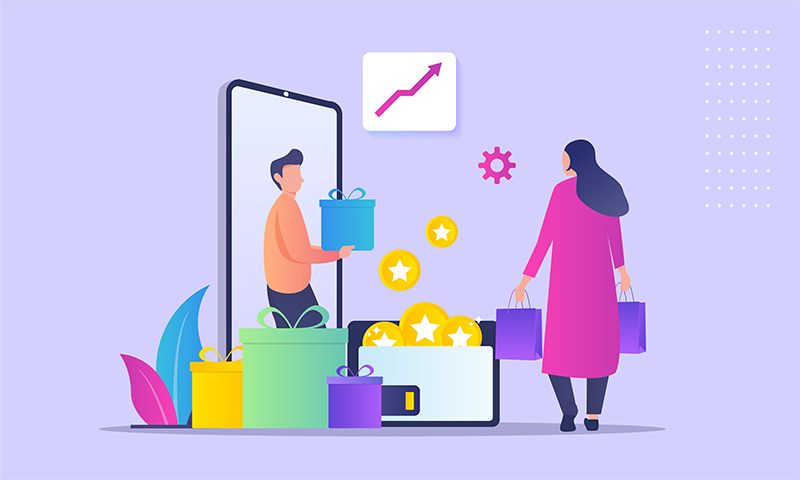 Paystone's loyalty program is a versatile and integrated solution that can help you grow your business by rewarding your customers. Our platform makes it easy to create customized loyalty programs that fit your unique business needs. We help you offer a variety of rewards - such as points, discounts, and free products, track progress, and see how customers are engaging with your program.

Paystone is easy to set up and use and is affordable for businesses of all sizes. Whether you run a small boutique, a medium-sized retail chain, or a large enterprise, Paystone's loyalty program delivers exceptional value and benefits to both you and your customers.
Why Use Paystone Loyalty Program
Here are some of the most compelling reasons why you should engage with the Paystone loyalty program:
Increase Customer Loyalty: Paystone increases customer loyalty by rewarding them for repeat purchases. When customers know that they will be rewarded for their loyalty, they are more likely to continue shopping with you.
Boost Sales:

Paystone boosts sales by encouraging customers to spend more money over the length of their engagement with your brand. They are also more likely to act as brand advocates and recommend your products and services to friends and family.

Gather Customer Data:

Paystone gathers

customer data

so that you can better understand their priorities and preferences. This data can make you a better marketer by helping improve your campaigns and target your products and services to the right potential customers.

Track Your Progress:

Paystone tracks the progress of your loyalty program and highlights areas that require improvement. This information can help you make changes to your program to improve its effectiveness.

Competitive Advantage:

Companies with loyalty programs have a substantial advantage over their competitors. A 2020 study by McKinsey found that customers who are part of a

paid loyalty program

are 60% more likely to spend on a brand after subscribing.

Increase Popularity: Paystone increases your brand recognition by encouraging spontaneous word-of-mouth marketing that can help you increase your customer base.
Main Features of the Paystone Loyalty Program
Let's consider some of the standout features of the Paystone loyalty program.
Customizable Rewards: Paystone helps you customize your rewards to fit your business and your customers' needs. This ensures increased engagement, repeat business, and enhanced customer satisfaction.
Easy to Set Up and Use:

Paystone is easy to set up and use. The platform's intuitive design and user-friendly interface make setting up and managing the loyalty program a seamless and straightforward process.

Affordable:

Paystone is affordable for businesses of all sizes. This enables companies to implement a loyalty strategy that fits their budget, drives customer loyalty, and generates a significant return on investment.

Data-driven Insights:

Paystone provides accurate

data-driven insights

to help you understand your customers and their needs. This allows companies to make informed decisions, tailor marketing efforts, and deliver more personalized and targeted experiences to their loyal patrons.
Tips for Setting up a Successful Customer Loyalty Program With Paystone
Here are a few proven tips to maximize returns on your customer loyalty program:
Make sure your rewards are valuable to your customers.
Make it easy for your customers to participate in your program.
Promote your program effectively and across multiple channels.
Track your progress and make changes as needed.
What Paystone Customers Have To Say
Let's hear it from the horse's mouth! Here's some feedback from Paystone clients:
"We now have insight into which promos worked best and are most attractive to our customers, which gives us a competitive edge. The best part is the loyalty we see from our customers, who sometimes come in three to five times a week!" – Andrew Infantino, Marketing Director, Copper Branch
"Our payment processing technology is very important to us. Our primary focus is customer service, and at the end of the day, we shouldn't be worrying about our payment technology. Paystone has played a big role in helping us reach our goals in terms of both efficiency and security." – Anahid Kossaian, Store Manager, Pandora CF Masonville Place
"We expect more and more of our clients to use mobile devices for ­payments, and to have that technology piece ready for us is very reassuring. Ultimately, it boils down to payment diversity, and Paystone has that for us." – Darryl Olthoff, Co-Founder and COO, Start.ca
Set Up a Customer Loyalty Program With Paystone
Paystone is the perfect solution if you're looking for an affordable but powerful customer loyalty program.
We help you stand out from the competition, increase customer visits, and grow brand awareness. And to top it all, we can have your customer loyalty program running in ten days sharp!
Schedule a call with the Paystone team today!