January 4, 2022
How to Create a Gift Card Program for Small Business
Did you know that 74% of people regularly buy gift cards from small businesses?
If you haven't implemented a gift card system for your small business, you might be losing out on a significant chunk of prospective customers.
That's because 90% of people who receive a gift card for a small business they've never visited before will become a customer of that business.
Think of how difficult it is to obtain new customers. It's more cost-intensive to grow your customer base than to prevent repeat customers from moving on.
A gift card program for small business enables you to attract net-new customers to scale your revenue without having to invest in expensive, high-risk marketing campaigns.
Imagine how much you can grow your local company by starting a gift card program in your small business.
But how do you get started? I know what gift cards are but how do I sign up for a gift card program? What technologies will I need and how will I know that it's working?
In this post we will outline the following:
What a gift card program is;
The different types of gift cards;
How to set up and promote a gift card program for your small business;
What are the benefits of a gift card program;
What's different between promo cards and gift cards; and
How to measure the success of your gift card program.
We're here to answer all your questions with this ultimate guide for implementing a small business gift card solution to start blowing your sales through the roof. Let's dive in!
What Is a Gift Card Program?
A gift card program helps businesses sell their goods and services through redeemable gift cards. It's the infrastructure that enables businesses to sell gift cards to customers and to facilitate the process of customers redeeming gift cards in exchange for merchandise.
For instance, restaurant owners can sell gift cards to customers and help accelerate their sales. Gift cards encourage guests to dine with you because they feel like their meals are already paid for, and you gain the opportunity to win a repeat customer without any profit losses!
Take a look at this gift card from Federal Donuts, a small donut shop located in Philadelphia.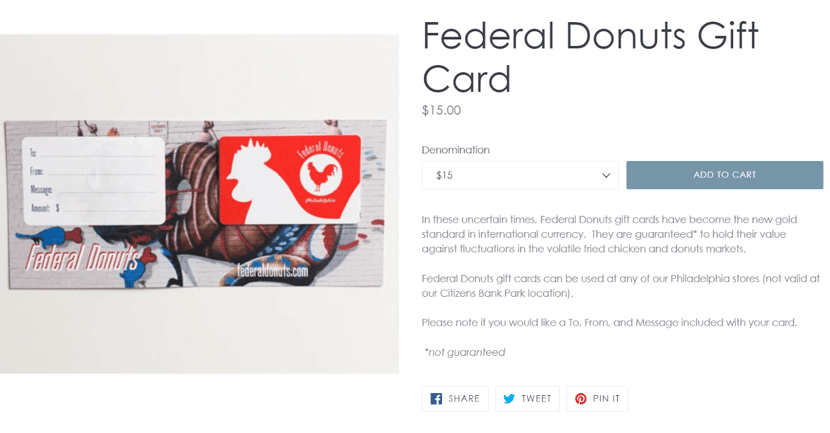 A gift card system for small businesses allows your customers to buy a card from your company that has a specific amount on it. The customer can use the card, redeem the amount and purchase goods and services.
3 Main Types of Gift Cards
There are three main types of gift cards that can help you ace your small business gift card solution.
1. Open-Loop Gift Cards
Open-loop cards are accepted at all businesses. They work through credit-card systems such as Visa and Mastercard.Think of open-loop gift cards as preloaded, general-purpose charge cards that customers can use at any store that already accepts major credit cards.
However, since open-loop gift cards are not specific to a company and can be used anywhere, small businesses can't profit from them any more than if customers were to pay with any other method.
Plus, small businesses can't leverage these cards to encourage customer growth at their establishment specifically, as compared to competitors or any other business.
And since companies don't control administering or issuing the cards, they can't incorporate them into a customer-loyalty program.
In sum, open-loop gift cards are useful for customers but neutral at best for businesses.
2. Closed-Loop Gift Cards
Unlike an open-loop card, a closed-loop gift card features the business' name & logo and can be used only at that specific business.
For instance, if you run a cosmetics store and offer closed-loop cards to your customers, then they will be redeemable only at your store.
These gift cards are profitable for small businesses because for each one sold, your odds of earning the chance to turn a new customer into a repeat customer are 90%!
That's because nine out of every ten recipients of a closed-loop gift card will visit your store.
And in the worst-case scenario, you still get 100% profit margins on the sale of the gift card 10% of the time, on top of enjoying a base profit 100% of the time!
3. Egift Cards
Egift cards are similar to regular gift cards but in digital format. Customers can send egift cards to anyone instantly through email.
Electronic gift cards usually contain a QR code that the recipient can scan or a code that the recipient needs to redeem when making a purchase.
However your gift card system is set up to receive egift cards can depend on various factors, but usually it's no different for the customer than showing an eticket at a movie theatre!
How to Set Up a Gift Card Program for Small Business
Gift card programs work by providing the framework for businesses to sell store credit on cards and to accept that credit when customers redeem their cards.
A gift card program is what businesses need to adopt to offer gift cards at their establishment. It is the infrastructure that provides not only the gift cards themselves but also the technology to connect the gift cards to your sales systems and loyalty programs.
You can launch a gift card program for your small business with the following steps.
Choose an appropriate gift card system
Buy wholesale gift cards to resell to customers
Follow government guidelines and regulations
Provide training to your employees
Promote gift cards to customers
1.
Choose an Appropriate Gift Card System
An effective gift card program needs to integrate well with your existing sales system, so it's important for small businesses to choose a gift card program that works for them.
A gift card program for small business needs to sync with your sales system for two reasons:
First, when you sell a gift card in exchange for revenue, you need to be able to process the sale as if the gift card were any other product and register the gift card itself in your system.
Second, when a customer redeems the gift card, you need to attribute the purchase they make with it accordingly for both accounting and inventory purposes, on top of updating the status of the gift card itself.
Your point-of-sale (POS) system can be your go-to destination for your gift card program. Many POS systems allow you to integrate a gift card system into your business.
While some POS systems provide you with their own gift card system, a few use third-party apps for the integration.
Establishing a gift card system through your POS makes the whole process of leveraging gift cards for your small business seamless. It gives you the flexibility to create, market, send and track your gift cards easily.
All you need to do is find out if your POS provider can integrate with a gift card program and if the associated cost ated with it.
Further, to maximize the functionality of incorporating a gift card program into your POS, it is critical to consider the following aspects of a small business gift card system:
Insight into the transactions that take place
Detailed redemption report
Insight into the outstanding balance
Option of offering personalized gift cards to your customers
2. Buy Wholesale Gift Cards to Resell to Customers
A few gift card providers give you access to cards from their system. Some would require you to buy gift cards from a third-party vendor.
If you are purchasing gift cards, make sure you customize them with your branding and logo for a personalized touch. Also try to buy gift cards in abundance; you don't want to run out of cards when your customer wants one.
3. Follow Government Guidelines and Regulations
It is essential to adhere to province-, state- and country-specific laws when establishing a gift card system for your small business.
Such laws protect customers from falling into traps of unscrupulous companies. Therefore, make sure you follow specific gift card guidelines to maintain your brand's credibility and not face any fines or punishments.
Gift Card Guidelines in Canada
In Canada, each individual province oversees consumer-protection legislation for gift cards.
However, most provinces have similar gift card regulations. For example, generally speaking, all provinces prevent merchants from placing expiry dates on gift cards and from charging fees.
You'll also be required to outline any restrictions, limitations and conditions of the gift card on the card itself, on top of your company's contact information or instructions on how customers can access more information.
Though there are some notable exceptions:
Expiry dates are usually permitted for gift cards issued for charitable or promotional purposes.
Alberta, British Columbia, Manitoba, New Brunswick and Ontario all allow expiry dates for specific goods and services. For example, a gift card for a local spa that can be used for any service at that spa can't have an expiry date, but gift cards only valid for manicures at that spa and no other service can have an expiry date.
Alberta authorizes businesses to charge a discretionary one-time fee at the time a gift card is sold, and all provinces permit fees for replacing lost or stolen gift cards or for obliging a customer's request to customize a gift card.
British Columbia, Ontario and New Brunswick all exempt certain restrictions on "mall cards," so named because they're common at shopping malls where gift cards are valid at otherwise independent businesses located within the same mall. Such restrictions include dormancy fees, for example.
You can learn more about provincial regulations for gift cards in Canada from the Financial Consumer Agency of Canada, the same federal agency that oversees gift cards issued by financial institutions, otherwise known as open-loop gift cards, which the provinces do not regulate.
Gift Card Guidelines in the United States
Similar regulations governing consumer gift cards exist in the United States that American businesses need to pay attention to.
For instance, if you are an American business implementing a gift card system in the U.S, then you should know that the Federal Trade Regulation (FTC) enforces federal regulations for gift cards in the U.S..
Here are a few gift card rules imposed by the FTC:
Money on the gift card is valid for five years from the day of purchase. If the customer loads extra cash on the card, the date when the money was loaded will be considered.
You can charge an inactivity fee only when a card remains unused for a minimum of one year. After a year, you can charge the inactivity fee monthly.
Your gift card should mention all important details, such as its expiry date and the inactivity fee.
4. Provide Training to Your Employees
If your business is new to the gift card system, make sure you train your employees well. You don't want your employees to feel frustrated and burnt out when the gift card orders start pouring in.
So ensure you familiarize your employees with the gift card system through an extensive training program.
Here's how you can train your store employees to use your company's gift card program:
Bring in consultants if necessary who know the functions of the gift card system inside and out. It will help the employees trust the whole training process.
Educate your employees about the benefits of a gift card system and how it will make your business better.
Keep your expectations realistic. Inform your employees in advance about the training. For instance, you can send them a demo link to your gift card system and ask them to take a look at it before the training session, or encourage them to ask questions and give feedback on the new system.
Incentive your employees to maximize the effect of training. A half-day on Friday, verbal recognition, a sumptuous training lunch or even a small gift card can motivate your employees about the training.
Make your training method appealing. Steer clear of day-long training sessions in a conference room. Instead, gamify your training sessions and utilize videos to engage your employees. For instance, an interactive video of how to load a gift card can effectively help your employees quickly understand the whole process.
5. Promote Gift Cards to Customers
Once you have implemented a gift card program at your small business, the next step is to promote it to your customers. After all, if you do not market your product well, how will your customers buy it?
Develop a robust marketing strategy and entice your customers to buy your gift cards. Let's take a look at various strategies that can help you target your customer base.
Social Media Marketing

Social media channels such as Facebook, Instagram, TikTok and Twitter are a great way to connect with your customers.

There are lots of benefits of social media marketing. For instance, you can improve your brand awareness and cut your lead-generation costs significantly.

Think about it. Your posts can reach new eyeballs when your customers share or like them to their friends. It's like free word-of-mouth.

Make your posts about your gift card offers exciting and informative; your followers might repost them as gift ideas to their friends, especially if you encourage them with a contest or incentive.

And as a bonus, you could set yourself up for social proof marketing: customers promoting your business on your behalf through their social recommendations.

Say you offer an amazing customer experience to a gift card recipient and they brag about it online, posting how excited they were to redeem their gift card. Think about how many new, potential customers will learn about your business in a positive way!

So, what are some tips for promoting your small business gift card program?

1. Tweet about your gift card

—

be precise and to the point.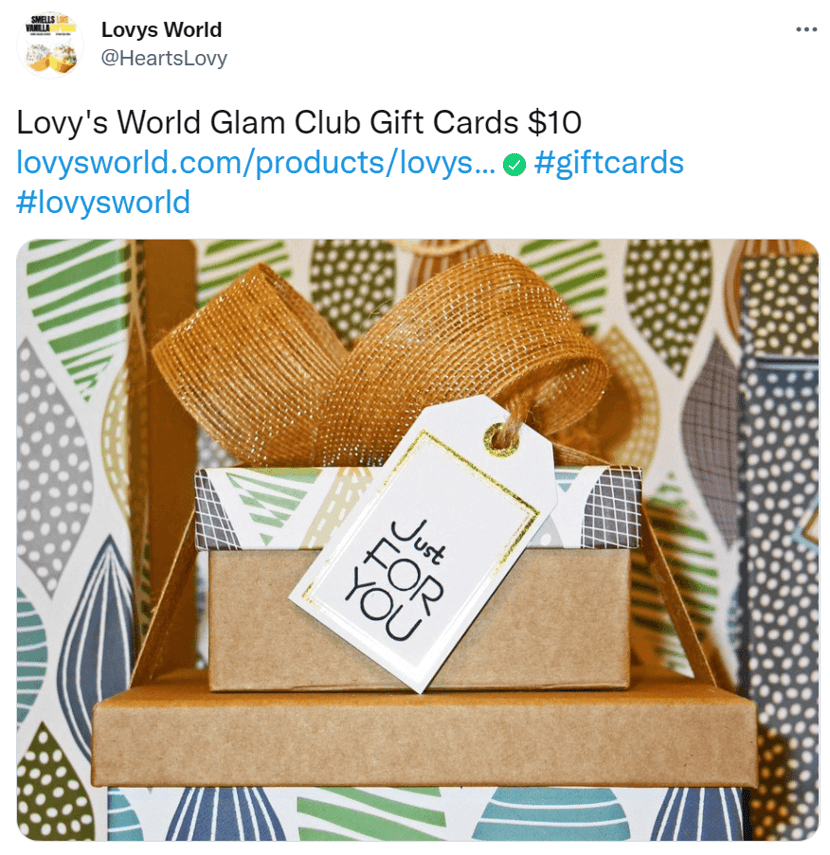 2. Create a Facebook post. Get creative and come up with content that sets the message clear.
3. Create posts/carousels on Instagram and promote your gift card.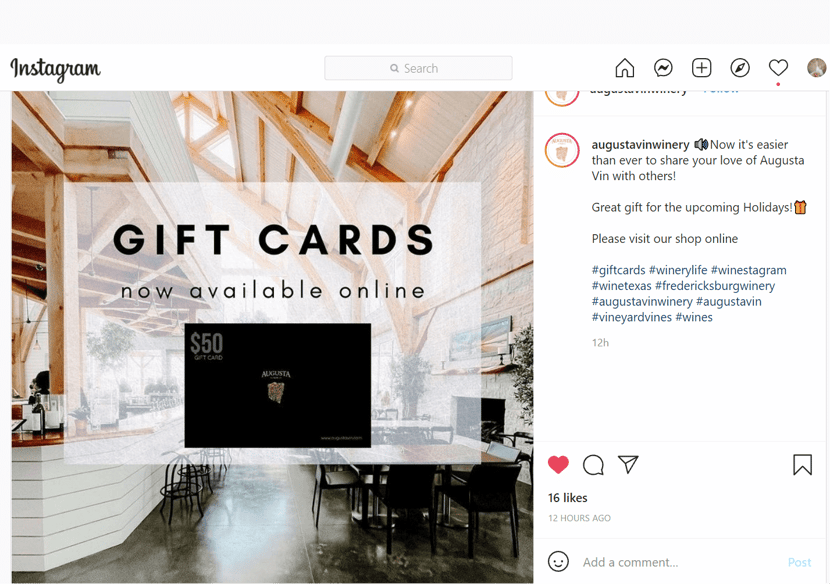 4. Offer giveaways to encourage customers to get your gift cards.
5. Upload stories on Facebook and Instagram to promote your gift cards.
6. Include a link to your gift card in your social bios to make it easily accessible for the customers.
Use Email Marketing
You can reach a huge customer base and promote your gift cards effectively through a stellar email marketing campaign.
And it's incredibly cost-efficient too. According to data, on average, businesses earn $42 in return for every one dollar spent on email marketing. So if you're collecting email addresses from customers, email marketing is a great way to promote your gift card!
Make sure the subject line and the email copy resonate with your customers and entices them to open your email. Take a look at this gift card email subject line from Taco Bell:

3 Benefits of a Gift Card Program for Small Business
Setting up a gift card program for your small business is a great way to grow your revenue, improve customer engagement and blow your competitors out of the water.
So let's look at the top benefits of getting a gift card system for your small business so you can understand how to leverage gift cards to take your business to new heights!
Increase sales and revenue
Improve brand awareness
Establish customer loyalty
1. Increase Sales and Revenue

Do you know that, on average, customers buying with a gift card spend $59 more than the actual value of their gift card?
Additionally, 33% of customers will reload their gift cards and come back to your business.
This data demonstrates the opportunity a gift card program offers small businesses to enhance their upsell strategy and increase their sales and revenue.
Plus, gift cards boost holiday sales. Be it last-minute holiday shopping or purchasing a gift for a picky friend, your gift cards can come to your customers' rescue.
See how Dunkin' makes good use of gift cards on Mother's Day?

Here's another one from Airbnb celebrating Father's Day.

These examples show how businesses take advantage of holiday seasons with their gift card programs to score easy wins for their revenue metrics.
2. Improve Brand Awareness
As a small business, it's imperative to improve your brand reach to grow your customer base, increase recurring revenue and start scaling. Gift cards play a pivotal role in acquainting new customers with your business.
When someone gives a gift card from your business to someone, it means they like your products or services and want others to try your products too or they think the recipient will love your brand even if they don't.
Results? Your existing customers evangelize your brand and bring new customers on board.
You can sell gift cards online and at various physical locations to reach a larger base of your target customers and personalize gift cards with your company name and logo to expose your business every time a customer uses one of your gift cards.
3. Establish Customer Loyalty
Another benefit of gift cards for small businesses is that you can use them to build customer loyalty and scale your revenue even further.
For example, according to Fiserv, 90% of new customers who shop with a gift card will become returning customers.
You can also boost customer loyalty with discount offers for gift cards redeemed in store to encourage window shopping and take advantage of an opportunity to create a unique customer experience to "wow" people and accelerate foot traffic to your business.
Plus, with a dedicated loyalty program, you can hand out rewards for gift card purchases or entice customers by making gift cards the rewards themselves.
Ultimately, gift card loyalty programs are an excellent way to increase sales at your small business by incorporating gift cards into your marketing efforts to create loyal customers.
Promo Cards vs. Gift Cards for Small Business
Now that we've covered what a gift card program is, its benefits and how to set it up & promote it to your customers, let's go over how gift cards differ from promo cards so you can best take advantage of them to grow your business.
4 Key Differences Between Promo Cards and Gift Card
Fear of missing out
Unused balance
Cash flow
Expiry date
Promo cards and gift cards help small businesses retain their customer base, attract new customers and improve sales. However, both differ in features and functions.
Let's take a look at the significant differences between gift cards and promo cards.
1. Fear of Missing Out
Promo cards are valid for a limited time. Therefore, they instill fear of missing out amidst customers. The urgency entices them to make a quick purchase from your business. Gift cards, on the other hand, are valid for a prolonged period.
So customers do not need to use gift cards instantly. While promo cards can help your small business accelerate your sales in a short period, gift cards can work wonders for pumping up sales during slow periods.
2. Unused Balance
Gift cards are prepaid; customers pay an upfront amount to buy a gift card. So they give small businesses the advantage of leveraging breakage; i.e., the unused balance the customer didn't care to spend or forgot about.
Since this unspent money goes directly into your business, you make instant profits.
The same is not the case with promo cards though. They are not prepaid. You can make a profit out of it only when customers apply your code at checkout.
3. Cash flow
Gift cards provide your business with instant profit. Customers pay you in advance to increase your cash flow.
However, promo cards are of no use to your business until the customer makes a purchase with them.
4.
Expiry Date
Typically, gift cards in Canada do not expire at all and not before five years in the U.S. Promo cards, on the other hand, have no value after a specific time.
All in all, both promo cards and gift cards have their benefits. Deciding what's right for your business depends upon your goals and objectives.
If your goal is to boost revenues, gift cards can help you achieve this goal while maintaining a consistent cash flow.
But promo cards also complement a gift card system for many businesses, so feel free to explore both options if they're right for you.
How to Measure the Success of Your Gift Card Program
Now that you've implemented your gift card program, how do you know if it is helping your business or not?
By tracking the performance of the program, you can determine the return-on-investment of your gift card campaigns to see what's working and what needs improvement.
Here are the key metrics to gauge your gift card program's performance:
1. Circulation Figures
Take stock of the number of your gift cards that circulate in the market. Since gift cards do not expire, having an insight into their numbers and their value will help you understand how your gift card program is performing.
If the circulation is high, that indicates a steady cash flow in your business and strong overall health of your gift card program.
2. Customer-Acquisition Numbers
Check how many new customers you acquire from your gift card program. Simply take into account who purchased a gift card and who redeemed it. The higher the number of redemptions, the higher your new customer base.
3. Total Percentage of Sales
Total percentage of sales helps you understand the number of sales that came through your gift card program. Do gift card sales outperform sales from other channels, such as in-store sales or online sales? Are they meeting your business' sales targets for the gift card program?
When you can compare revenue metrics from gift cards to other revenue channels, you'll have a good idea of how well your gift card program performs and can set benchmarks for future improvement.
4. Retention and Re Engagement
Does your gift card program help you attract new customers? Does it successfully re engage your previous customers? Monitor the amount and percentage of upsells and return revenue from gift card purchases and redemptions to help you improve your gift card program and take corrective measures if needed.
5. Over Expenditure
Also known as a sales lift, an over expenditure is when customers redeeming a gift card spend more at your store than the original amount on the gift card.
When you have overexpenditures from your gift card revenue, you are nailing your gift card program, so your profits can soar.
Conclusion: Adopt a Gift Card Program Today to Skyrocket Your Sales
A gift card program boosts your sales, improves customer loyalty & engagement and brings your brand into the limelight. In short, as a small business owner, you can benefit a lot by integrating a gift card program through your POS system.
However, make sure you follow your country's, province's or state's gift card policies & guidelines to provide a smooth gift card experience for your customers and train your employees on implementing a seamless gift card program.
Further, with proper promotion through social media and email marketing, you can inform your customer base about your gift card program to accelerate revenue right away.
In a nutshell, your small business can grow with leaps and bounds through a proper gift card solution.