June 22, 2023
A Beginner's Guide to Accepting Credit Card Payments in 2023
Credit cards are a primary mode of payment for customers. 93% of Canadians reported owning at least one credit card and stated it was their preferred mode of payment. Not accepting credit cards may hurt your bottom line if you're starting a new business or already operating one.
Allowing payments through credit cards will improve your cash flow and legitimize your business. Moreover, since consumers prefer to use credit cards over cash, accepting credit card payments will improve the experience for shoppers.
No matter your type of business, setting up credit card payments is easier than you think. This guide will help you understand the details and workings of credit card transactions, steps for credit card processing, processing fees, and choosing the right service provider.
What types of cards can customers use to make a payment?
Consumers in Canada can make card payments in four ways. They can use credit cards, debit cards, prepaid cards (including virtual and plastic cards), and contactless payment via credit or debit cards. Out of these, credit cards are the most popular payment method, with 83% of Canadians identifying as regular credit card users, making it vital for business owners to accept them.
What are the benefits of accepting credit cards?
Did you know that on average Canadians carry only $44.70 in their wallets! Those aged 35-44 carry a paltry $17.00 with them! With wallets becoming lighter each year, it may be a good time to consider cashless payment options. Here are seven advantages of accepting credit card payments:
Legitimize your business
By accepting credit cards, you can offer your customers an additional payment method that is secure and legal. Card payment options are also extremely common now. Not offering this service will only make you stand out like a sore thumb.
Increase sales
With consumers worldwide rapidly adopting cashless transactions, accepting credit cards can boost sales and increase profits. In fact, other forms of payment are quickly falling out of practice, like cheques and even cash.
Cash only businesses are limited by the paucity of payment options open to customers. You effectively lose out on several potential sales because you expect customers to carry enough cash. However, as soon as you accept credit card payments, your customer base and sales will automatically expand.
Provide your business a level playing field
Without the option of credit card payments customers will likely choose another business that offers a wide variety of payment options. Ease of payment is important to customers and let's face it, not many people carry cash around anymore. You don't want to lose customers to other businesses over a service that is easily implemented and beneficial to you.
Moreover, accepting credit card payments is essential for conducting eCommerce transactions. You cannot run an online retail store without offering card payment options. Start offering credit card payment methods to ensure you avoid losing out on clients.
Increase your revenue
Credit cards encourage consumers to spend more money by offering them rewards, loyalty points, and other benefits like cash back. This means that people using credit cards tend to spend more money than those using cash. These people are also more likely to buy more expensive items, give larger tips, and indulge in impulse purchases. All in all, this leads to consumers spending more with you.

Improve customer satisfaction
Many customers prefer using credit cards because of the cash-back, airline miles, points or reward programs their cards offer. When a customer has the option to pay with credit cards, they know they will be rewarded for their purchases, creating a more satisfying shopping experience.
If you can offer your customers a payment method that encourages them to spend more and they really love using it, why would you want to stop them?
Credit cards are also safe and convenient to use, adding to the overall positive shopping experience.
Provide a high return on investment value
With so many merchant service packages and plans available, you can find something that suits your budget. When it comes to incorporating credit card payment options into your business, the benefits outweigh the costs.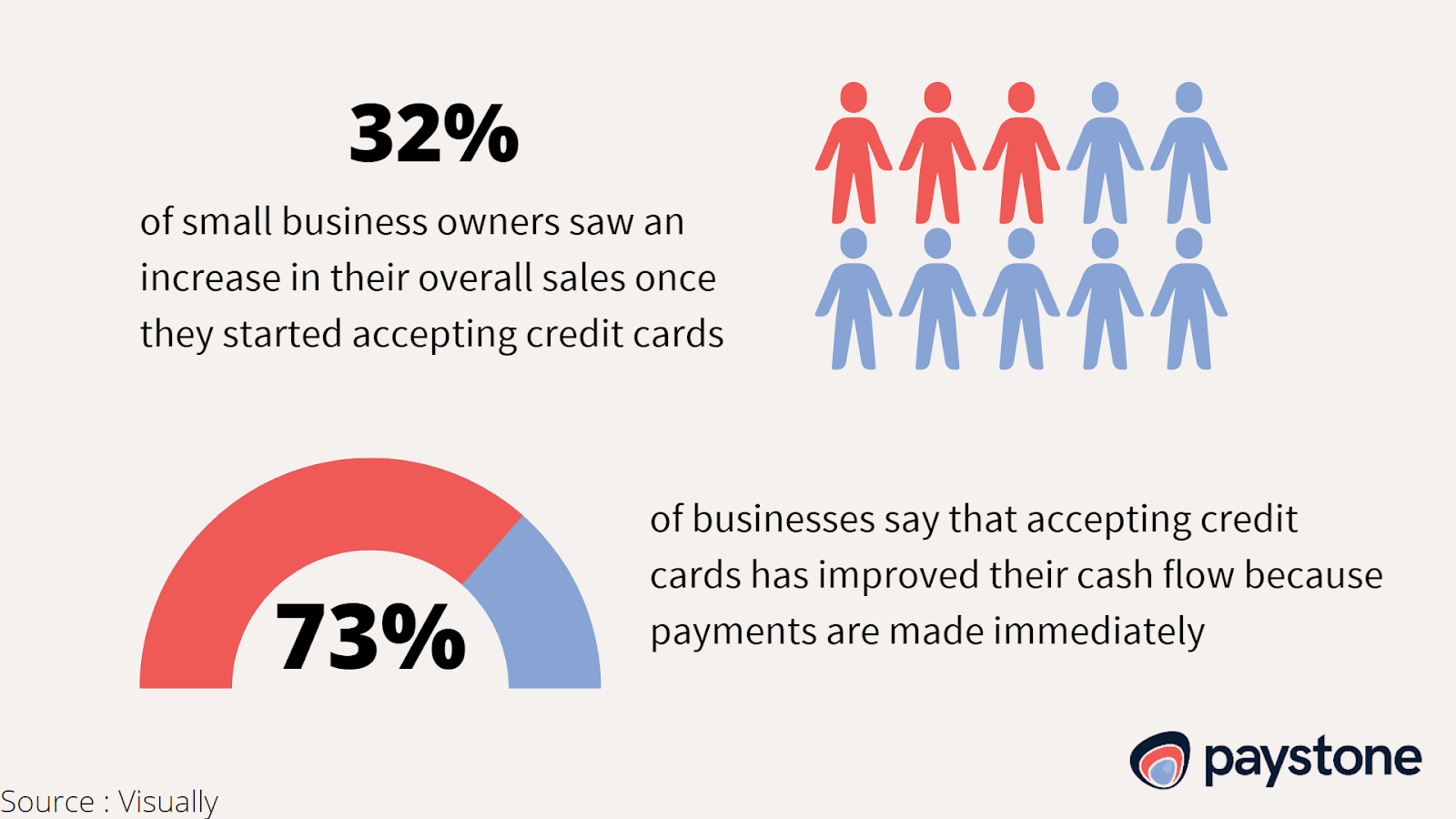 How to accept credit card payments?
Offering your customers the option of paying via credit cards will open doors for your business. However, you must learn about the payment processing technology and weigh your options.
What are the steps to credit card processing?
Before setting up a credit card method for your business, it's essential to understand what happens when a customer pays with their credit card.
Typically, a credit card transaction process includes the following steps:
The customer enters their card number, inserts, or taps their card or mobile device onto the terminal via Visa, Mastercard, Apple Pay, or Android Pay to begin the authorization process.
The terminal communicates an authorization request to the card's issuing bank.
The issuing bank approves or declines the transaction.
The merchant terminal receives a notification about the approval or denial of authorization of funds.
The funds are subtracted from the customer's account if the bank approves the transaction.
All the funds from the transactions sit on the terminal until the merchant sends the batch of transactions to the processor.
The processor deposits the funds into the merchant's account.
What method will you use to accept credit card payments?
You can accept credit card payments in various ways. Customers can make a credit card payment in person, online, over the phone, or through a mobile card reader.
The most suitable option for you will depend on the nature of your business. A mobile card reader would work best for you if you have a mobile dog grooming business. On the other hand, if you have a traditional brick-and-mortar store, you should accept in-person transactions at the checkout counter.
Before proceeding to the next step, you'll also need to consider which major credit card networks you'll accept. The most common ones in Canada include MasterCard, American Express, Visa, and Discover.
How should you choose the right merchant services provider?
Merchant services include financial platforms, solutions, and other aspects that a business needs to process credit card transactions. A merchant services provider (MSP) provides businesses with these services and empowers them to accept credit card payments.
There are many MSPs in the market, and it can be difficult to narrow down and find the right one for your business needs. The most common ones are:
Merchant Account Providers
A merchant account is a traditional method for a business to accept credit card payments where you open an account with a bank. Merchant account providers help you set up a merchant account and offer payment processing for debit and credit cards by connecting you to banks and other financial players. This enables you to receive the money when a customer pays you with their card.
Payment Gateway Providers
Payment gateway providers help eCommerce and digital businesses accept online payments. Merchants can integrate their websites or apps with a payment gateway provider to access different payment methods. All information related to the transaction is also available through the gateway.
You can find a provider that meets your needs by analyzing your business goals, payment expectations, and budget. Payment service providers can be a better option for new or small-scale businesses that handle lower credit card payment volumes. This is because they typically charge lower transaction and processing fees. In contrast, if your business accepts large numbers of credit card transactions daily, a merchant account would make it simpler for you to manage credit card payments.
How can you assess credit card processing fees?
All merchant and payment services charge service fees to make your transactions possible. When a customer pays you with their credit card, the issuing bank charges an interchange rate, the card brand takes an assessment fee, the acquiring bank takes an authorization fee and the payment processor, like Paystone, takes a markup for its services.
Before setting up a credit card payment process for your business, you must determine what features and services you need from your MSP. After that, you need to evaluate your operating and overhead expenses and estimate how much you are willing to pay as charge fees.
If the MSP you're looking to purchase from has a high service charge, you may want to consider increasing the prices of your products or services.. You must research federal and state regulations on credit card surcharges to ensure your business complies with all relevant laws.
You can also save money on payment processing by staying PCI compliant, protecting yourself from chargebacks, and exploring different pricing models.
What is the process for setting up pay terminals?
A payment terminal is a machine designed to accept electronic card payments and can be of various types, such as POS terminals, PDQ terminals, and credit card terminals. These hardware solutions all perform the same primary function but can have different performance and capabilities.
Depending on your business's requirements, you can choose between in-store credit card payment terminals and virtual terminals for credit card payments.
In-store credit card payments
If your business is retail, you'll need a point-of-sale (POS) system such as a credit card terminal, mobile POS, self-service kiosk POS, or a card reader.
Your customers can make payments by inserting or tapping their card or mobile and entering their personal identification number to authenticate the transaction.
Different POS systems come with varying functionalities and advantages. Some of the features that North American retailers look for in a POS system are omnichannel integration (59%), improvements to their current POS (52%), a simple and unified digital platform (44%), and mobile POS features (44%).
Software-based point-of-sale systems that accompany cash registers and other compatible hardware have the following disadvantages:
Expensive software upgrades
Software-based upgrades typically don't provide free upgrades, unlike web-based systems. Vendors must pay to use the new operational licenses or software every time the software is updated, making processing payments more costly.
Less convenient
Software-based payment processing systems need compatible hardware to connect to the internet and access inventory, sales data, reports, and analytics. This makes them less convenient than web-based systems.
Problems caused by hardware
Repairing and maintaining the hardware of physical POS systems can be time-consuming and expensive. Merchants must contact the manufacturer to fix the problems or pay for a specialized technician to visit.
You can mitigate these problems by purchasing wireless and countertop payment terminals from reputable companies like Paystone.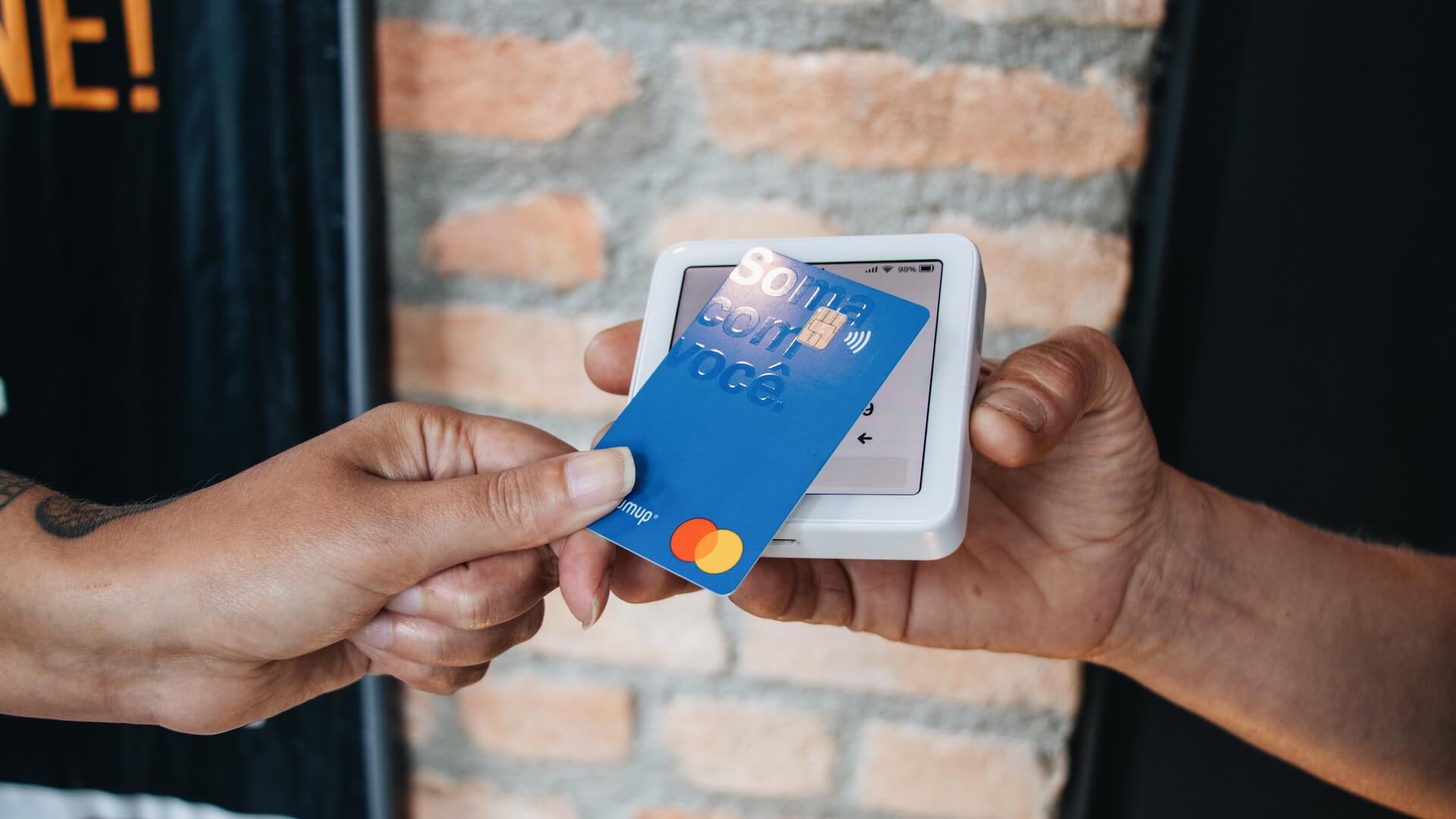 Virtual terminals for credit card payments
A virtual terminal allows you to process payments using the web browser on your computer or smartphone manually. It removes the need for a physical terminal or card reader and allows you to store your customer's payment information. Virtual terminals can also be used for automated billing, such as subscription fees or installment plans.
While virtual terminals offer the convenience of mobility, they come with certain disadvantages. These include:
Dependence on the internet: If you're selling products or services in an area without solid Wi-Fi or signal, you will not be able to process a payment with a virtual terminal.
Effort: When conducting transactions at an event or over the phone, you'll have to manually enter each customer's credit card details, which can be tedious.
Fees: Despite the few cons, virtual terminals are easy to use and beneficial for vendors who want to process payments without a fixed POS. Paystone offers state-of-the-art virtual terminal solutions with advanced features like tokenization and online invoicing.
Using smart terminals for credit card payments
If you're looking for a payment terminal that combines virtual terminals' mobility with physical terminals' security, you should consider getting a smart terminal. Paystone's smart terminals can be used with Wi-Fi or an ethernet cable. They come with various features such as cash transaction entry, receipt flexibility, multi-location capabilities, and customer engagement options.
What next after you start accepting credit cards?
After setting up a credit card payment method for your business, you must consistently monitor the process and focus on troubleshooting. As a business owner, analyzing and understanding your expenses to understand how to get the most value from credit card processing is also essential. Finally, if your current terminals are giving you trouble or don't suit your needs, you could consider upgrading your providers and terminals if the current ones don't suit your changing needs.
Set up credit card payment process with Paystone
While including a credit card payment method is essential for your business growth, the process can be daunting because of its intricate and sensitive nature.
If you need help with the process, consider signing up with Paystone for small business credit card processing services and eCommerce solutions. We offer everything from wireless and countertop payment terminals to virtual terminals.
Our experts help you navigate the world of payment processing to pick the best option for your business. We also provide a transparent billing mode and an approachable customer service team at your disposal. Get started by scheduling a call with us today!