June 22, 2023
How Small Businesses Can Outcompete Big Corporations by Tailoring Their Marketing
As a small business owner, you are constantly multitasking. Unlike larger firms, your business doesn't have big financial, marketing, human resources, and operations departments. In your business, all of these things likely fall on one or two sets of shoulders.
While this may seem like a disadvantage, your business's small size can be advantageous in many ways.
A small to medium sized business's (SMB) trim size makes it much easier for executives to manage and streamline different business processes, like marketing.
So how can small businesses compete with big competitors?
Although large corporations have hundreds of marketing professionals on their roster, huge marketing budgets, and additional help from consultants and agencies, you can give large corporations a run for their money if you learn to use your size to your advantage and optimize your marketing campaigns.
In this article, we go over everything you need to know to tailor the perfect marketing campaigns to help your small business survive in a competitive market.
Feel free to skip to the section you find most relevant:
Why Should Small Businesses Focus On Marketing
How do small business deal with competition? One word: Marketing.
Marketing is an effective tool to distinguish yourself from your competition.
Your company's competition is not always other small businesses but often larger firms too.
Tailored and relevant marketing can go a long way in helping you grow and outmaneuver the big players.
Here are some ways in which marketing can benefit your company:
1. Establishes your brand
As a small business, your reach is limited. People outside your immediate circle might not know about your products and business values. A marketing campaign acts as an information channel to engage people with your brand and distinguish yourself from the competition.
2. Acquires new customers
Cash flow is critical in determining the survival of your business. Without customers, there is no cash flow. So, your marketing efforts should focus on attracting new customers to increase revenue.
3. Improves customer loyalty
Acquiring new customers is expensive: it costs five times as much to acquire a new customer as to retain existing ones. A practical alternative is to encourage your current customers to give you repeat business. Marketing efforts through gift card and customer loyalty programs help with customer retention, an essential component of growth.
How to Use Your Size to Your Advantage
Big companies leverage their size to generate economies of scale and cut production costs. This improves profitability and allows them to allocate that money to other functions.
Small businesses cannot compete with the lower production costs or large firms' technological and professional expertise. These firms usually have long-standing relationships with suppliers and in-house production chains that allow them to procure/manufacture products for much cheaper.
HOWEVER! There are some advantages to being a small business:
You have greater control – thanks to your small size, you do not have an array of stakeholders to please. In large firms, conflict of interest in the incentives of owners (shareholders) and management (CEO, employees, etc.) can create substantial delays and complications in implementing strategies.

In the case of smaller businesses, there is less bureaucracy and greater flexibility: you get to decide how much budget you want to allocate to different business functions without any external influence. This flexibility allows you to quickly adapt and change resource allocations according to the needs of your business.
You can offer personalized service – large corporations have standardized products and services, which helps them cut down costs through economies of scale. One of the best ways to outcompete larger firms is by differentiating yourself with personalized services.

Your smaller size allows you to cater to individual customers and develop a relationship, which is impossible for large firms. You can also charge a premium for this customized service, improving your profit margins.
Your employees are motivated – it is common for large firms' employees to feel disconnected or purposeless. It is easier for you to ensure that every employee feels motivated.
How to Tailor Your Marketing Campaigns?
You can leverage these things, like having greater control of your business, the ability to offer personalized service, and motivated employees to develop a phenomenal marketing campaign.
While the best marketing practices should always be contextualized to your situation, consider the following ways to tailor your strategies to outcompete big companies:
Understand your customers – as a small business owner, your strength is finding your niche. You must research and understand what kind of customer segment you target or what type of customers are organically attracted to your product.

Understanding which segment to target will also help reduce the cost of marketing (relative to when you target everyone). This is especially important if you are in a saturated market with multiple large competitors.

You can also tap into unsaturated subcategories or fill gaps in the market that larger firms have not been able to. By virtue of how generic and standardized large firms are, there is always a niche subcategory of customers who are keen to engage with small businesses.
Customize your campaign – if you have done the previous step well, customizing your campaign to your customer segment should be straightforward. Personalizing content is a great way to engage customers and turn potential leads into sales.

Another advantage of a small business is interacting with your customers firsthand. This gives insights into customer behavior and allows you to pinpoint customer service and marketing accordingly. Moreover, you can take advantage of online reputation marketing (more on this below!) and ask your customers to leave you reviews.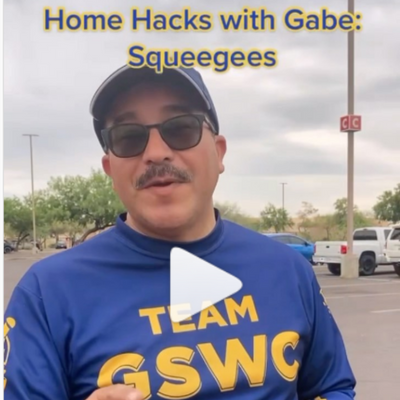 This video is an example of a social media post from a window cleaning company that knows its niche and can target content to its clients who may want to know how to keep their windows shining between services. This type of marketing is out of reach for the big players since they offer more generalized products and services to a wider audience.

In other words, if big firms can earn huge profits by keeping margins low and catering to a large customer base, small firms can keep margins high by providing personalized service.
Focus on reputation marketing - Reputation marketing is a marketing tactic that is centered on social proof signals, i.e., reviews, referrals, and testimonials. These types of signals help customers trust your brand and services. In fact, close to 90% of all online customers think reviews and referrals are more important than any information provided by a salesperson.

As a small business, you should leverage your reputation to draw customers away from your competitors.

Check out this example: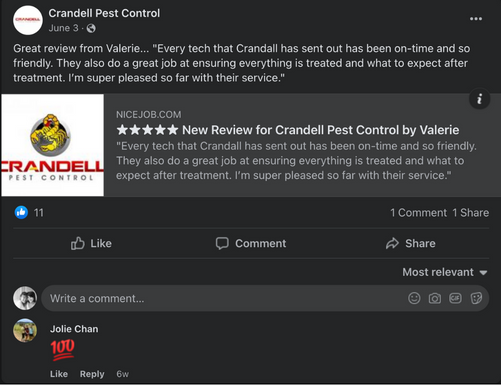 This is an example from a local pest control company

that shares reviews to its Facebook Business Page. This helps potential customers build trust in their abilities and service; it's a much more convincing pitch coming from an existing happy customer.




Generate branded content – creating a narrative about your business is essential. What is your objective? What positive changes do you want to bring about? Who do you want to cater to? What are you doing differently?

Creating content is an effective way to answer these questions and generate interest in your company. Again, as a small business, you have much greater potential to tell a personal, engaging, and exciting story. Getting people to relate to and connect with your business is the best way to convert them into repeat customers
This is an example of a local toy company. Part of their brand story is dedicated to handmade, quality wooden toys. This is a compelling part of their narrative that they should repeat over and over, especially to distinguish their products and business from big box stores.
Use social media – Depending on your customers' interests and age, you can find a social media platform most likely to connect with them. The idea is to market to your potential customers on the platforms where they are already present and engaged.

Emerging platforms such as TikTok and Instagram are highly suitable for millennials and younger generations, while a Facebook page is suitable for older individuals. In addition, you can produce and share content through influencers (people on social media who have a sizeable - often hundreds of thousands - number of followers and a great reach.) with a similar target audience as yours. This has proven to be an effective Instagram and TikTok content strategy that attracts target audience in a younger age bracket.

Here's an example from a soft washing company in Florida

, that shared this video to its potential customers on Facebook. This shows anyone searching for services like this in Florida that this business offers big scale, commercial work and that they do a great job at it too! Perhaps their potential customers will consider their business over a larger company having seen this.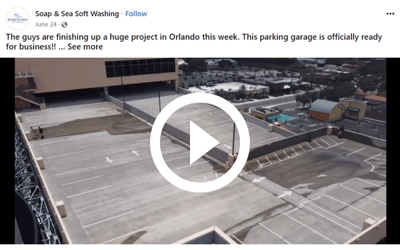 Go local – getting involved with local communities is much easier for small businesses. Think of this strategy as a trump card against the competition brought on by larger companies.

There are multiple ways to get involved with the local communities: you can offer discounts to locals or repeat customers, sponsor events and festivals in your area, or pick a cause worth fighting for. Customers are more likely to give business to companies that care about their local issues.
The example above is from a carpet cleaning company in Colorado that donates 1% of every job to their local humane society. This is a great way to attract new business and likely not an initiative you'll see many big corporations championing.
Small Businesses Can Sustain and Thrive In Any Market
Large marketing budgets, external agencies, and consultants are not the only deciding factors of a successful marketing campaign. Small businesses can give large corporations strong competition if they learn to use their size to their advantage.
While big firms can cut costs, benefit from economies of scale and cater to a larger customer base, smaller businesses can provide customized and personalized service to keep profit margins high.
The correct marketing technique can considerably improve your business's survival rate and long-term growth.
If you're searching for a platform to help your small business grow, NiceJob is the easiest way to get more reviews, referrals, and sales. Sign up for a free demo today!