July 3, 2023
7 Best eCommerce Loyalty Programs to Grow Connections & Boost Revenue
Setting up an online store? Easy.
Drawing customers in? A bit trickier.
Keeping them coming back? Now, that's the real challenge in the vast world of eCommerce.
Without the perks of face-to-face interaction or the ambiance of a physical store, how do you create that stickiness, that pull which makes customers return?
The answer: eCommerce loyalty programs. They're not just about points or discounts; they're your strategy to build and nurture a community around your brand.
Think of them as a handy tool to keep your digital audience engaged and invested.
So if you're ready to move from mere transactions to meaningful connections, let's dive into the transformative world of eCommerce loyalty programs.
What is a Loyalty Program in eCommerce?
At its core, an eCommerce loyalty program is a rewards system tailored for the online shopping world. It's designed to motivate customers to keep coming back, offering incentives for repeat purchases, reviews, referrals, and even social media engagement.
Instead of the traditional point-of-sale rewards found in brick-and-mortar shops, these ecommerce loyalty programs foster long-term relationships and enhance the virtual shopping journey.
The aim is to convert casual browsers and new customers into devoted brand enthusiasts, ensuring they don't just shop once but become recurring visitors and vocal supporters of your brand.
Essentially, it's the online world's answer to building a thriving, engaged community around your offerings.
Do Loyalty Programs Work in eCommerce?
Absolutely! In the eCommerce realm, where the concept of foot traffic doesn't exist, a loyalty program plays an even more pivotal role. Let's unpack why.
Spontaneous purchases often occur in physical stores because customers might walk by a storefront, see a sale sign, or get lured in by an enticing window display.
Without the advantage of these impromptu triggers, eCommerce businesses need a different strategy to encourage repeat visits and purchases.
Loyalty programs in eCommerce act as that magnetic pull. They provide structured incentives to bring shoppers back, ensuring they don't just make a one-time purchase and drift away.
By offering points, early access, discounts, or exclusive deals for repeat purchases, referrals, or other engagements, these rewards programs make existing customers feel valued, nudging them to return.
This compensates for the lack of physical "foot traffic" and often surpasses its advantages by building a customer base of dedicated brand advocates in the digital space.
6 Benefits of an eCommerce Loyalty Program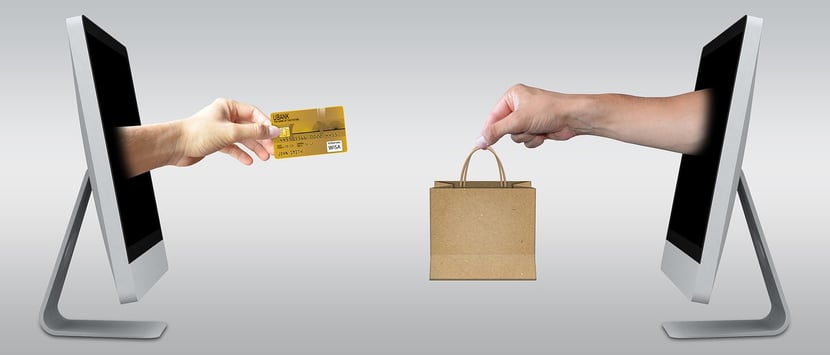 Loyalty programs aren't just a neat addition to your eCommerce business – they're a game-changer in boosting profits and improving the customer experience.
Let's dive into their key benefits:
1. Increased Customer Retention
A loyalty program can turn occasional shoppers into repeat customers.
Statistically speaking, increasing customer retention by just 5% can boost profits by over 25%. In the world of eCommerce, where every click counts, this is a massive advantage!
2. Higher Average Order Value (AOV)
Loyalty rewards often incentivize customers to spend more to reach the next reward tier or utilize a special discount.
It's essential to ensure your customers are not just enrolled in the loyalty program but are also using it regularly. An average active loyalty program member spends 10% more than someone who is a part of the program but not active.
3. Gathers Valuable Customer Insights
With loyalty programs, you're not just giving but also receiving. These programs can serve as a rich data source on purchasing behaviors, preferences, and trends.
And customers are happy to share this information. According to a study by PWC, four out of five consumers are willing to share personal data for a better shopping experience.
4. Boosts Brand Loyalty
When a brand provides exclusive rewards, it sends a clear message to its loyalists: "We value you." By ensuring customers feel unique and cherished, brands can tap into a deeper emotional bond with them.
This emotional connection, built over time with consistent recognition and exclusive offerings, is the bedrock for genuine brand loyalty.
5. Enhances Customer Lifetime Value (CLV)
This metric signifies the net profit associated with a customer throughout their relationship with a business. By encouraging repeat purchases, loyalty programs can skyrocket the customer lifetime value and boost eCommerce sales.
6. Builds a Brand Community
Loyalty programs provide a unique platform where online shoppers can actively engage, share experiences, and interact with one another. This sense of shared engagement and interaction paves the way for a thriving brand community of loyal customers.
10 Key Features Your eCommerce Loyalty Program Needs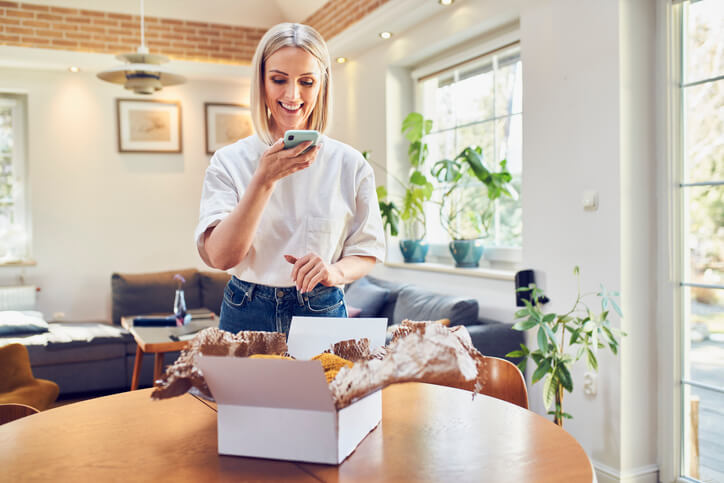 To create a successful loyalty program that truly resonates with your audience and delivers impactful results, it should be more than just a basic points system.
Here are the essential features that can make your customer loyalty program stand out:
1. Personalized Rewards
One size does not fit all when it comes to loyalty programs. Your program should use customer data to offer personalized rewards based on individual purchasing behaviors and preferences.
2. Seamless Integration
The loyalty program should integrate smoothly with your eCommerce platform, ensuring a positive customer experience. Shoppers should be able to easily access, track, and redeem their rewards without any hitches.
3. Tiered Reward System
By creating tiers, you can incentivize higher spending and more frequent engagement. Customers often spend more when they know they're close to reaching the next tier with better rewards.
4. Mobile Optimization
With over 60% of global eCommerce sales taking place on mobile devices, ensuring your loyalty program is mobile-friendly is crucial.
From easy point redemption to checking reward statuses, everything should be fingertip accessible.
5. Engaging User Interface
A visually appealing and intuitive dashboard or interface makes the experience enjoyable for users. An engaging design can keep customers coming back to check their points and explore rewards.
6. Flexible Redemption Options
Offer various ways for customers to redeem their points, whether discounts, freebies, exclusive products, or experiences. Flexibility can increase the perceived value of your program.
7. Social Media Integration
Allow customers to earn points for social shares, referrals, or even writing reviews. This can help you reach out to a wider network and attract potential customers.
8. Expiry Notifications
If your loyalty points have an expiry date, sending timely reminders can prompt customers to make a purchase. This keeps the engagement consistent and reduces the risk of points going unused.
9. Educative Onboarding
Ensure customers understand the program right from the start. A brief tutorial or explainer video can help them get the most out of the program from day one.
10. Feedback Loop
Implement a system where customers can give feedback on the loyalty program. This provides valuable insights for continuous improvement and shows customers that you value their input.
By integrating these features into your eCommerce loyalty program, you position your brand for deeper customer engagement, increased loyalty, and enhanced overall shopping experience.
The key lies in striking the right balance between offering value and creating an intuitive, user-friendly experience.
How Do I Create an eCommerce Loyalty Program?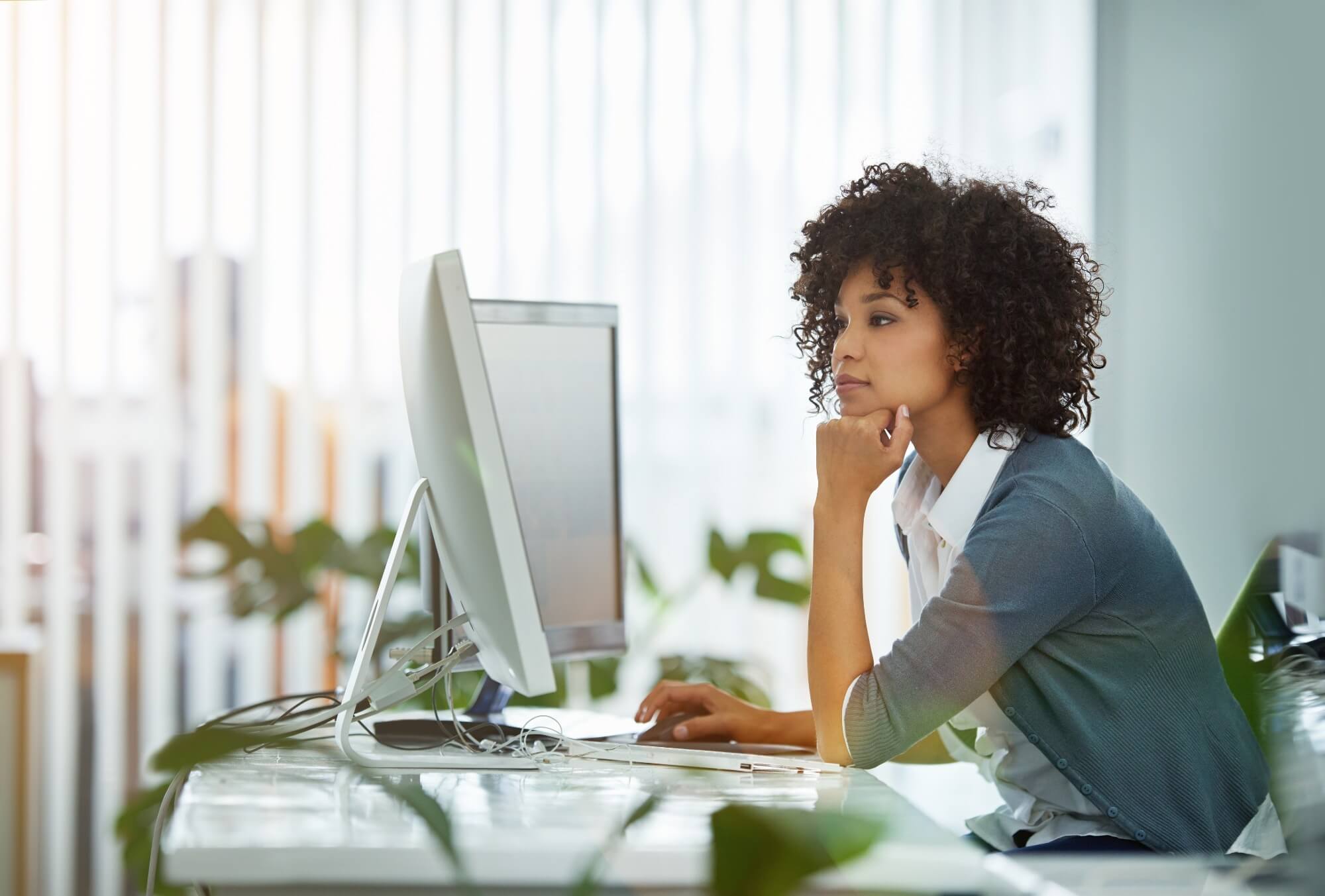 Building an effective eCommerce loyalty program requires careful planning and focusing on providing genuine value to your customers.
Here's a step-by-step guide to get you started:
Set Clear Objectives: Before diving in, determine what you want to achieve. Are you aiming for increased purchase frequency, higher average order values, more customer referrals, or something else?
Choose a Program Type

: Generally, there are four types of loyalty programs you can choose from:


a. Points System: Customers earn points for purchases, which can be redeemed for discounts, goods, or experiences.
b. Tiered System

: Customers level up based on purchase frequency or amount, with each tier offering better rewards.


c. Value-Based

: Rewards are offered based on the customer's purchase amount.


d. Hybrid

: Combine elements from different program types for a tailored approach.

Personalize the Experience

: Use customer data to offer personalized rewards, discounts, and recommendations. For instance, if a customer often buys beauty products, offer them a loyalty bonus on a new skincare launch.

Seamless Integration

: Ensure the loyalty program integrates effortlessly with your eCommerce platform. Customers should be able to sign up, check their points, and redeem rewards without hassle.

Promote the Program

: It's not enough to just have a program; you need to market it. Highlight its benefits on your homepage, email campaigns, and social media.

Engage Beyond Purchases

: Offer points for actions other than just purchases – for writing reviews, referrals, social media shares, or even birthdays.

Regularly Evaluate & Adjust

: Periodically check the program's performance. Are customers engaged? Are they redeeming their rewards? Use this data to refine and improve.

Stay Updated with Trends

: Loyalty program trends evolve. What's innovative now might be common in a year. Regularly update your program to stay ahead.

Clear Communication

: Ensure your customers fully understand the loyalty program. Clear FAQs, dedicated customer support, and transparency about how points are earned and redeemed are crucial.

Ensure Security

: Protect your customers' data. A secure loyalty program fosters trust and ensures long-term engagement.
7 Examples of the Best eCommerce Loyalty Programs to Inspire You
Not sure which program is right for you? Take inspiration from our top picks that have elevated the art of customer retention online.
1. Smile.io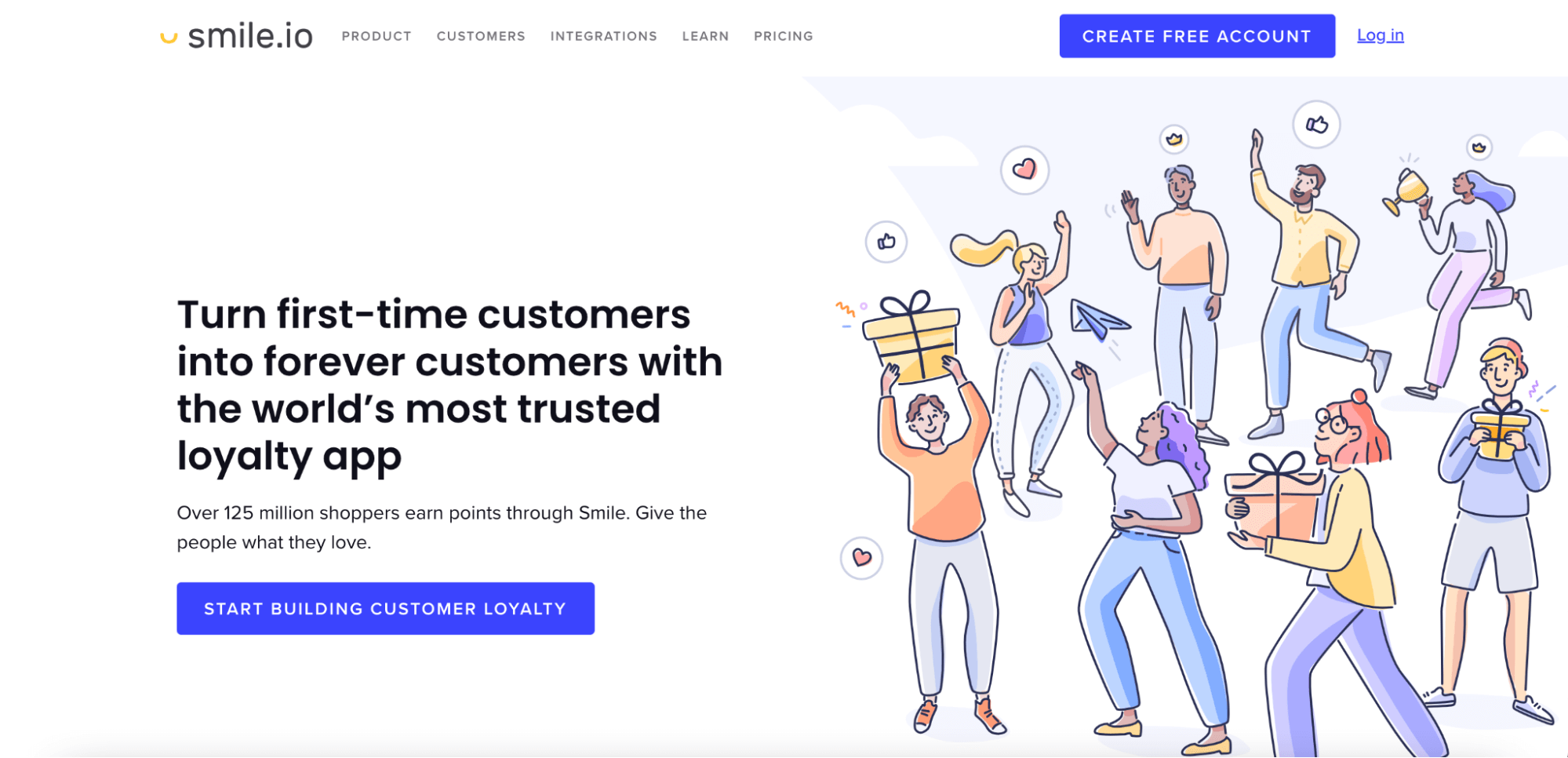 Smile.io is known for its dynamic approach tailored for online businesses, seamlessly incorporating points, VIP tiers, and referral incentives.
With its intuitive dashboard, businesses can easily manage rewards, track vital metrics, and gain pivotal insights into customer behavior.
"Smile has allowed us to build real relationships with our customers. It is the perfect platform to build lasting connections while also achieving business goals."- Lindsey Wilson, Content Manager, Packlane.
Free Trial: Yes.
Pricing: Free version available. Paid packages start at $49/month.
2. Stamped.io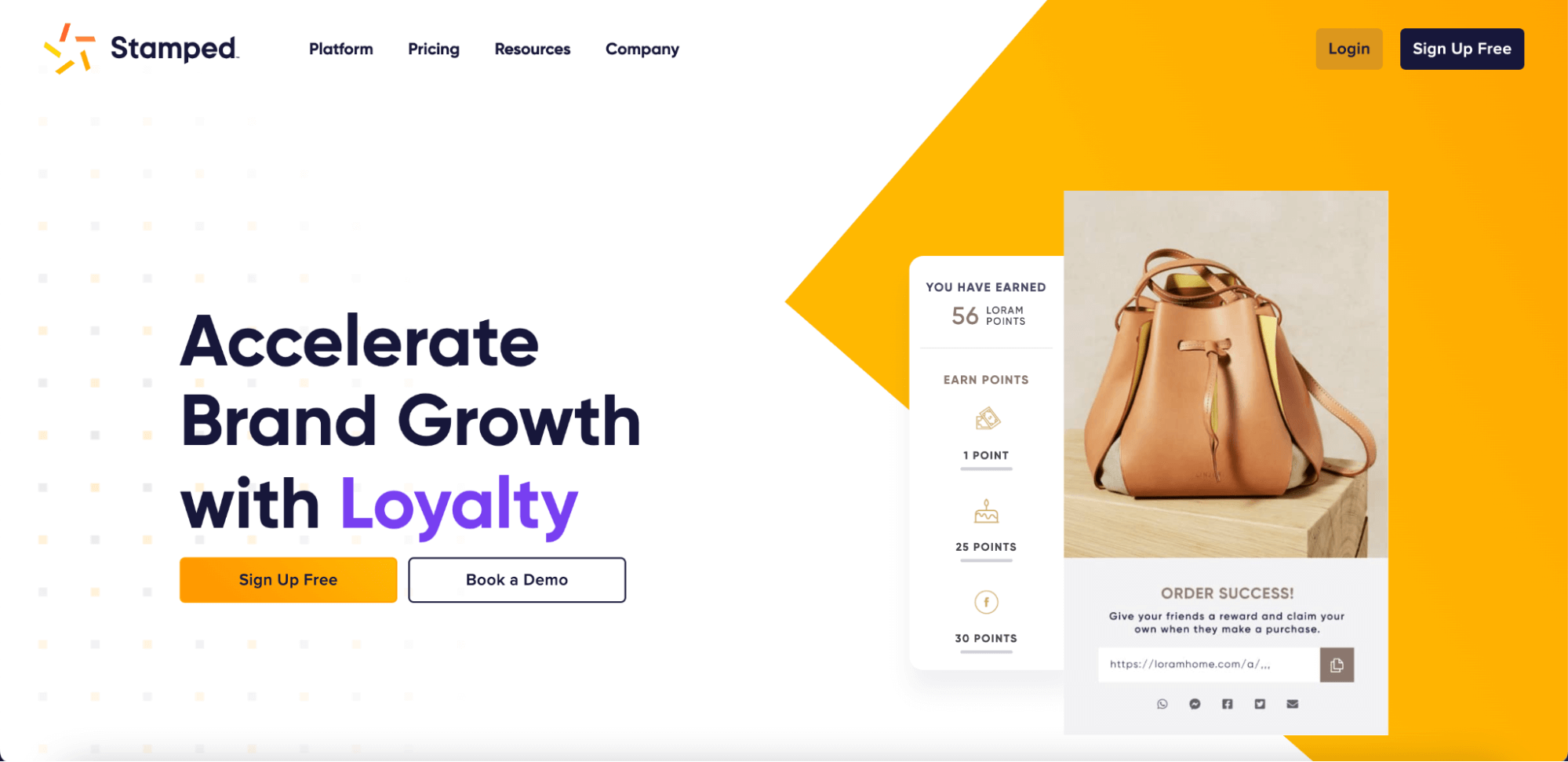 Beyond just being a review platform, Stamped.io intricately intertwines loyalty and rewards, ensuring customers are consistently engaged.
Its smart prompting mechanism nudges customers for reviews, rewarding them for their time and feedback.
"Top reasons were functionality and affordability. Liked that when we started out with Shopify, it was easy and fast to install and test out. Since we've grown it's had every feature we would have wanted." - Kalem Emsley, Founder, Tentree.
Free Trial: Yes.
Pricing: Free version available. Paid packages start at $19/month.
3. LoyaltyLion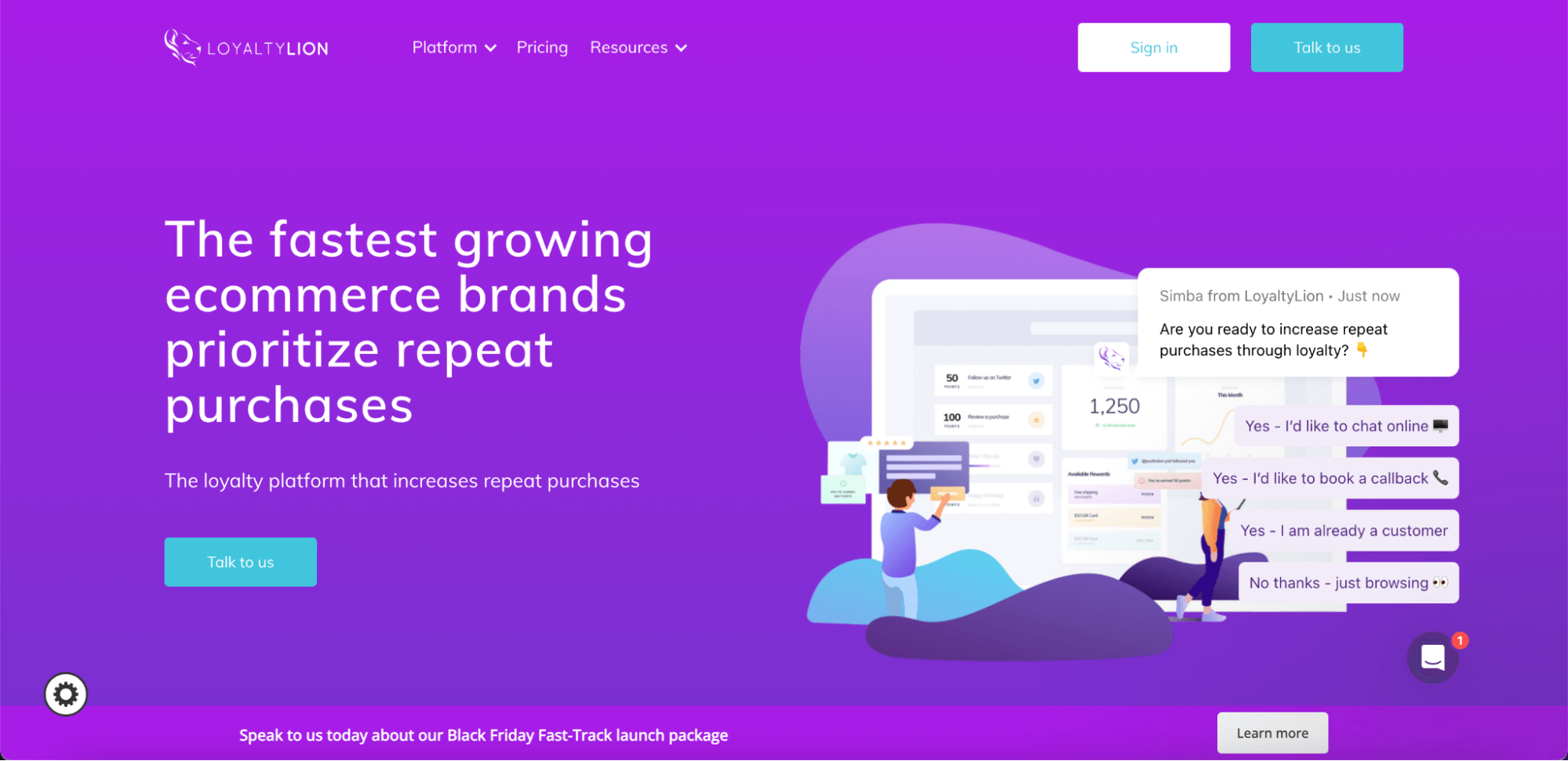 A versatile platform, LoyaltyLion is adaptable to businesses, big and small. Combining traditional and modern loyalty techniques, its deep analytics dashboard sets it apart, offering unparalleled insights into loyalty trends and customer behaviors.
"I've used LoyaltyLion at my past two organizations. It's so incredibly simple and seamless to integrate into our retention strategy, especially w/Klaviyo. LoyaltyLion helped us increase LTV of our loyal customer base."- Retention Marketing Manager, Hoplark.
Free Trial: No.
Pricing: Customized pricing based on your business needs.
4. Rise.ai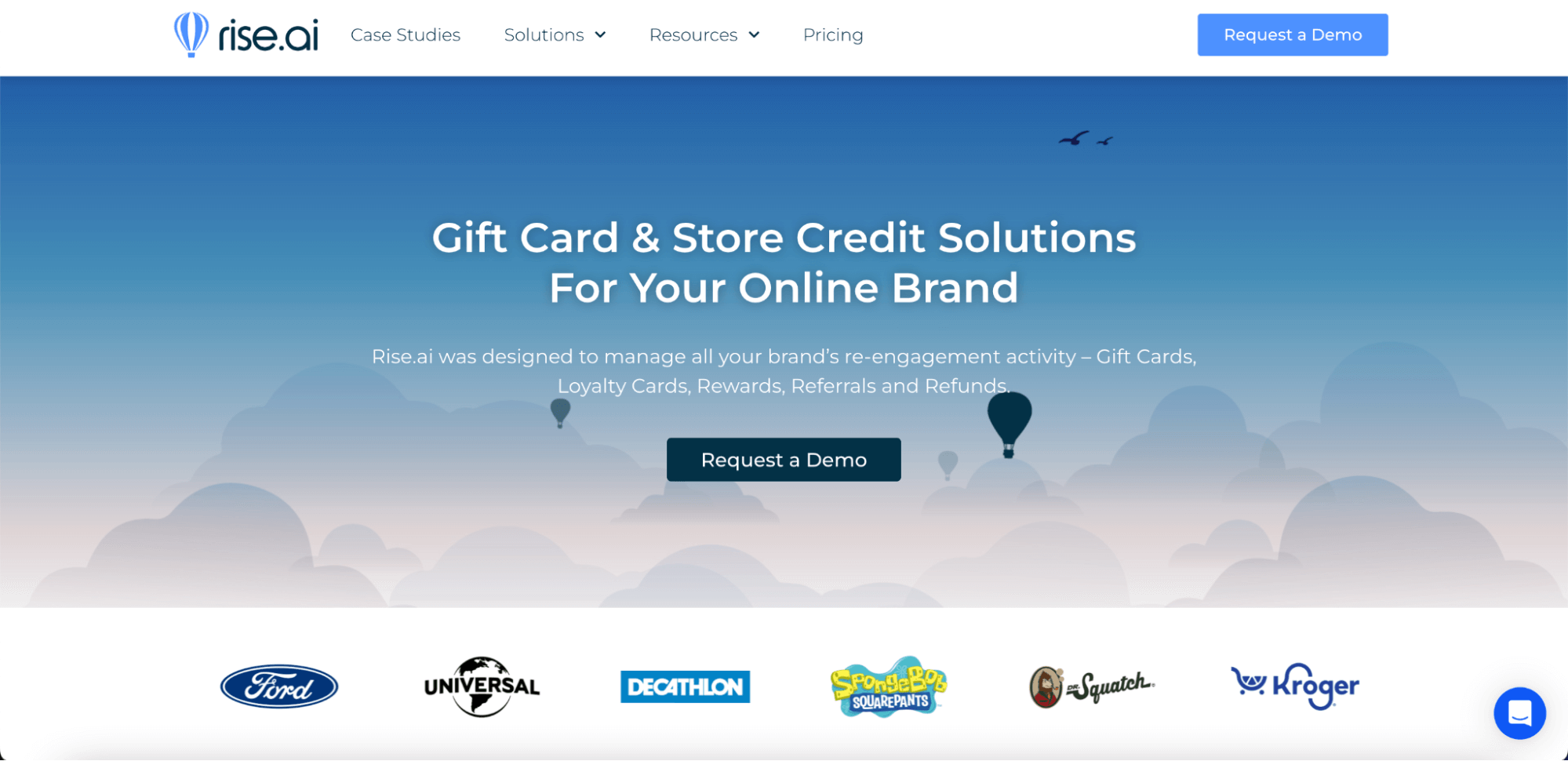 Making a mark with its innovative gift card solutions, Rise.ai provides a comprehensive approach to loyalty.
Its store credit rewards system is a standout feature, which seamlessly optimizes the return and refund process, turning potential losses into loyalty wins.
"Initially, we were looking at Rise.ai solely for the Gift Card solution. With its Recharge Integration it allowed us to also be able to gift subscriptions in addition to one-time Gift Cards with a fun & engaging digital user experience." -Stephen Pinto, Director of Product Management, Dr Squatch.
Free Trial: No, but it offers a free demo.
Pricing: Customized pricing based on your business needs.
5. Growave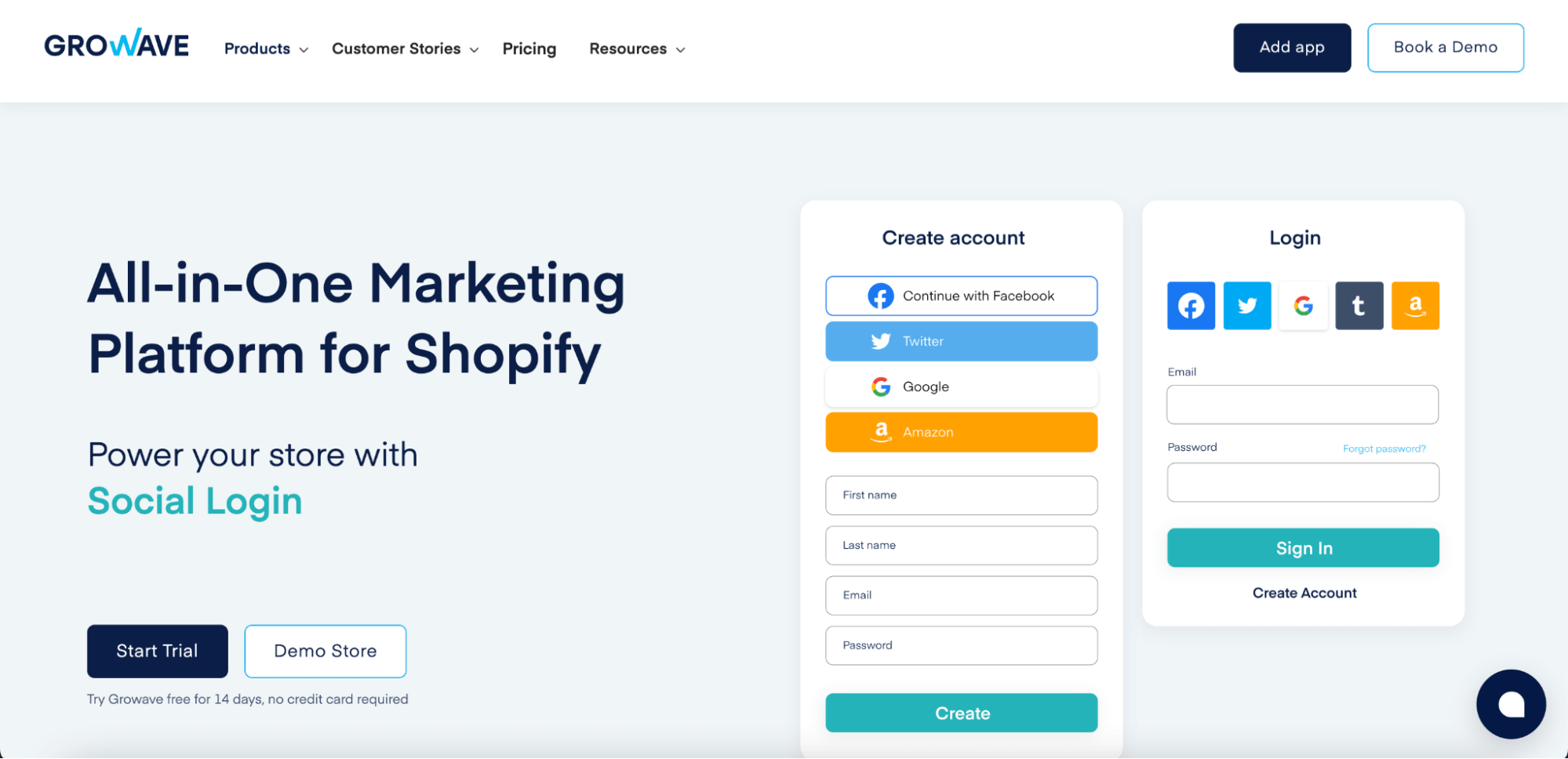 With Growave, it's all about providing a holistic customer experience. It brings together loyalty programs, wishlists, and reviews, ensuring every customer touchpoint is memorable. Its interactive quizzes, designed to offer personalized user rewards, push the envelope regarding engagement.
"I tried many different Loyalty apps, but this one is the best so far! We were able to translate everything on the front end into Japanese, perfectly, which other apps didn't allow. On top of it, Growave helped us to increase revenue from repeat purchases by 25% in the first month and conversion rate by 41% in 3 months." - Meri Tanaka, Co-Founder, Amirisu.
Free Trial: 14-day free trial.
Pricing: Plans start from $7.2/month.
6. Yotpo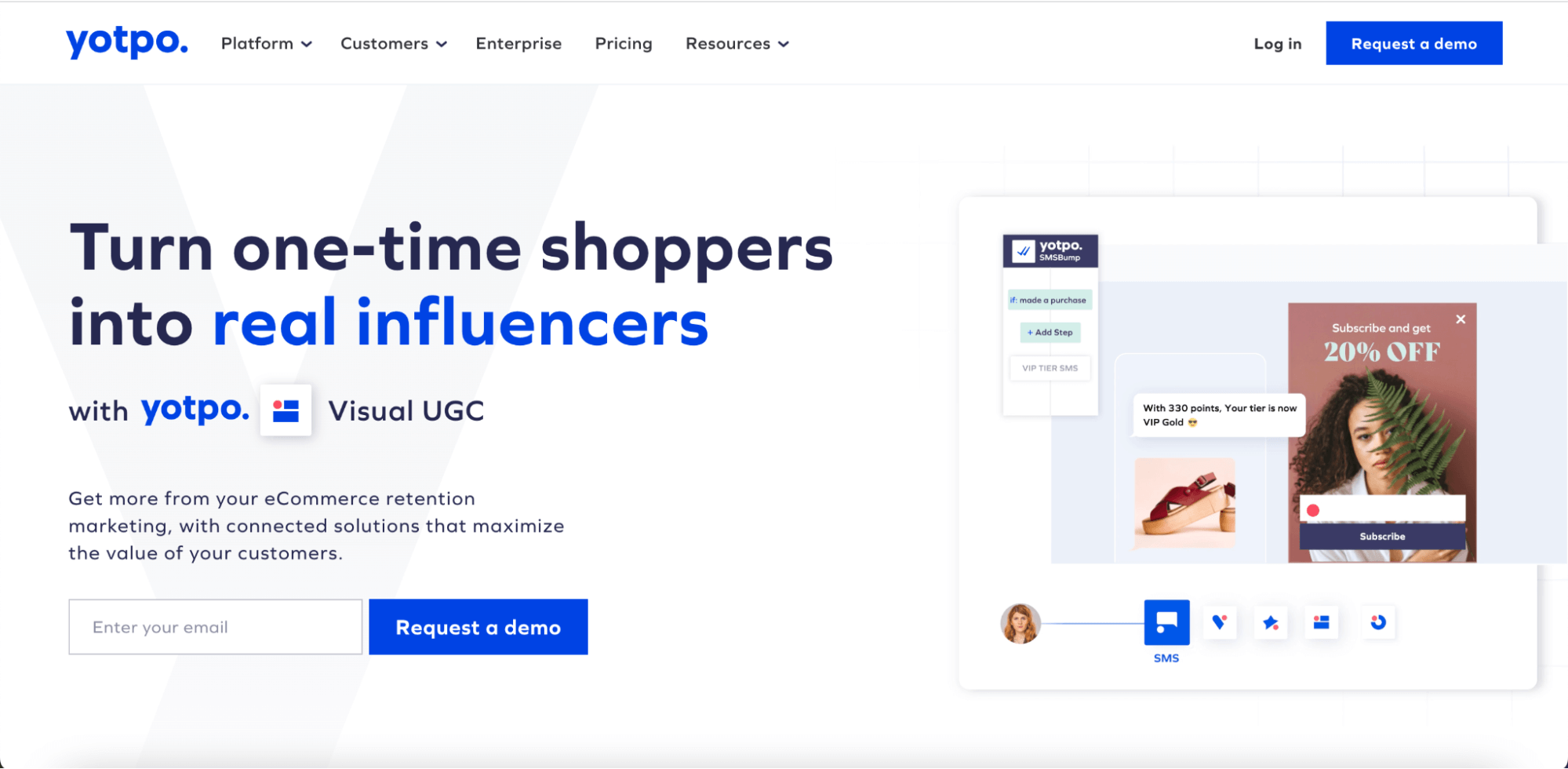 Yotpo offers a tailored solution designed to reward loyal customers while attracting new ones.
It helps businesses craft customized loyalty programs, offer exclusive membership perks, and implement a seamless referral mechanism to integrate throughout the customer journey.
"Being able to send personalized messages throughout the loyalty customer lifecycle has helped us retain our customers and build up our SMS community."-Kim Zorn, Head of Performance at Princess Polly.
Free Trial: Yes.
Pricing: Yotpo offers a free plan and paid packages starting from $199/month.
7. Zinrelo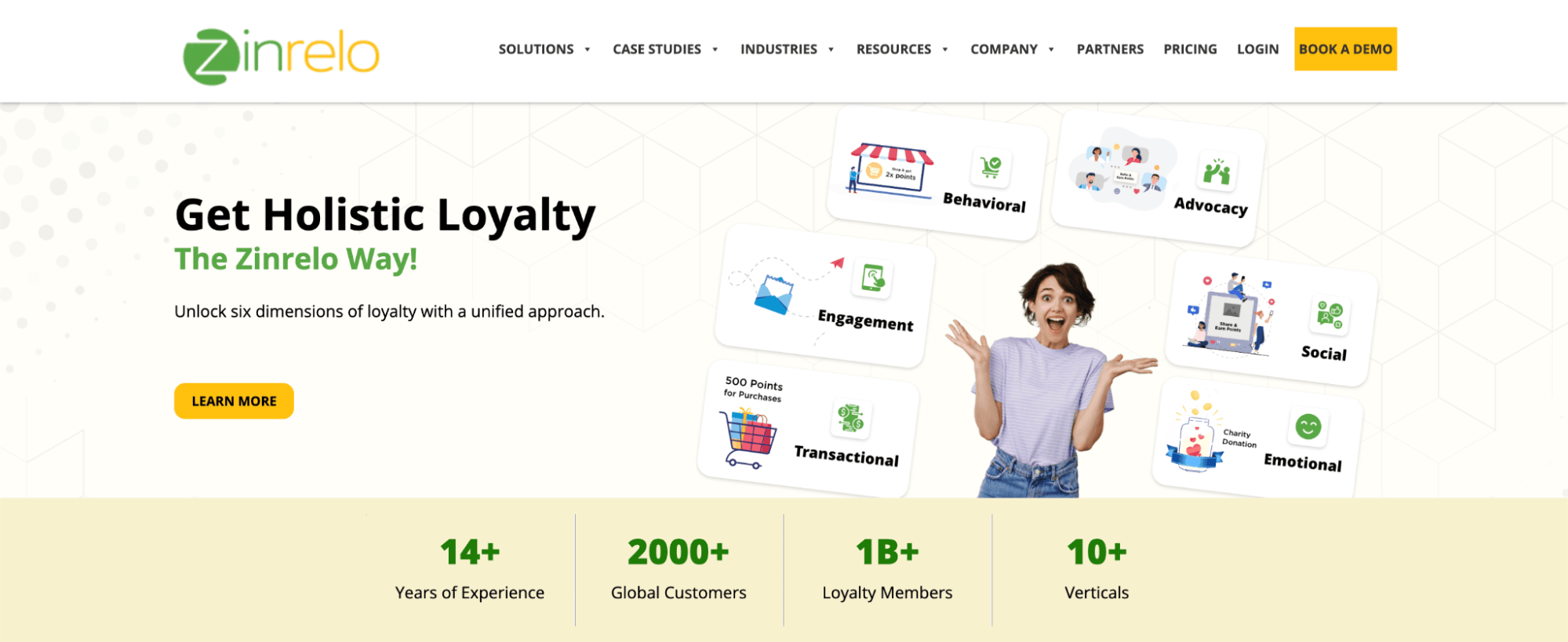 Zinrelo is an enterprise-grade, SaaS-based platform that pioneers a holistic approach, allowing brands to delve deep into the multifaceted world of loyalty.
The potent combination of advanced technology, deep data analytics, and continuous strategy consultation ensures customer loyalty grows multi-dimensionally.
"We have seen a 48% increase in revenue compared to last year, and this increase is directly attributable to the Zinrelo loyalty rewards program. This is phenomenal!" -Raphael Faccarello. E-Commerce Manager, Yon-Ka Paris.
Free Trial: No, but it offers a free demo.
Pricing: Custom plans based on your business needs.
Upgrade Your eCommerce Presence with Paystone
And that's it! We hope our shortlist of the top loyalty programs helped you find one tailored to your business needs.
If you're seeking a comprehensive approach to eCommerce beyond loyalty, Paystone's eCommerce solutions stand out as an exemplary choice. It enables you to easily accept payments on your website, giving your customers a secure and convenient checkout experience.
With our seamless eCommerce payments integrations, user-friendly interfaces, and commitment to driving customer engagement, Paystone encapsulates the future of online business.
Dive deep into our offerings and discover how we can elevate your eCommerce endeavors.